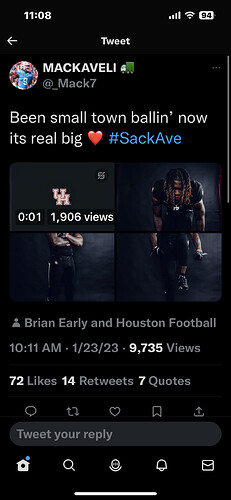 @coachv
was this one of the guys you we're thinking we'd get?
Nice! 2 or 3 left to play?
I have zero inside info but I feel
Like today might be a pretty good day from a commitment standpoint. Just a gut feeling
Good day already with this news… BOOM!
This guy is a 3 Star with a rating of .868.
Looks like he played on special teams for Ole Miss, but Mack clearly sees opportunity at UH. Let's hope he makes the best of it. Make Sack Ave your personal address, Brandon Mack.
Boom

That's a Fact Mack!
Solid depth add/developmental prospect. Didn't fit Ole Miss new scheme looks like and hasn't played much. Would like to see us add a couple 1 year guys to bridge the gap.
Love the twitter handle. Defensive Ends justify the means.
An SEC edge can do some serious damage to opposing quarterbacks. I'm ready for the return of the Mack!
Until next season starts if in the portal already. You just can't enter until May 1st now. Closes again 18th.
Deadlines for Jan enrollment/spring practice coming soon is the current frenzy.
I don't like the "Sack Ave" name. I wish they'd go back to being the Third Ward defense. Was much nastier.
They still do advertise 3rd ward D! Sack Ave is just for the Dline, Jackboys is for the secondary
Maybe let's not worry about names when you gave up 77 to SMU.
I'm sure he's got a Gallery Furniture NIL
I thought that was just a basketball deal?