Love the response tweets from other schools. Maybe we drop a navy seafood tweet
The owner of the store chain is from Lake Jackson and is a big donor to A&M
Buc-cees is an aggie, first store was Lake Jackson, now they are as far as Alabama.
They were going to build one near UNC in this town called Carrboro but the town folks united to stop it from being built.
They are in Kentucky as well
Yeah because they have better jobs, right.
A cashier starting out at Buccees
$16.00 * Medical * Dental * Vision * 3 Weeks Paid Time Off * 401k 100% Match up to 6…
Sheetz gas station has comparable jobs here but they didn't like the idea of the 100 acre Buc-ee's that had the store and some other infrastructure involved…
This is the same town where I had the cops called on me twice for playing rap music DURING THE AFTERNOON ON MY SONY BLUEETOOTH SPEAKER WITH 1.5" speakers…
Translation: We are not paying off County Commissioners
I thought that is what I pointed out lol
I'm the idiot over here thinking there was potential of it coming to SoCal and weird for Orange County because they're snots when it comes to land use.
North Carolina! Whew. Wrong coast! I miss me some Buc-ees!
They're in Florida. 30 miles north of UCF.
Well (to future Cougars), come on down! There are quite a few Buc-ee's within reasonable driving distance from UH.
Via Google Maps: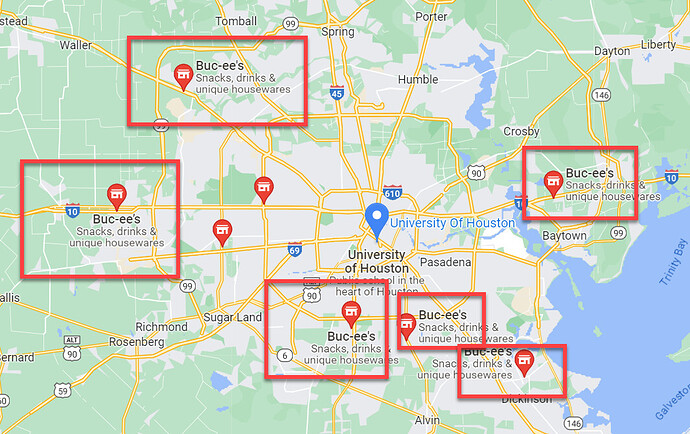 Another, slightly better look at Buc-ee's in or around the Houston area (via Google Maps):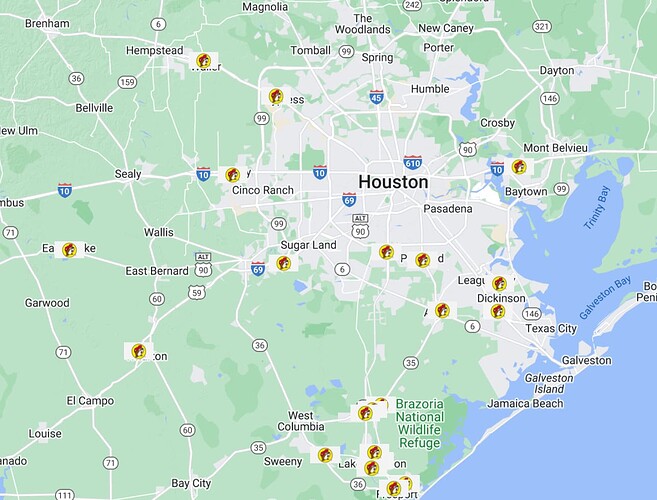 My Mom is from that Orange County… Probably the only state with better beaches than NC… Especially, for surfing.
That map is missing the one in Richmond …
UNT is gonna dominate recruiting. Buc-ee's is only 3.5 miles from campus
Yeah, you're right, Gerald. I'm not sure why Google Maps didn't return that one, but I've updated the previous post to include an another version (which includes the Richmond location).