http://www.uhcougars.com/sports/w-swim/spec-rel/030818aaa.html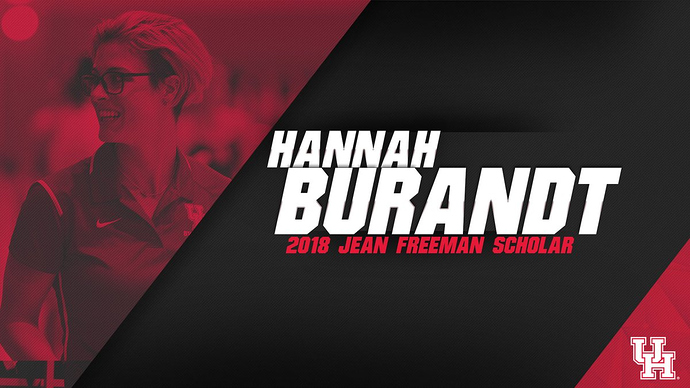 The University of Houston Swimming & Diving program continues to pick up accolades, this time on the coaching side as Assistant Coach Hannah Burandt was tabbed as one of six Jean Freeman Scholars by the College Swimming and Diving Coaches Association of America (CSCAA).
"Attending my first CSCAA Convention as a Freeman scholar is a privilege, honor and once in a lifetime opportunity that I am eager to take full advantage of," said Burandt.
Burandt is in her third year as an assistant coach at Houston and has helped Houston to consecutive American Athletic Conference championships. The Ohio native is a graduate of Eastern Michigan where she was a three-time NCAA qualifier, three-time Mid-American Conference All-Academic selection and earned the team's Top Scholar award as a senior. Prior to coming to Houston in 2015, Burandt served as an assistant coach at Georgetown, Louisville and Oberlin College. So far at Houston, she and Wochomurka have led the Cougars to a pair of conference titles, 15 program records and for the first time since the 2009 season Houston will be represented at the NCAA Championships.
"Our staff, administration and student-athletes could not be more proud for Coach Hannah to receive this recognition," said Head Coach Ryan Wochomurka. "Her passion for our program and sport exemplifies servant leadership to its fullest measure."
Scholars were selected by a committee made up of members of The Summit for Empowering Women in Swimming, which Jean Freeman was a founding member. The Freeman Scholars will be recognized at the 2018 CSCAA Convention and Awards Banquet, May 6-8 in Evanston, Illinois.