Seriously doubt it. Dana makes Aranda look like Vince Lombardi.
Baylor has our game circled. They really need this game. We are their Superbowl.
I am going to make the best of it….I have feeling we gonna win 31-28
With this coach, I'll believe it when it happens.
Wins at this point just delay the inevitable. Lose out and terminate CDH.
Nope, we will lose out. Maybe we beat cincy at home, the rest are Ls
We matchup better with baylor. Should be a decent game.
We can totally beat Baylor…but I expect a 24 point loss…
Baylor is like the Astros. They are worse at home.
Lost to Texas State, Utah, Texas, and Texas Tech in Waco. Currently trailing Iowa State 17-0 right before halftime.
But they won at UCF and Cincy.
Not sure if Dana cares about Baylor. If he does, we have a chance.
Can we? If our coaching staff out schemesthem, yes.
Will we? No
I doubt it, since game is in Waco…Bears will be ready next week, i think.
Well if there's some reason for optimism they're only 1-5 at home with that one win coming against an FCS opponent.
If it was still around, Dana would have made a stop at Bad Bear Liquor.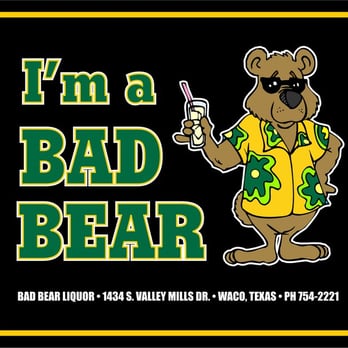 Yes we can beat them. They are bad, but so are we so it's a toss up with a slight lean towards Baylor at their place. I'd guess they are favored by about 7
They almost beat a very good Utah team, losing 20-17 to the Utes…They will be ready for us…We are a poor road team, i do not like our chances…