http://www.uhcougars.com/sports/m-baskbl/spec-rel/030718aaa.html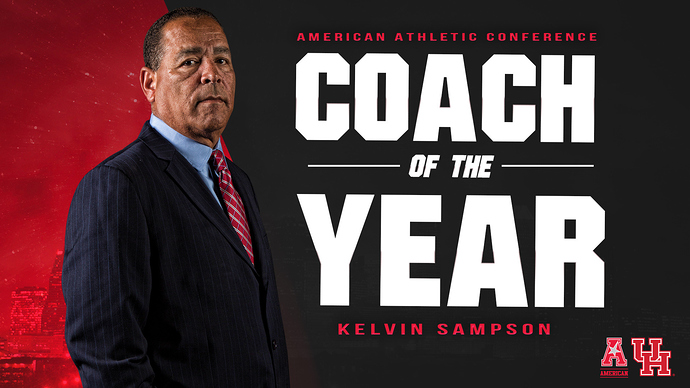 Sampson collected the fifth conference Coach of the Year award from the fourth different league in his career. He was previously recognized as the Coach of the Year in 1995 (Big Eight • Oklahoma); 1991 (PAC-10 • Washington State); 1985 (Frontier • Montana Tech) and 1984 (Frontier • Montana Tech).
What he's been able to do with this program is beyond words. We're finally back and we're only going to get better. Well deserved.
Time to pay the man he is going to need a raise, Tx Tech coach just got big money
Still can't believe all the people clamoring for him to be fired over the last couple of years. Just an amazing job of turning this program around. Makes me wonder what he could have done if guys like Danuel House and Tayshawn Thomas had stuck around.
I chalk up the calls for firing him on frustrations with the long period of missing the tournament. Folks want to get invested in the program, but the weak OOC schedules and the first round exits in the tournament are what most people saw. Most only followed the program in March, no fault to them since the program didn't really give them a reason to, which meant they only saw the end instead of the build up to that point.
Those of us who have followed the program since he got here knew that things were pointed in the right direction and it was only a matter of time before he turned it around.
Still, the next goal is to win a tourney game…both in the conference tourney and the NCAA tourney. If we falter in both, the calls will return.
And to those I say…remember the following…Brooks, Drexler, McCallum…Dickey.
Be thankful CKS is here !!!
Congratulations to Coach Kelvin Sampson and his staff. Go Coogs!
I've balanced between wondering about that, but also wondering whether things just didn't work out perfectly with all those guys leaving. They were clearly great talents, but it's questionable at best whether they would've been willing to deal with a coach that held them accountable the way Sampson does these guys.
They wouldn't have. Kelvin's first year was much more enjoyable than the Dickey circus with all the drama queens.
Well deserved. Outstanding job by Coach Sampson.
No doubt it's well deserved. Man when we hired him I was excited. He had won coach of the year at each of his stops. Now he has 4 of them. But more important was the man I saw and how he handles everything. He is pure class. Immediately he points out everybody behind him. Deflecting the award to the people who you most don't see or hear about. That's a leader. I know some brought up his violation at Oklahoma trying to make out he's some bad dude that shouldn't be our coach. I always wondered why. He texted some recruits. Wow. You would think he was out buying players or getting the alumni to furnish money to the parents or paying some AAU coach to send him certain players. His violation was so slight a few years later it was repealed by the NCAA. But not only that he was upfront and honest about it when confronted and apologized. He didn't say let me get back with you after I've talked to my Lawyer.
Sorry about that. Didn't mean to go into a rant. LOL. Plus when he says he wants to stay here for another 10yrs till he retires, I actually believe him.
Again Congrats Coach well deserved.
I think Sampson has really gotten the best out of this team this year, done a really fine job. I didn't expect us to win this many games, and the team seemed to bounce back from their bad days with good performances. It's going to be so much fun to finally be back in the dance. Congrats to Coach Sampson!