The MD's that are on this site please enlighten us on this announcement.
Good news or no news?
My wife is a nurse. Formerly in the ICU and treated H1N1 patients backs in the day. Apparently this has been used since the very beginning…Methodist here in Houston had been using it. It is just now officially "approved", but it hasn't really proven effective. Plus it's dependent on donors from those who have recovered from COVID so it will be difficult to deploy at a mass scale. Making it "approved" is more of a ploy than anything
You were correct using data dating a few months back.
The FDA and the Mayo Clinic now have over 35,000 patients on it.
The approach definitely has been tried or utilized since the beginning of the virus hitting our shores with people who got the virus early and recovered relatively quickly. It has been applied to over 70K people to date. Their findings have shown so far to improve survival and decrease mortality when treated early with high levels of antibodies. Cannot complain about that. Glad it is being pushed through the government bureaucracy and has been given approval for emergency use under Warp Speed.
Obviously it needs approval from the FDA which it received today for use. My question, if approval is needed, what approval was it operating under when it was applied to 70,000 patients since March?
Don't equate a scientific process with
government bureaucracy. The two are very different things.
It was likely compassionate drug use guidelines…same as the administering of experimental cancer drugs without FDA approval when there are no other treatment options. This is why people are saying this "approval" didn't really accomplish anything if it's only to be used in emergencies and if supply is really limited because it is dependent on plasma donors from people who overcame covid.
Also, that bureaucracy exists for a reason. I've known a number of people who worked at MD Anderson, including my wife, and these experimental treatments have had unexpected adverse effects. Even in the case of terminal patients, quality of life considerations come into play when there are unknown risks with unproven drugs and treatments.
According to the FDA it is showing to decrease the death rate of highly ill patient by 35%. The data/study for this treatment is not yet combined with Remdesivir.
I hope we can all be in agreement and trust The Mayo Clinic. This is not a charlatan study.
https://www.fda.gov/news-events/press-announcements/fda-issues-emergency-use-authorization-convalescent-plasma-potential-promising-covid-19-treatment
# FDA Issues Emergency Use Authorization for Convalescent Plasma as Potential Promising COVID–19 Treatment, Another Achievement in Administration's Fight Against Pandemic
Today, the U.S. Food and Drug Administration issued an emergency use authorization (EUA) for investigational convalescent plasma for the treatment of COVID-19 in hospitalized patients as part of the agency's ongoing efforts to fight COVID-19. Based on scientific evidence available, the FDA concluded, as outlined in its decision memorandum, this product may be effective in treating COVID-19 and that the known and potential benefits of the product outweigh the known and potential risks of the product.
Today's action follows the FDA's extensive review of the science and data generated over the past several months stemming from efforts to facilitate emergency access to convalescent plasma for patients as clinical trials to definitively demonstrate safety and efficacy remain ongoing.
The EUA authorizes the distribution of COVID-19 convalescent plasma in the U.S. and its administration by health care providers, as appropriate, to treat suspected or laboratory-confirmed COVID-19 in hospitalized patients with COVID-19.
Alex Azar, Health and Human Services Secretary :
"The FDA's emergency authorization for convalescent plasma is a milestone achievement in President Trump's efforts to save lives from COVID-19," said Secretary Azar. "The Trump Administration recognized the potential of convalescent plasma early on. Months ago, the FDA, BARDA, and private partners began work on making this product available across the country while continuing to evaluate data through clinical trials. Our work on convalescent plasma has delivered broader access to the product than is available in any other country and reached more than 70,000 American patients so far. We are deeply grateful to Americans who have already donated and encourage individuals who have recovered from COVID-19 to consider donating convalescent plasma."
Stephen M. Hahn, M.D., FDA Commissioner :
"I am committed to releasing safe and potentially helpful treatments for COVID-19 as quickly as possible in order to save lives. We're encouraged by the early promising data that we've seen about convalescent plasma. The data from studies conducted this year shows that plasma from patients who've recovered from COVID-19 has the potential to help treat those who are suffering from the effects of getting this terrible virus," said Dr. Hahn. "At the same time, we will continue to work with researchers to continue randomized clinical trials to study the safety and effectiveness of convalescent plasma in treating patients infected with the novel coronavirus."
Scientific Evidence on Convalescent Plasma
Based on an evaluation of the EUA criteria and the totality of the available scientific evidence, the FDA's Center for Biologics Evaluation and Research determined that the statutory criteria for issuing an EUA criteria were met.
The FDA determined that it is reasonable to believe that COVID-19 convalescent plasma may be effective in lessening the severity or shortening the length of COVID-19 illness in some hospitalized patients. The agency also determined that the known and potential benefits of the product, when used to treat COVID-19, outweigh the known and potential risks of the product and that that there are no adequate, approved, and available alternative treatments.
The EUA is not intended to replace randomized clinical trials and facilitating the enrollment of patients into any of the ongoing randomized clinical trials is critically important for the definitive demonstration of safety and efficacy of COVID-19 convalescent plasma. The FDA continues to recommend that the designs of ongoing randomized clinical trials of COVID-19 convalescent plasma and other therapeutic agents remain unaltered, as COVID-19 convalescent plasma does not yet represent a new standard of care based on the current available evidence.
Terms of EUA
The EUA requires that fact sheets providing important information about using COVID-19 convalescent plasma in treating COVID-19 be made available to health care providers and patients, including dosing instructions and potential side effects. Possible side effects of COVID-19 convalescent plasma include allergic reactions, transfusion-associated circulatory overload, and transfusion associated lung injury, as well as the potential for transfusion-transmitted infections.
Mayo Clinic Expanded Access Program
The FDA initially facilitated access to convalescent plasma for treating COVID-19 by using pathways that included traditional clinical trials and emergency single-patient investigational new drug (IND) applications.
An Expanded Access ProgramExternal Link Disclaimer for convalescent plasma was initiated in early April to fill an urgent need to provide patient access to a medical product of possible benefit during a time that the FDA was working with researchers to facilitate the initiation of randomized clinical trials to study convalescent plasma. As the number of single patient IND requests started to number in the hundreds on a daily basis, the FDA worked collaboratively with industry, academic, and government partners to implement an expanded access protocol to provide convalescent plasma to patients in need across the country via the national expanded access treatment protocol. The program was developed with funding from the HHS' Biomedical Advanced Research and Development Authority (BARDA), with the Mayo Clinic serving as the lead institution. To date, the program has facilitated the infusion of over 70,000 patients with convalescent plasma.
The EUA was issued to the HHS Office of the Assistant Secretary for Preparedness and Response.
The EUA remains in effect until the termination of the declaration that circumstances exist justifying the authorization of the emergency use of drugs and biologics for prevention and treatment of COVID-19. The EUA may be revised or revoked if it is determined the EUA no longer meets the statutory criteria for issuance.
Eric, I understand your skepticism since FDA heads are appointed by Presidents.
In this finding THIS IS NOT a political message. This is coming from The Mayo Clinic.
Will you doubt The Mayo Clinic?
Carlos del Rio and Scott Gottlieb are trying to spin it. This has been administered to over 35,000 patients. I find it revolting that we can't even enjoy some good news for a COVID-19 treatment.
Again friends, this is coming from The Mayo Clinic. They are apolitical. I hope we can agree on that too.
It is crucial to note that when we do find the right combination to treat COVID-19 effectively that will diminish the urgent need for a vaccine.
Umm. You are the one politicizing it. Paying attention to data is not politicizing it. The Mayo clinic is not trying to make this into anything more than the two people I quoted are. If given early in the course, it could save 3.5 people per hundred treated. Hey, every life saved is wonderful. But this isn't a game changer. At no point did I, or the people I quoted, say this isn't good news.
Thanks for proving my point from the other thread tho.
Clever on your part Eric. You bring an FDA appointee…appointed by whom? Can you put aside these two and concentrate on The Mayo Clinic Study? Hopefully you can.
Other post? Check it again.
I'm not sure what you are arguing against. What side am I supposed to be on? I'm happy to review where I differ in opinion from the Mayo.
I'm just passing information about this treatment. Are you arguing that i should be calling it a miracle? The FDA itself argues against this. FDA Issues Emergency Use Authorization for Convalescent Plasma as Potential Promising COVID–19 Treatment, Another Achievement in Administration's Fight Against Pandemic | FDA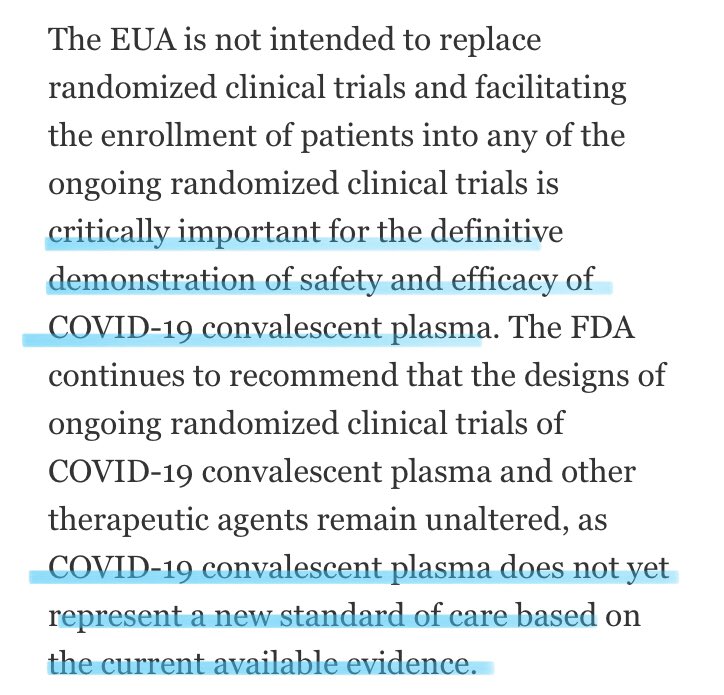 Am I telling you that this is a miracle treatment? I never mentioned or attempted to say that. I pointed out this major breakthrough of a potential treatment. We did not have enough data until The Mayo Clinic reach the key number of 35,200+ patients.
Does the FDA want to wait twenty five years before it approves a treatment? The FDA has been responsible for not approving drugs or treatment that were approved in Europe for years. Why do you think it happened? You know the answer, lobbying.
Tonight we should be encouraged by The Mayo Clinic study. You are not? I respect your opinion Eric.
It was an open label study. There were no controls.
I think everyone agrees earlier treatment helps reduce deaths. The 7 day data look appealing, but the 30 data is not as a great.
Also, what else did these patients get…if they got dexamethasone, remdesivr and the kitchen sink how can one conclude plasma was the key. Couldn't I just as well say kitchen sinks cure covid under these conditions?
Yes I did some research on this in the morning, and there was no formal study…no random testing, and no placebos in the test. There is no consistency at all in the cases that are contemplated. The findings were never peer reviewed, as it was never a formal study. I don't believe that was ever the intent. Just some preliminary findings and extrapolations based on loose data from the various cases where convalescent plasma was included in the treatment regimen for COVID. Similar to the initial Hydroxychloroquine findings, except there are no known adverse affects to using convalescent plasma so the FDA signed off on it.
The facts are out there, but just need to be mindful in how they are being framed to the public. This will be true of all the treatments breakthroughs we see in the coming months.
That said, if there are early findings that convalescent plasma may be beneficial and there are no known adverse affects, it definitely is worth exploring further.
Hi Chris. Summary of my opinion. Link to the prepublication paper | medRxiv
First and foremost, it is good to get widespread word out about the best treatments. (This happens in the medical world without an announcement by the President). As you can see from this program, this was organized by Mayo, but has far reaching participants across the country (thousands of sites, hundreds of thousands of patients). Its not a novel treatment.


There wasnt a reduction on mortality, there was a 35% lower relative risk of death. This is different statistically, but they, IMHO, purposely used this misleading terminology.
https://twitter.com/SafaMote/status/1297700080309489665?s=20

https://twitter.com/SafaMote/status/1297700082314366985?s=20

Furthermore, the difference between low, mid, and high IgG groups appears less in the 30-day mortality figures, suggesting that perhaps, convalescent plasma is merely slowing and delaying mortality. I wonder what the differences would be if you looked at 90-day mortality e.g.

I don't believe Scott Gottlieb is a partisan player, no matter whose administrations he has served under (He is a Republican who served under Trump). I think he is quite data based (for example he wants to open schools under discrete conditions he has laid out). That is why he is one of my go-to sources for information on treatments and policies. Even if I may disagree with his opinions, he is a solid source for information and explanation. It seems like you wanted to challenge his opinion on this even though it is not even pessimistic.
But but but…the anecdotal evidence!!! It's a "breakthrough"!!!
As Corso says…Not so fast my friend…
https://mobile.twitter.com/EricTopol/status/1297583128542760960
. "These are basically just exploratory analyses that don't prove anything. It's extraordinary to declare this as a breakthrough… All this does is jeopardize ever getting the truth."
This whole announcement feels like a trial balloon for the approval of a vaccine prior to the election before phase 3 trials are done.
Thank you snowskier for posting.
A Mayo Clinic study conducting on 35,282 patients with a 35% death rate decline is garbage, nothing, does not prove anything, no less a @potus, magic cures, anecdotal evidence?
REALLY?
THIS STUDY IS FROM THE MAYO CLINIC. You make it sound like it came from witchcraft doctors.
Do you think for a second that The Mayo Clinic would go forward with this announcement without their consent? You surely are pulling my leg.
Eric and J V you know first hand what The Mayo Clinic stands for. They would be the last non profit medical organization to even go with this without enough data. Can we at least agree on this or not?
Are you guys more qualified than The Mayo Clinic? That is a fair question since you question the data, sample data and results.
The next findings that I want to see are the combination of convalescent plasma and other drugs combined like Remdesevir and others.
We are entering the next phase of a real possible treatment. This is hugely positive. How do you think the ones that are suffering from COVID-19 think about this?
No 92010Coogs your study is bs,the mayo clinic is a bunch of witchcraft doctors, their data means nothing, this is a charlatan study.
I am dumbfounded by your reaction. I actually thought that you guys would be excited about this.