Coogs land Tech Transfer RB Ta'Zhawn Henry. He had 681 rushing yards and 11 TDs in two seasons.
He worked us in the last game
If I coach, I wouldn't even apply for a waiver. I like our RB depth as it is, but next year things will be different.
Numbers don't pop, but good enough in context of a true frosh/soph playing before a lot of guys do. Asked a few different Tech people and they all gave positive reviews of him and said they would have liked him to stick around.
Plus he harassed our defense in Lubbock back in 2017. Glad he's on our side now.
Recruiting sure has changed.
You must have meant to say 2018. He did embarrass us. For a small guy, you wouldn't think he had that much in him.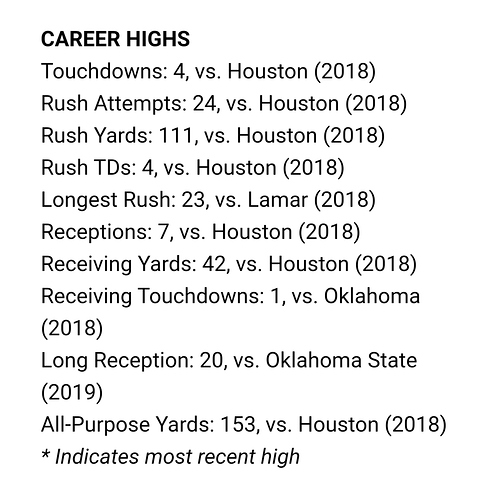 He also worked us during the recruiting! I remember when he had us and Tech as two of his biggest preferences and it seemed to stay that way until a few weeks before signing day.
Yep that's track speed and good agility.
I'd like to see a kickoff return team featuring the all-american from Troy and THIS guy back deep.
No matter who the opposition kicks to…THEY'RE DEAD!!!
I agree with you 230. With Porter and Car as seniors along with another senior RB Chandler Smith we are in good shape. I believe there are a few underclassman as well.
I have a question for anybody that can answer. If there is no 2020 season would Henry have to sit out 2021 if a waiver is not obtained?
2020 would count as the sit-out year even if 2020 got cancelled
I would apply for a waiver and have him available in case of a rash of injuries. Let him play in 4 games and redshirt him. It will help his experience and give us another back if needed.
The Kid should have a real solid career here. He sees the field really well. His quickness makes it tough for the defense to square him up, hits the seam hard, good hands are a plus.
Love Car and like Porter. Have concerns, however, about #3, and there's little chance Car and/or Porter won't miss some time with injury. I'd prefer Smith / Brown/Walker/Snead be #4 and move to #3.