The hell you say?
He didnt exactly get applause. We were all confused about whether or not to cheer.
The size of the cardboard check was huge?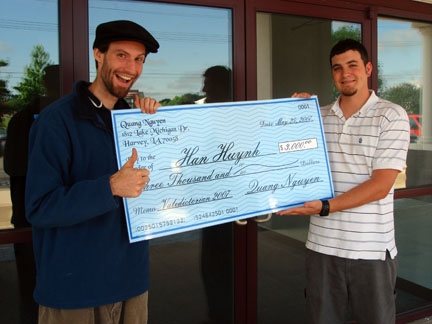 Just in time for festivus too!
I think it was $1.2 million.
I heard it was about 20M pesos
It was from the money raised at the Hall of Honor gala, dinner and fundraiser back in September. It was held at the Post Oak and it was a fantastic affair!
As an aside, DJ Hayden (as well as pretty much a who's who of other Cougar greats) were there. I was fortunate enough to have gotten to know DJ back when he played for the Cougars in 2011 and 2012, but i hadn't seen him in several years. I got to see, talk and catch up with him that night at the Hall of Honor dinner and was thrilled to have done so. We talked that night about getting together again for a project that he wanted to do. Unfortunately you always think you have more time. I wish that we had gotten that done, but we did not.
Considering the tragedy that occurred, those moments of catching up with him that night now stand out above the others and mean so much more.