Cougars Open American Play
Face UConn at 2 p.m. (CST) Wednesday inside XL Center in Hartford, Conn.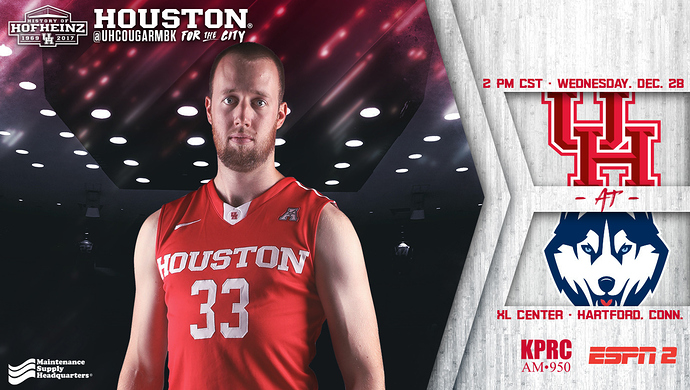 http://www.uhcougars.com/sports/m-baskbl/spec-rel/122616aai.html
.
36-12 Coogs at half.

15:38 left, Coogs lead 44-18. Gray is carving up the short-handed Huskies right now.
11:39 left, Coogs up 48-29
Listening to Jeremy Branham for the first time for an extended period of time. Enjoying the (what I hope is) un-biased comments.
Might be better than Matt Thomas…no disrespect.
Branham is fantastic. Been listening to him on baseball games for years; guy is just a professional announcer who knows how to do radio. He does seem to have an easier time alone though as his broadcasts at home with Elvin are still a bit of a work in progress as far as trying to get Elvin involved.
7:28 left, Coogs up 54-32.
Coogs win 62-46!!
Nice bounce back from the Harvard loss. Hopefully we can get Davis back for the Cincy game. Have USF next on Saturday; Bulls are losing everybody and their best player, McMurray is transferring out.
Gray had 20, Dotson and Chicken had 10
Big game tonight - Cincy at Temple at 7 pm.
Sampson post game:
After Harvard game, just talked about playing basketball
Liked how ball moved today, shot selection was outstanding
Learned from mistakes
This level isn't streetball
Practiced Christmas Day
Man to man defense was very good
Going to give up 3s from time to time in zone
Played a very mature game
Feels sorry for Ollie with all the players out and no PG
Hoping to get Davis back soon
Not going to give us a whole lot of credit because UCONN was missing their PG. Kids did play hard and saw a lot of good things so we'll take it.
Gray post game:
Shout out to our defense
Great win in a tough place to play. Kept crowd quiet.
On to the next one
Coaches said to hit them first as UCONN was hurting; don't let them hit first
Had to take advantage of the injuries
Shot selves in foot with loss to Harvard. Need to win both games on the road as coach said.
Cinch wins at Temple 56-50. Really starting to look like a 3 team conference with Cincy, SMU, and us being those 3 teams.
I don't think we're in the SMU/Cincy or even Temple ranks yet…maybe Memphis.