Much of the energy with expansion has centered on Houston, which spent the first five weeks of the season considered a serious threat to the playoff even as a team from the second-tier Group of Five, until its upset loss as a No. 6-ranked team at Navy on Oct. 8. Situated in the soon-to-be third-largest city in the country, Houston took 40,000 fans last December to Atlanta

, where it routed Florida State in the Peach Bowl. Both the governor and lieutenant governor of Texas have expressed support for Houston's inclusion, while others, such as Oklahoma State Coach Mike Gundy, have wondered aloud about adding another titan and potentially diluting the Texas recruiting riches of which many schools partake.
Big 12 expansion: League so unpredictable that anything could happen Monday
The Big 12 presidents meet Monday and an expansion decision may – or may not – be made

No absolutes? All you need to do is stroll the Texas campus. Within a few steps you can find president Greg Fenves, who has openly endorsed Houston, and those at the school who ask, "What happens when Tom Herman leaves?"
There's already an answer to that. It's called Art Briles and Kevin Sumlin. Houston is on a run that started with those two coaches and doesn't necessarily end when Herman takes that inevitable Power Five job.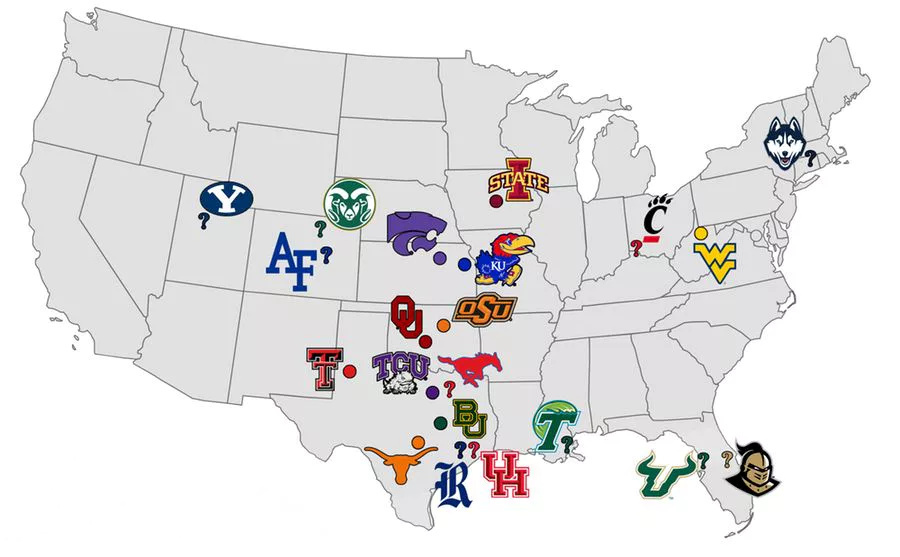 So if you're the Big 12, you target the best football programs on the board that can also fit into the conference. That would mean BYU (assuming the presidents can deal with social issue and other concerns), Houston or Cincinnati (notwithstanding a football nosedive this season).
Big 12 board of directors to discuss expansion course of action
Conference could add teams, stand pat or postpone decision indefinitely
Chronicle Subscriber Link
Google Search Link
Chuck Neinas, the former Big 12 commissioner, warns not to read too much into Boren's comments.
"He's a smart man. He's a good politician," Neinas said. "But you don't want to read too much into what he says because the next day he says something else."
The Big 12 is meeting again about expansion: Here's what could happen

The Big 12 has already become a laughing-stock among the Power 5 with PR flubs such as "One True Champion." There would certainly be egg on the Big 12's face if it went through this whole charade only to do nothing. And unless this agreement extends the Big 12's grant of rights agreement, the Big 12 would likely become a dead conference walking anyway.
"I just don't know," West Virginia President Gordon Gee told the Charleston Gazette-Mail last week. "I'm sure there will be a very serious discussion. Now, whether or not there will be a final decision made, I'm not certain I can say. I think we're getting closer to some type of decision, but it's very complicated and there are a lot of moving parts, so I don't want to predict."
American Athletic Conference eager to push for Power 6 status but waits for Big 12 decision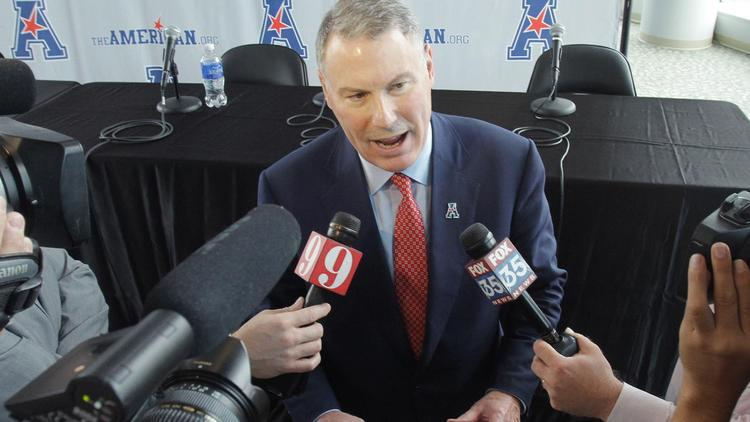 Aresco doesn't want to comment publicly on what the AAC would do if it loses schools to the Big 12, but he said the league has a plan in place if any members leave.
The most fitting result is…that no matter what the news is, the live stream has the Benny Hill theme music playing in the background.
The primary arguments in favor of expansion are to increase the conference's geographic reach to add new television markets, to increase the level of respect its football champion receives from the College Football Playoff Selection Committee by having a larger pool of schools it represents and to avoid being left with the leftovers if the other four Power 5 conferences —​ Atlantic Coast, Big Ten, Pacific-12 and Southeastern —​ decide to expand to 16 teams in the near future, all but forcing the Big 12 to do the same to remain relevant.
The primary argument against expansion is that none of the 11 finalists increase the value, in terms of potential media rights revenue, or prestige of the conference.
And (I know, I said I wouldn't do this anymore

)…here's Monty
Big 12 candidates are prepared for these 4 expansion scenarios on Monday
As you can see, just about any outcome is possible.

My guess on the announcement today: "We have decided to expand, but will not announce the schools until negotiations with them have completed."
Just enough to drive everyone insane.
http://m.sportsbusinessdaily.com/Journal/Issues/2016/10/17/Media/Sports-Media.aspx?
I was surprised that the comments Fox Sports President Eric Shanks said about the Big 12 didn't get more play. The college conference has been kicking around the idea of adding two or four teams, which would trigger a contract clause that would force Fox and ESPN to pay a higher rights fee.
Shanks essentially warned that any expansion could wind up being a fatal decision for the conference.
Shanks: "We don't think expansion in the Big 12 is a good idea for the conference. We think it will be dilutive to the product in the short term. In the long term, it's probably harmful to the future of the conference. Who knows where expansion is going to go. Reading the smoke signals, [expansion talk has] cooled off. I don't know why. We're still in discussions with them. We still have a long way to go in the deal. We'll work through it the best way that we can."