2016 Fall Camp Primer: Defense
By: Jimmy Schofield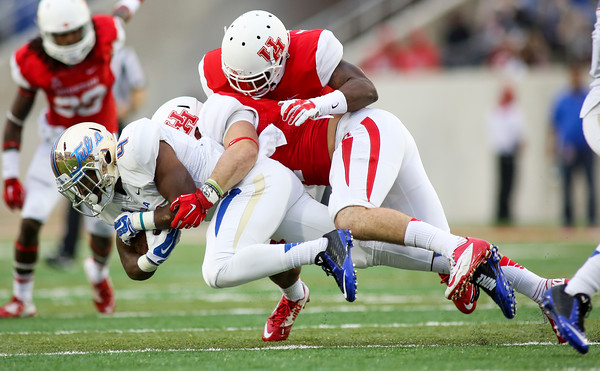 With Fall camp for the 2016 season quickly approaching, Coogfans.com previews the defensive side of the ball under second year coordinator Todd Orlando.
After David Gibbs left in January of 2015 for the same position at Texas Tech, many fans were concerned the defense would stumble after one of their best seasons in program history in which they allowed just 20.6 points-per-game and 343 total yards of offense as they finished ranked nationally in the top-20 in both areas. Fortunately for Coog Nation, first year head coach Tom Herman hit a home run with his replacement.
Enter Todd Orlando
Orlando had a reputation as an aggressive coordinator at his previous stops as a defensive coordinator (UConn, Florida International and Utah State). In his two years at Utah State (2013 and 2014), Orlando's units forced 59 turnovers and under 20 points-per-game in both seasons.
Orlando's attacking philosophy combined with Herman's hard hitting personality ("It takes no talent to be the most physically dominating team in the country" he told his team last spring) were the perfect marriage. In his first season, all the "Third Ward Defense" accomplished was to hold opponents to 20.7 points-per-game (20th nationally) while forcing a nation's best 35 turnovers.
It all starts up front in Orlando's 3-4 scheme. Stopping the run is a key emphasis for Orlando, and the defense did just that last season, holding opponents to just 108.8 rushing yards per game, ranking them EIGHTH nationally by seasons end, and the lowest for a Cougars defense since 1999, per Phil Steele.
A Controlled Chaos
So while the back seven are unleashed, it's up to the down linemen up front to control the line of scrimmage. So let's take a look at what we know about the D-line:
It all starts in the middle with B.J. Singleton (6-feet-4 inches, 314 pounds) at the nose. Singleton has gained over 25 pounds of good weight (muscle) over the past two seasons and it's shown in his play as the disruptor in the middle. While Orlando will try to disguise where he's sending the blitz from, even having his entire front rushing from a standing position, opponents know exactly where Singleton will be; lined up over the center or one of the guards, usually in one of the two A gaps. Each time a tackle was made for a loss or a sack occurred, chances are Singleton was right there pushing offensive linemen back, throwing off the timing of the offense. While his stats won't show much by design (a total of 28 solo tackles with only 8 for loss and 4.5 sacks for the redshirt senior), he's everything to the defense in Orlando's 2-gap scheme.
Flanking Singleton will be defensive ends Cameron Malveaux and Nick Thurman. At 6-feet-6 inches, 270 pounds, Malveaux is going to be a beast yet again as he power cleans 360 pounds, with a 35 inch vertical jump and can bench 400 pounds. Malveaux uses his power to punch his opponent in order to knock him off balance. He then uses his first step to shoot the gap or uses an effective swim technique in order to penetrate the LOS. Twenty five percent of Malveaux's tackles were for loss (8.5 of his 33 total). Thurman meanwhile will have an opportunity to take over for departed senior Tomme Mark as he has the most experience of the remaining reserves. At 6-foot-4, 290 pounds, Thurman (R-Jr) has steadily improved over his first three seasons as he had 27 tackles last year (including five TFL).
The Rookie
Houston fans are not used to a prospect the lights of one Ed Oliver. The nation's third ranked defensive tackle, according to the 247sports recruiting composite, should make an immediate impact on the line. At 6-foot-2 and 290 pounds, "Big Ed" had 229 total tackles the past three seasons playing at Houston's Westfield High. He had 84 last season and an astonishing 20 for loss to go along with 9 sacks, 2 forced fumbles and an interception.
What stands out the most, among many things, are his explosion off the ball and his motor. In describing him during a National Signing Day press conference, defensive line coach Oscar Giles said Oliver is almost impossible to move because of his great lower base and has huge hands that allow him to control and disengage from his opponent quickly.
Oliver may force his way into the starting lineup from day one, or Orlando may ease him into the lineup. One thing is certain, Houston fans haven't seen anything the likes of Oliver since Wilson Whitley, and all he did was win a Lombardi Award in 1976 while being named the SWC's "Athlete of the Decade" for the 1970s.
The unknowns
Oliver will have to battle quite a few linemen, some with experience, and some with little to none (including two freshmen). Returning with limited experience are Zach Vaughn (6-foot-4, 270, RSo) and Jerard Carter (6-foot-3, 297, RSo). Carter had had 13 tackles, two fumble recoveries and half a sack (against FSU), while Vaughn didn't register any official tackles as he played mainly on special teams.
Behind them are Chauntez Jackson (6-foot-5, 280, Sr., Zorrell Ezell (6-foot-1, 285,Sr. and DJ Jenkins (6-foot-2, 260, RFr), with only Jackson seeing playing time as the one time Tennessee commit had four tackles in four games. Ezell transferred from Baylor a few years ago but has yet to really make a dent playing time wise while Jenkins redshirted last season. True Freshman Aymiel Fleming (6-foot-2, 284) will be another true freshman to keep an eye as camp progresses as the former LaMarque Cougar had 133 career tackles.
"Lions don't dream of hunting. They just hunt."
This line perfectly describes middle linebacker Elandon Roberts, who took his talents to the New England Patriots forcing Orlando to find a replacement for his 88 solo tackles (19.5 TFL), 6 sacks, 6 passes defensed and 2 forced fumbles during the 2015 season.
Orlando played a lot of 3-3-5 as his base defense because they played in the nickel due to the extreme amount of talent in the secondary so they rarely had to rely on a second inside linebacker. This year will be different with Roberts gone however. One linebacker that could emerge from the pack is Emeke Egbule (6'0, So.), "He's fast and really big," strength and conditioning Coach Yancy McKnight told me before spring ball. "He doesn't say a whole lot. He just works really hard and is going to be a big kid and he can really, really run and he competes hard. If he continues doing what he's doing progression wise, I think he'll show up during fall ready to have a great season."
Egbule played mainly on special teams last season registering 11 tackles in 14 games while adding a sack. Lining up next to Egbule inside will probably be Mathew Adams (6'1, 230, Jr.), who struggled last season with injuries but made quite the impact a true freshman two seasons ago with 40 tackles, 4.5 for loss and 2 sacks. Last season he had 49 tackles though he only started 3 games, with 2.5 for loss and 2 sacks.
D'Juan Hines (6'1, 225, RJr.) saw a lot of playing time last season in reserve, adding 13 tackles and two QB hurries as he showed solid potential as a rush specialist when Orlando went 'kamikaze' and had the entire front seven standing. Three redshirt freshman who may make an impact could be Jordan Milburn (6'1, 225), Leroy Godfrey (6'3, 240) and Camden Ross (6'2, 245) as they have really put on some size while sitting out last season as redshirts in their first year.
The two outside spots lay in the secure hands of Steven Taylor (6'1, 225, RSr.) and Tyus Bowser (6'3, 240, Sr.). Taylor has been steady in each of his three seasons with 89, 76 and 92 total tackles. While adding 3 and 4 sacks his first two seasons respectively, Orlando lined the superior athlete up all over the field last season so opposing offensive lines couldn't get a handle on where he would be blitzing from. Taylor used his blazing speed to up his production to 10 sacks while adding 18.5 tackles-for-loss, many coming on "cross dogs" where he would crisscross with Roberts in double-A gap barrel blitzes (with a safety following behind).
Bowser returns with his speed as a pass-rush specialist, de-facto defensive end when going into a four-man front, as he had 5.5 sacks last season and 13 for his career going into his senior season. Bowser is also athletic enough to drop back when Orlando calls for one of his many zone blitzes as he had three passes defended and an interception last season as well.
Ralph Harvey Jr. (6'2, 245, Sr.) is one to keep an eye on as a reserve outside backer as he has the size and has had a year in the program to acclimate from the junior college ranks just as Roberts did two seasons ago. Only one linebacker was signed for the 2016 class which was Hasaun Glasgow, who's really in the Bowser mode as an outside rush linebacker/defensive end. The Manvel product will enter his true freshman season at 6-foot-3, 243 pounds, the perfect size for a rush-outside linebacker.
Secondary concerns
In losing lockdown corner William Jackson to the Cincinnati Bengals in the first round of this year's NFL draft, along with four year starting safeties Trevon Stewart and Adrian McDonald (who's currently in the San Diego Chargers camp as a non-drafted free agent) as well as nickel back Lee Hightower, the secondary loses 135 career starts, almost 30-percent of their total solo tackles along with a combined 14 interceptions, 43 passes defended and 7 fumble recoveries. McDonald also graduates as the leading interceptor in Coogs history with 17, along with 7 fumble recoveries. Stewart added 204 solo tackles (including 17.5 for loss), 7 sacks, 10 fumble recoveries and 12 interceptions as a four year starter. Both safeties had that innate ability, or football IQ, to know exactly where the ball was going to be, and get there faster than the offense did many times. As far as Jackson, all he did was lead the nation with 28 passes defended as he was often put on that island outside in man coverage. That kind of production won't be easy to replace and allowed Orlando to be much more aggressive up front, knowing his secondary would be in the right spot at the right time to make a play on the ball. In fact the "Third Ward Defense" leads the nation with 108 forced turnovers over the past three seasons (35 last year, 30 in 2014 and an amazing 43 in 2013).
With so many new faces, it'll be interesting to see how aggressive Orlando is with his blitz packages. With an emphasis on the passing game so high in college football these days, the "Third Ward Defense" plays in the nickel almost exclusively. The lone returning starter in the defensive backfield is cornerback Brandon Wilson (5-foot-11, 200, Sr.), and he may not even play at the same position last year as spring reports had him in Hightower's nickel spot playing closer to the line of scrimmage. This fits the physical Wilson as he's an excellent tackler in space as he led all Coogs cornerbacks with 58 total tackles while adding 9 passes defended, forcing and recovering a fumble while intercepting a pass. Oh, and he's as strong as an ox according to McKnight, "He's a powerful, strong dude that can jump, that can run," McKnight said he was no doubt the strongest player on the team pound-for-pound. "He can press a lot of weight. He can squat a ton. Dead lift a ton of weight. Can power clean. Pullups. It's unbelievable how much weight he can have hanging off his body doing pullups. I don't know if I've been around a guy who's that strong pulling. For his body weight he's a strong, strong individual and I'd put him up there in the top-10 strongest guys I've ever worked with."
That strength combined with the ability to tackle well in space makes putting him closer to the line of scrimmage a good move potentially, but only if the cornerbacks and safeties can take care of business on the back end. Cornerbacks coach Jason Washington returns two corners whom played quite a few snaps last year in Jeremy Winchester (6'0, 190, RSo.) and Howard Wilson (6'1, 185, Jr.).
Winchester was inserted into the starting lineup against Memphis late in the season and played decently for a young player thrown into the mix on short notice; registering six tackles against the Tigers (he had 17 on the season). Seeing his first action on the field last year, Winchester also added three passes defended for the season. Wilson meanwhile was limited last season, playing in only three games (though he did have an interception and three passes defended). It was the prior season, in which he really impressed as a true freshman, starting three games and appearing in all 13 total. The Desoto product produced 48 total tackles in 2014, with three passes defended and three interceptions proving he can also become a play maker in the secondary.
J.J. Dallas (6'0, 200, So.) was a midterm enrollee and a JC transfer from Blinn who, according to Washington, "is very versatile and can play the nickel playing coverage on the slot receiver or cover the outside guy in man coverage if needed." Joeal Williams (5'10, 185, RSo.) played mainly on special teams last season, adding two tackles in seven games along with a blocked kick. Ka'Darian Smith (6-foot, 172) and Javian Smith (6-foot-1, 165), whom are no relation; along with Patrick Rosette (6-foot-1, 195) are true freshmen who will probably be redshirted as they need to put on weight unless one of them surprises the staff.
The two safety positions will be a battle as well as only Khalil Williams (6'0, 200, Jr.) returns with any playing experience. Williams will most likely fit into McDonald's strong safety role, playing deep as the last line of defense. Williams started three games last season and had 18 total tackles with 5 passes defended and an interception returned for 49 yards. His true freshman season saw his redshirt removed halfway through the season, adding 9 tackles in 7 games.
Terrell Williams (6'3, 210, Jr.) is another early enrollee who could make an immediate impact as safeties coach Craig Naivar likes his size and intelligence as he should be a force in the box as a solid run defender. The other scholarshipped safeties who will make a push for playing time are Darius Gilbert (6'2, 195, RFr.), Michael Eke (6'2, 205, RFr.) and Garrett Davis (6'1, 200, RSo.) with only Davis seeing the field, registering 7 tackles with a pass defended in 13 games, mainly on special teams.
Another to keep an eye on is Collin Wilder, a four year starter at local powerhouse Katy High. Wilder reminds me a lot of Stewart in that he oozes leadership, and has a knack for making plays on the ball, ending his career with 413 tackles and 64 straight starts. Whatever combination Orlando decides to use they must improve on the 274 passing yards last year's team allowed (ranking them 116th nationally) as they were only able to overcome the bad pass coverage because of the ability to force turnovers at a record rate.