2016 Fall Camp Primer: Offense
**By Jimmy Schofield**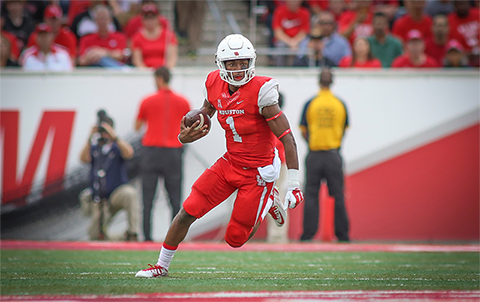 _[Photo by Stephen Pinchback](http://pinchback.smugmug.com)_
With Fall camp for the 2016 season quickly approaching, Coogfans.com previews the offensive side of the ball under second year coordinator Major Applewhite.
Under the watchful eye of head coach Tom Herman, Applewhite helped the offense improve last season from the 2014 season in just about every major statistical category from scoring; 29.8 to 40.4 (57th to 10th), total offense; 414.1 to 484.1 (55th to 20th) and perhaps most importantly, in rushing offense; from 42nd in 2014 (183.8) to 13th. The 235.8 yards-per-game rushing was the most for any Cougars ball club since the 1983 season, per Phil Steele.
The key to the success of the offense was Applewhite making the opposition defend every inch of the field both horizontally via various types of screen passes, while also defending the field vertically behind the deep passing game. Of course the deep posts were only successful via play-action because of a philosophy devoted to a power running game. With that, let's take a look at each position and who returns.
Quarterback
While schemes are great, it's players who make teams go and luckily for Coogfans, Greg Ward Jr. (5-foot-11 inches, 185 pounds, Sr.) returns for his senior season with an 19-2 record over the past two years (6-2 in 2014 and 13-0 last year as he missed the teams' only loss at UConn). Ward passed for 2,828 yards last season with 17 TDs to only 6 picks. The 2015 Earl Campbell Award Winner and Chick-fil-A Peach Bowl Offensive MVP also rushed for 1,108 yards with 21 TDs (fifth nationally), with many coming via my favorite play; the QB sweep in the red zone.
The main objective of Applewhite's power-spread offense is to move the chains with short quick passes while adding in various types of power runs which leads to deep shots via the play-action passing game. In order to run this offense your QB has to complete a high percentage of his passes. A low completion percentage puts your offense behind the sticks on second and third down. Ward has completed over 67-percent of his 428 career passes with 30 touchdown passes to only 13 interceptions. While averaging only 139 yards passing-per-game over his three seasons, those yards jump to 231 in games in which he starts an entire game. While those may be pedestrian numbers passing wise in this day and age of prolific pass-first offenses, Ward is a true duel threat as he averages 5.1 yards-per-carry each time he touches the rock rushing the ball.
Herman has stated numerous times over the past year that he wants Ward to become a more cerebral pocket passing QB while running less to save wear-and-tear from the physical poundings he takes on his slight-of-frame body, though he has "bulked up" this season to 185 pounds.
Behind Ward will be Kyle Postma (6'3, 205, Jr.), Bear Fenimore (6'1, 215, RSo.), Bowman Sells (6'2, 202, Fr.) and Kyle Allen (6'3, 210, Jr.), who are all on scholarship.
Allen transferred this year from Texas A&M so he's not eligible to play until next year per NCAA rules, though I'm sure he's going to get plenty of reps as he and Postma battle for next year's starting spot. Allen was 9-5 in two seasons as a starter for the Aggies. The former number one ranked QB for the 2014 recruiting class passed for over 3,500 yards and 33 TDs to 14 interceptions, completing over 58-percent of his passes over his two seasons in College Station.
That battle is a story for next off-season, however. As for this season, if Ward is once again injured, Postma showed he's more than well enough equipped to handle being thrown into the fray. The former walk-on displayed extreme athleticism last year when he played in place of Ward, especially via the read-option game. The former Trinity Valley Community College transfer completed 63-percent of his passes (43-for-68) for 453 yards with three TDs to one interception. He also keyed the comeback against Memphis in which Coogfans will never forget as he subbed for a hobbling Ward with the team trailing 20-0 just minutes before halftime. They trailed 34-14 heading into the fourth quarter before Postma led them to three scores for the final 35-34 score, including the game winning 7 yard TD run with just over a minute remaining in the game. He completed 21-of-36 passes that night for 236 yards with a TD while adding another 49 yards on the ground, on 6 carries, and that game winning scamper. He also helped clinch the Florida State Peach bowl victory with a 29 yard run setting up the final score that would put the Noles away late.
Sells has a great arm according to Applewhite, is physical and has experience as he was a four year starter at Lucas Lovejoy where he threw for over 8,700 yards and 95 TDs. As an early enrollee, Sells is setting himself up to be in the picture next year. Fenimore has the size for the position at 215 pounds but hasn't established himself in the pecking order just yet.
Rounding out the position includes walk-on's Hunter McCoy (6'4, 220, Sr.), Mason McClendon (5'10, 190, So.), and D'Eriq King (5'10, 170), who's on scholarship. The four star signee could liven up the backup battle as he's much in the mold of Ward, a small but explosive athlete who passed for over 10,000 yards with an additional 3,000 on the ground over a four year career at Manvel.
Running Back
While both Kenneth Farrow and Ryan Jackson have graduated, taking their combined 954 carries for 4,905 yards and 52 TDs with them, Duke Catalon (6'0, 210, RSo.), who sat out last year after transferring from Texas, looks to pick up where the aforementioned duo left off as he had a very impressive spring by every measure. The Aldine Eisenhower product rushed for almost 3,500 yards during his high school career and according to running backs coach Kenith Pope was "hard to bring down on the scout team and has great vision and speed."
Kaliq Kokuma (5'11, 210, RSo.) and Kevrin Justice (5'11, 190, RFr.) are battling for the backup spot as the depth took a hit with the dismissals of Javin Webb and Davon Crookshank over the off-season for undisclosed reasons. Kokuma had 92 yards on 18 carries (5.1 ypc) in three games last season. Justice ran for over 3,400 career yards and 51 TDs at Kilgore High. Son of legendary former Cougar track and field athlete and current coach Leroy Burrell, Josh Burrell (5'10, 247, RFr.) is a walk-on who's more along the lines of an H-back with his sheer size, who also performed well over spring ball. True freshman Mulbah Car (5'11, 194) brings a physical and violent temperament with him as well as possessing great speed, according to Pope. Car set the Austin Independent School District career rushing record with 4,833 yards.
Depending on how the backups perform, cornerback Brandon Wilson (5'11, 200, RSr.) could contribute greatly to the position after rushing for 188 yards on 37 carries (5.1 ypc) with 2 scores over the final three games of the season due to injuries. Recruited as a running back out of Shreveport, Louisiana's Calvary Academy, Wilson hadn't played the position at all over his first three seasons. Once given the chance however, he showed he hadn't lost what it takes to master the position, especially in the areas of footwork, vision and patience in setting up his blocks and not just taking the first hole he saw his line open up for him.
Wide Receiver
With the loss of Demarcus Ayers and his 98 receptions last season (tying him for sixth nationally) for 1,222 yards, new wide receivers coach Darrell Wyatt will have his work cut out in trying to replace Ward's go-to man. Luckily both outside receivers return in Chance Allen (6'3, 215, Sr.) and Steven Dunbar (6'3, 210, Jr.). Allen was both the second leading receiver in receptions and yards behind Ayers with 56 and 752 respectively. The former Oregon transfer also hauled in 6 TDs, tying Ayers for the team lead. Dunbar meanwhile was third with 31 receptions for 382 yards and three scores, a season after catching 20 balls for 286 yards as a true freshman.
Replacing Ayers at the slot could be Ra'Shaad Samples (5'11, 190, RJr.), who sat out most of spring with concussion like symptoms. Both Ayers and Samples both have the same types of traits, namely speed. Samples reportedly ran a 4.32 40 at Oklahoma State before transferring and sitting out last season. He has the same types of shifty moves from the slot as Ayers did, and can also be utilized in the rushing game via the speed sweep just as Ayers did a year ago. Getting the ball into his hands in space, whether on a deep post or a bubble screen, will be a major focus during Fall practices. During his career at Dallas Skyline, the former 4-star recruit caught 48 TD passes.
Former walk-on Linell Bonner (6'0, 202, Jr.) emerged last season as the best receiver in reserve, catching 25 passes for 317 yards and a second leading five TDs. Isaiah Johnson (6'4, 205, RSo.) caught 6 passes for 43 yards as an outside receiver as well during the early portion of the season and really impressed during Spring ball by using his 8.12 60 M track speed to amass 19.4 yards-per-reception on 15 catches (292 yards and three TDs) in the spring game.
John Leday (6'0, 200, RJr.) also saw time last year along the outside with 4 receptions for 41 yards. True freshmen looking to make an impact include Terry Mark (6'1, 190, Fr.), Courtney Lark (6'1, 165), Marquez Stevenson (6'0, 175) and Keith Corbin (6'2, 175).
If he doesn't win the backup QB or punter spots, which he's expected to, a wildcard at receiver could be Postma, who caught 6 passes for 145 yards (24.2 ypr) in the first few games before moving to QB due to injuries. Herman mentioned early last season on how Postma was a "10 foot broad jump guy," referring to his athleticism.
Offensive Line
This leads us to the key to the offense. The big men up front for whom without; Ward, the running backs and receivers wouldn't have been able to do their thing. Second year O-line coach Derek Warehime will no doubt have his work cut out for him with bookend tackles Alex Cooper and Carter Wall both graduating. With losing starting guard/center Colton Freeman over spring ball due to lingering effect from stinger issues suffered last season, the line loses 83 career starts but returns 26 career starts from five linemen who have started at least one game in their career.
Hopefully this season the line won't need the ELEVEN different starting combinations that least season required (in 14 games). Warehime should have received the Frank Broyles Award for assistant coach of the year in my opinion, but is reserved for a coordinator from a P5 school unfortunately. Warehime on the outlook he taught his line to take last season during the Coogs signing day television show, "Really it was 'man up, man down.' We weren't going to be the ones to let this team down. It's our goal to outwork everyone else on the team."
The all-important starting left tackle spot will be a battle between Marcus Oliver (6'3, 295, Jr.) and Josh Jones (6'5, 280, RSo.). Oliver started the first five games of the season at the position until his season was derailed by an ankle injury that continued to linger, limiting his effectiveness. Jones was the first huge recruit to sign for the 2015 recruiting class, in essence beginning the #HTownTakeover, after de-committing from Oklahoma State. The Richmond George Bush Bronco redshirted last season, which is what Warehime would like to do with his incoming batch of freshmen, including Dixie Wooten (6'5, 322), Keenan Murphy (6'2, 295) and Braylon Jones (6'3, 278). Redshirt seniors are immensely more valuable to a team than are true freshmen.
If spring was any indicator, my money would go on Iowa Western Community College transfer Na'Ty Rodgers (6'5, 292, Jr.) starting at right tackle. Warehime described Rodgers as being very athletic for his size, which is needed in their zone based blocking scheme, and "long" which is important in keeping opposing defensive linemen at bay on the first level while being able to reach linebackers and safeties on the second level.
The starting center will be Will Noble (6'4, 290, So.), who returns after starting the final seven games of the season due to the injury to Freeman. The true freshman would later be named an ESPN, FWAA and USA Today Freshman All American and has four year starter written all over him as he has a huge upside.
The guard spots should be manned by youngsters Kameron Eloph (6'3, 294, So.) and Mason Denley (6'4, 305, RSo.) at right and left guard respectively. Eloph was switched from the defensive line early in the season due to the many injuries, finishing the season starting three games at guard (two at right guard and one at left) while playing in nine total. Denley started six games, all at left guard including three of the final four. Both youngsters have the toughness for the position but just need to polish their technique. Josh Thomas (6'6, 332, RJr.) provides depth at guard as he started saw plenty of action early inside, even starting against SMU at left guard before being lost for the season due to an ankle injury.
Alex Fontana (6'3, 310) signed in April after starting at center last season for New Mexico Military Institute where he earned Honorable Mention All-Western States football league honors last season. He'll have two years of eligibility remaining and will provide depth at center and guard along with Mac Long (6'4, 300, Sr.). Redshirt freshmen Ryan Deshotel (6'4, 272), who was getting too big for tight end, along with Jarrid Williams (6'6, 290) will both provide depth at tackle.
The tight end position was instrumental in helping the pass protection and run blocking, especially the outside run game and is once again led by the return of Tyler McCloskey (6'2, 245, Sr.). Those QB sweeps that Ward was so effective on were led by the senior from Houston Memorial High. Per tight ends coach Corby Meekins, "the tight end makes our system work. He has to be a receiver and play down attached along the offensive line. He has to be versatile enough to where we don't sub when we go to out four receiver sets."
McCloskey needs to learn to set his routes up better as he only caught 14 passes last year for 157 yards and a score. That's where Iowa State transfer Alex Leslie (6'5, 240, RJr.) comes in, as Meekins described him as having "great hands" in the passing game but big enough to block if he's lined up along the line. Leslie played at New Braunfels high where he was an All-District 25-5A first team as a wide receiver during his senior season in 2012. Rounding out the position is Romello Brooker (6'4, 241, RSo.), who made some impressive receptions during spring ball.