That's a sexy rumor you've got posted there.
A reporter in Flagstaff.
May not be anything to it, but since everybody else is posting every other rumor out there on Twitter, I figured…you know…WHY NOT???
doesn't seem like this guy is real - google him. there is nothing there outside of his twitter account
More reason the possibility, he really may know something. He is not constantly putting out rumors like MHVer. Will see.
Gotta go back in time on Twitter and razz some of those P12 fans who were completely full of themselves still and dissing UH/UCF/Cincy/BYU as "just G5 schools".
Breaking news: Yet another thread on realignment!
Old man Brogue's son Aden.
I love this thread. That other one is to boo-ku. Fook that other thread.

More like breaking bottles on the remaining PAC programs' heads.
If it is to be, it's up to thee.
It is kinda nice to be in a postion where UH and our future confence will get stronger and UH is not being left behind.
The Washington rumor is intriguing.
That would be full-on swaggerville. Leaving Oregon behind. A complete, if only temporary, vindication of the B12.
The Washington rumor is pushed by someone that doesn't exist - he's a Twitter figment
Who would get left out if Washington is in the mix and only 4 are accepted?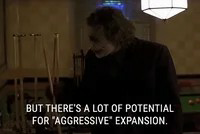 Do we hold tryouts for the 4th spot? Lol
I think an invite to Washington and Oregon would be a cash grab.
Even though they don't have a n invitation in hand, they will end up in the B1G 10 eventually.
If we land them as part of a 6 school PAC add, they will have to pay us an exit fee to leave.
We need to think of our nucleus, and it could be either:
If 2 schools:
Both Arizona Schools- gets us in the Phoenix and Arizona market
One school from Arizona + One school from another state (Utah, Colorado, etc.)
If 4 schools:
Add Arizona Schools + Colorado and Utah
If 6 Schools:
4 + the Oregon/ Washington duo with the assumption that those two will leave and we profit from their time in the Big 12 + exit fees
Delete it if it doesnt happen today…i dont think it will be today but what the hell…if it does this will have become a very fun thread.
I dont think it happens today either, but it is fun to speculate for once where UH is not being left behind.
Whats it like to be an oregeon state or a Washington state fan these last few week?