2016 Game 11 Preview: Louisville
By: Jimmy Schofield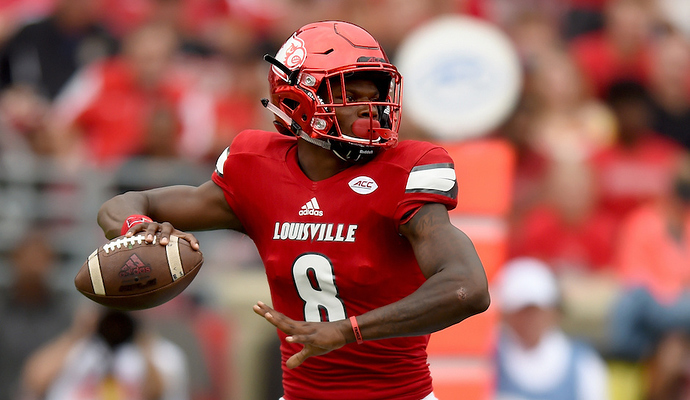 photo courtesy
gocards.com
Your Houston Cougars play their final home game of the season this Thursday (Nov 17) as they host the high flying Louisville Cardinals on Senior Night. Game time at TDECU Stadium is set for 7pm (CST) and will be televised nationally on ESPN.
These two teams have been on an upward trajectory since they last time they met in Louisville for the second game of the season, a 34-31 come from behind victory that propelled the #HTownTakeover under second year head coach Tom Herman (21-3), "We train that way for moments like this," Herman said after the game that saw seven second half lead changes and five in the fourth quarter alone. "That's just the culture of our program, is to battle adversity, respond when adversity hits very mindfully and on purpose, with really good thoughts and actions, and not to panic and not to try to do anything outside of ourselves. We talk all the time about going back to our fundamentals when things get tough. Effort and fundamentals are the easiest way to battle adversity. It's not freaking out. It's not trying to make the superhuman play. It's going back to your fundamentals and giving a superior level of effort."
The Coogs (8-2 and 5-2 in the American Athletic Conference's Western division) will need all of that training and then some as they'll be facing a Louisville squad that's sure to be either ranked second or third in the college football playoff rankings (which come out tonight). The sixth ranked Cards, 9-1, 7-1 in the Atlantic Coast Conference's Atlantic division, are led by Bobby Petrino, who has the top winning percentage in school history, and rising, with a 67-19 record in his seventh year at Louisville and 109-40 in 12 years overall at three different schools.
Petrino's offenses are always dynamic with this season being no different as the Cards average a nation's leading 49.6 points-per-game while also leading the country in total yards with 583.2 per game; 270 rushing (ninth) and 313.2 passing (17th). The Cards offense is diverse as they make opposing defenses defend the field vertically via a prolific deep passing game as well as horizontally via their quick passing screen game in their spread scheme. They also have a punishing ground game as they pound defenses between the tackles via their inside zone run game yet also take advantage of their speedy running backs and quarterback along the perimeter via the outside zone run game and the zone read option.
That quarterback is redshirt Sophomore Lamar Jackson (6-3, 204). The stats that the front runner for this year's Heisman Trophy is putting up are staggering; while averaging 289 yards passing-per-game and completing over 58-percent of his passes with 27 touchdowns to only 6 interceptions, he adds over 133 yards rushing-per-game on 18 carries-per-game for a 7.5 yard-per-carry average. He also leads the nation with 19 touchdowns rushing and is second in total offense, averaging over 423 yards. He's a much different QB than the one who completed 17-of-27 passes for just 168 yards with a touchdown to two interceptions in the last matchup between old CUSA and AAC foes. The Coogs defense kept him bottled up that day as he rushed for just 16 yards on 12 carries thanks to 37 yards lost on sacks and tackles-for-loss.
The Cougars defense, under coordinator Todd Orlando, will have the same game plan however; keep Jackson in the pocket and make him beat you with his arm. The problem is a defense can play sound fundamental football and Jackson can still escape the pocket via his elusiveness which allows his home run speed to take over.
Orlando emphasizes shutting down the run first as the Coogs are third nationally in rush defense as they allow just 92.8 yards-per-game. In allowing only 303.3 total yards-per-game they rank ninth. Holding down the nation's leading offense is going to be tough, even though the Coogs allow just 21.3 points-per-game (25th). Where the "Third Ward Defense" can be taken advantage of is the passing game as they allow 210.5 yards-per-game to rank them 41st.
Their main problem has been communication in the secondary in allowing receivers to go unchecked from one level to the next, something they cannot allow to happen against a group of speedy Louisville wide receivers led by James Quick (6-1, 180, Sr.). Petrino moves his receivers around so opposing defenses can't implement a single game plan against them. Quick is effective in the slot against slower linebackers and safeties as he's a precise route runner yet has a quick first step to beat press coverage as an outside receiver and home run speed as he averages 16.9 yards-per-reception on his 36 catches (608 yards) to lead the club. Not to be outdone, Jamari Staples (6-4, 195, Sr.) averages 17.2 yards-per-catch (585 yards on 34 catches). Cole Hikutini (6-5, 248, Sr.) is a hybrid tight end/fullback who can line up in the slot, inline as a blocking TE or in the backfield as an H-back which allows him a clean release off the line. He's their leading receiver receptions wise at 38 and has 526 yards as he has a great catch radius. He's the type of mismatch that's caused the Cougars secondary headaches as he's bigger than any of their smaller defensive backs, yet faster than most linebackers he faces.
Their best deep threat is probably Jaylen Smith (6-4, 210, So.) as he averages 22.1 yards-per-reception on his 22 catches (for 487 yards) but he's just as dangerous in the quick screen game as he'll use his physicality to run over smaller defensive backs. Traveon Samuel (5-7, 170, So.) is a smaller slot receiver who's cat quick as he has 16 receptions for 195 yards (12.1 average) and a TD. Reggie Bonnafon (6-3, 210, Jr.) is another big physical yet speedy receiver as he adds 11 catches for 128 yards (11.6 average) and four TD's. Quick, Hikutini and Smith all have six TD's as opposing defenses cannot key in on just one wide out.
Orlando will have to mix his looks up on Jackson as he's really improved as a passer over the almost two seasons since the two teams last faced one another. In that game, Jackson's second start, he was replaced in the fourth quarter because of his ineffectiveness. Houston cornerbacks Howard Wilson (6-1, 185, RSo.), Jeremy Winchester (6-0, 190, So.) and Brandon Wilson (5-11, 200, Sr.) will have to hold up in man coverage against the speedy Louisville receivers. Of course Jackson can also beat zone pressures with his arm as he's improved as a decision maker in the passing game as he's thrown only the six interceptions this year. Howard Wilson is fifth in the nation with five interceptions and 11th with 13 passes defended. Winchester had perhaps his best game as a Coog last week against Tulane with six solo tackles and two pass breakups as he was more than effective in covering the Green Wave's quick passing screen game, something Louisville may try to do as well. For the season Winchester has 27 solo tackles, eight passes defended and a fumble recovery. Brandon Wilson has 19 solo tackles, three for loss, a sack, four passes defended and an interception in seven games.
Safeties Garrett Davis (6-1, 200, So.) and Khalil Williams (6-0, 200, Jr.) will have to play with much better eye discipline than they have in any game this season as to not get beat by Louisville's lethal play-action game. Williams has 37 solo tackles, four for loss and two passes defended from his free safety spot while Davis adds 32 solo tackles, six tackles-for-loss, two sacks and a fumble recovery from his strong safety spot.
If Louisville's deep passing game isn't working, they can just as easily gash opponents between the tackles as they have a deep rotation of running backs led by Brandon Radcliffe (5-9, 210, Sr.), who's a bowling ball of a back who can spring an explosive play from anywhere on the field as he averages more than 7 yards-per-carry (768 yards on 107 carries with 6 TD's. Jeremy Smith (6-2, 225, Jr.) is their bruiser as he has 308 yards on 44 carries with 7 TD's. Smith is a versatile back who is deceptively quick (noticing a theme here?) as he not only averages 7 yards-per-carry but 13 yards-per-reception (215 yards on 16 catches) as Jackson has no problem checking down and hitting him on a swing pass if everyone else is covered. Jackson of course is their leading rusher as mentioned previously as they'll use him in the zone read option game along with called draws and sweeps as they'll use their tight ends and HBacks to out leverage opposing front sevens.
Houston outside linebacker Tyus Bowser (6-3, 240, Sr.) must "set the edge" and cannot lose containment, as he's usually the fourth man on the line, or Jackson can and will spring a huge run on the Cougars. Bowser had his best game as a Cougar last week after sitting out for five weeks as he had six solo tackles, including 3.5 for loss and three sacks. That kind of relentlessness will be needed this week against this athletic Louisville offense. For the season Bowser leads the defense with 6.5 sacks and he's tied with inside linebacker Steven Taylor (6-1, 225, Sr.) with 8.5 TFL. Taylor will need to play better than he has lately where he's gone silent in games. For the season he has 24 solo tackles (50 total), 6 sacks, 3 passes defended and interception and a fumble recovery. Though I expect to see Brandon Wilson and more nickel looks Thursday night, D'Juan Hines (6-1, 225, Jr.) and Emeke Egbule (6-3, 230, So.) will see playing time lined up at the opposite outside linebacker spot and must also keep good eye discipline, especially in the run game. Taylor and fellow inside linebacker Mathew Adams (6-1, 230, Jr.) must live in Louisville's offensive backfield as penetration is the one thing that can disrupt the zone read option game. Adams has 36 solo tackles, 55 total including 6 for loss and a sack. Houston's two inside linebackers will also have to be effective when Orlando goes zone as Louisville loves to pass deep down the seams.
Speaking of penetration, nose guard Ed Oliver (6-2, 290, Fr.) is fourth in the nation with 14.5 tackles-for-loss and leads the team with 38 solo tackles. He also leads all defensive linemen with six passes defended via batting the ball down at the line of scrimmage. Fellow defensive linemen Cameron Malveaux (6-6, 270, Sr.), Nick Thurman (6-4, 290, Jr.), Jerard Carter (6-3, 290, So) and BJ Singleton (6-4, 314, Sr.) must hold up against a stout Louisville offensive line that averages nearly 310 pounds per man across the line. All five Cardinals offensive linemen have started all ten of their games. Left tackle Geron Christian (6-6, 314, So.) has started every game of his brief two year career while Khalil Hunter (6-4, 304, Sr.) is a first year starter at left guard. Tobijah Hughley (6-3, 294, Sr.) is making his 35th start at center. Kiola Mahoni (6-3, 308, Sr.) is a second year starter at right guard as is Lukayus McNeil (6-6, 315, So.) at right tackle. Keith Towbridge (6-5, 265, Sr.) is an inline tight end who's a great blocker who's used in short yardage situations.
When one thinks of Louisville this season, they think of their explosive offense. When you dig deep however, you realize their defense is just as lethal as they allow just 20.3 points-per-game (16th) under third year coordinator Tony Grantham. Just like Orlando, Grantham is all about aggression out of his 3-4 scheme. He, like his counterpart, also emphasizes stopping the run as the Cards hold opponents to just 102.7 yards-per-game on the ground to rank them sixth. They also rank sixth in the nation in total yards allowed at 285.2. If you think their pass defense is the weak link, forget it. Behind a relentless pass rush they only allow 182.5 yards passing-per-game to rank them 11th overall.
They'll be facing a Houston offense, under coordinator Major Applewhite, that's been plummeting in the rankings in just about every category as of late. They average 37.6 points-per-game (22nd) and 452.4 yards of total offense (42nd); 168.6 yards rushing (73rd) and 283.8 passing (26th). If not for the 381 yards rushing against Lamar in the second game, the Coogs would be averaging 145 yards-per-game to rank them 100th.
To add to the faltering offense, the quarterback situation is in flux after backup QB Kyle Postma was lost for the season due to a broken left arm suffered last week against Tulane as he landed awkwardly on it as he braced for a fall. This takes on added significance because regular starter, Greg Ward Jr. (5-foot-11, 190, Sr.), left the game due to a shoulder injury he's been suffering through all season long. Ward averages 289 yards passing-per-game (the same number as Jackson by the way) but has tossed 8 interceptions after throwing only 6 all of last season. He's also passed for 16 TD's on nearly 70 percent completion percentage and rushed for an additional 9 TD's. If Ward were to leave the game, D'Eriq King (5-10, 170, Fr.) would be his backup. The true freshman passed for over 10,000 yards and rushed for over 3,000 at Manvel High but wasn't recruited much as a quarterback because of his size mainly, much like that of Ward. This season he's completed two of three passes for 20 yards and a TD, mainly on double reverse type of gadget plays.
Where Ward has been less effective this season than last is the run game as he's averaging just 47.7 yards-per-game but only 3 yards-per-rush, mainly because of an ankle injury suffered early in the season. The called draws and sweeps have been also been limited by the poor offensive line play of Josh Jones (6-5, 280, RFr.), Mason Denley (6-4, 305, So.), Will Noble (6-4, 290, So.), Marcus Oliver (6-3, 295, Jr.) and Braylon Jones (6-3, 278, Fr.), due mainly to injuries which have resulted in SEVEN different starting combinations in ten games (after starting 11 different combos in 14 games). That's 18 different combinations in 24 games for offensive line coach Derek Warehime.
Louisville's front seven won't feel sorry for the Coogs however, especially nose guard DeAngelo Brown (6-0, 310, Sr.), who's a true backfield disruptor as he has nine tackles-for-loss and three sacks. Drew Bailey (6-3, 285, Jr.) and De'Asian Richardson (6-3, 335, Jr.) hold the line from their defensive end spots as Bailey has seven TFL and two sacks. Like Houston's 3-4, where Louisville's defense attacks is from their linebacking core, led by outside linebacker Devonta Fields (6-4, 245, Sr.). The Big 12 freshman and defensive player-of-the-year for TCU in 2012, Fields is a great edge pass rusher as he has a quick enough first step to fly by left tackles and has the strength to bull rush them as well. For the season Fields has 39 total tackles (20 solo), 7 for loss, 5 sacks and an interception. James Hearns (6-3, 250, Jr.) leads the defense with 11 TFL and 8 sacks from the opposite outside linebacker spot, though Grantham will line him up all over the field. He especially utilizes him via the blitz right up the A-gap, something Ward and company will see a lot of Thursday night as Grantham loves to pressure opposing QB's up the middle in hopes of disrupting timing offenses. Jonathan Greenard (6-4, 250, RFr.) is another physical specimen who has added 5.5 TFL and 2.5 sacks in limited playing time as an outside rush backer.
If Fields and Hearns are the heart of the defense, then inside linebackers Keith Kelsey (6-1, 235, Sr.) and Stacy Thomas (6-1, 230, Jr.) are the soul as they are the leading tacklers with 68 and 58 (38 and 36 solo) respectively. They also combine for 7.5 TFL and 3 recovered fumbles.
Houston running back Duke Catalon (6-0 210, So.) will probably not see much room inside and I'm sure Applewhite probably won't even attempt to establish an interior run game. Catalon is the second leading rusher on the team with 411 yards, 18 yards behind Ward, and averages four yards-per-carry. The Coogs 3.7 YPC rank them 107th nationally while Louisville's defense allows just 2.8 yards-per-carry, to rank them FOURTH. Dillon Birden (5-9, 172, Jr.) has done a nice job, especially between the tackles as he's rushed for 277 yards on 59 carries (4.7 ypc) along with 6 TD's. Hopefully we'll see more of him Thursday night between the tackles. Look for Applewhite to try to open up the inside via quick swing passes to Catalon as he has 163 yards on 24 receptions, good for a 6.8 ypc, this year.
One advantage the Cougars have offensively will be the size of their wide receivers versus the size of Louisville's secondary. While the Cards safeties are bigger; Josh Harvey Clemons is a beast at 6-5, 228 pounds while Chucky Williams (6-2, 210, Jr.) and Dee Smith (6-1, 200, So.) can also cover bigger receivers in the slot, their cornerbacks are small as Trumaine Washington (5-10, 180, Jr.) and Jaire Alexander (5-11, 188, So.) are both under 6-feet. Clemons sat out last week with an undisclosed injury so Williams dropped down from free safety to play strong safety with Smith playing up top. Grantham will disguise where his blitz is coming from by showing zone and dropping a safety from a two-high look to one in the box at the last second. Zykiesis Cannon (6-0, 195, Jr.) is another safety who can play outside as he's the defenses third leading tackler with 57 (29 solo) and 3 TFL, just ahead of Clemons 56 total tackles and 4 TFL. Williams has 53 total tackles and 3 interceptions while Alexander is their shutdown corner with 12 passes defended including 5 interceptions.
Look for Applewhite to get his outside receivers, Steven Dunbar (6-3, 210, Jr.) and Chance Allen (6-3, 215, Sr.), the ball in one-on-one matchups down the field via back shoulder fades or jump balls where the smaller Louisville corners can't make a play on the ball. Allen has one more reception than Dunbar (44 to 43) but more yards (637 to 585), though Dunbar has two more receiving TD's (5 to 3). Slot receiver Linell Bonner (6-0, 200, Jr.) must also get physical with Louisville's secondary, especially over the middle as there will be plenty of vacated area in the Cards zone once they blitz, especially via crossing patterns and inside quick slants. For the season Bonner is the leading receiver with 68 receptions for 774 yards and 2 TD's.
Special Teams
In a game against a superiorly talented team, the Cougars must play great on special teams. If punter Dane Roy (6- 7, 230, Fr.) can have the week he had last week (punting 11 times for 44 yards while pinning Tulane inside their own 20-yard line 6 times), Louisville would be forced to drive the length of the field to score. For the season Roy averages 40 yards on 46 punts but has pinned opponents inside their own 20-yard line on 17 occasions. He needs to keep the ball low to the ground via his rugby style punting so the Cards can't return any as they average 9.5 per, good for 46th nationally behind Alexander's 11.2 yard average (on 11 returns), one of which he returned 69 yards for a TD. While the Coogs only allow 1.9 yards-per-return coverage wise, they did allow a 22 yarder last week against the Green Wave.
Conversely, redshirt freshman Mason King (6-3, 205) is also averaging 40 yards-per-punt and the Cards allow 10.9 per return ranking them 100hh nationally. A year after Demarcus Ayers wowed Coogfans with his punt return exploits, the Cougars have gone back to their previous year's production as they average just 3.8 per-return (115thh). Last week true freshman Collin Wilder was back at it as he returned 2 punts for 6 yards and averages 4 for the season (on 5 total returns). He seems to have D'Eriq King who averaged just 4.8 yards-per-return on 6 total.
Both kickoff return games are meager, though Houston's did take a six yard drop because of the negative yardage in recovering four onsides kicks (in five attempts) last week. Ever since Brandon Wilson went out with an ankle problem early in the season, the kick return game has suffered as he averaged 25 yards-per-return. King averages 25.4 due mainly to a 100 yard TD return at Texas State earlier in the season. For the year, the Coogs 20.8 yard return average ranks them 65th while the Cards allow 20.9 (71st). Houston's kick return team will be tested Thursday night as Louisville kickers have only 7 touchbacks on 89 total kickoffs. The Cards meanwhile averages 21.4 yards (52nd) behind reserve running back Malik Williams 23 (on 13 returns). The Coogs allow 23.4 though ranking them a way below average 107th.
If the game comes down to a field goal, Louisville may have a slight edge as kickers Blanton Creque (5-11, 188, RFr.) and Evan O'Hara (6-0, 202, So.) have combined to connect on 14 out of 20 attempts, with O'Hara connecting on 3 from 40 yards or more while Creque has added two such kicks. Ty Cummings (6-0, 180, Sr.) meanwhile is 10-for-14 on field goals but only 1-for-2 from more than 40 yards out. He also has 28 touchbacks on 65 kickoffs.
Keys to the game
The Coogs must get out to a good start. Louisville has outscored opponents 129-33 in the first quarter this season. Houston is going to have to play a near perfect game Thursday night in facing their most physical and athletically gifted opponent all year. Defensively they cannot over pursue Jackson as they must keep him in the pocket. Make him give the ball up in the zone read game and shut down the run game, which is easier said than done. The Cougars defensive backfield must do a better job at communicating as to not leave Cardinals receivers free in zone coverage. The chess match between Petrino and Orlando will be fun as Petrino is one of the best in-game adjustors in the business.
Offensively, Ward must have his best game of the year running the ball as Louisville will play a lot of man coverage. This will allow for more called QB runs as the Cards defensive backs will have their backs turned towards the speedy Ward. And somehow the offensive line must get a good push up front to allow some semblance of an interior run game, or Grantham can have his front seven tee off on the diminutive Ward, who's already sporting a hurt shoulder and ankle. This will need to happen so the Cougars offense can control the pace of the game and keep Louisville's high powered offense on the sidelines.
Aside from winning special teams, the Cougars MUST win the turnover battle. No "almost" interceptions as many balls have just come off the fingertips of Cougars defensive backs. The one major weakness for Louisville is that they are DEAD LAST in the nation in fumbles, with 17. A lot of that has to do with mesh issues between Jackson and his running backs, but Jackson is also aloof with the ball as he holds it out instead of tight against his body. When he runs, Cougar defenders must punish him and jar the ball loose.
When in the red zone, Houston MUST convert those trips into 7's, not 3's. The Coogs rank 31st nationally with 37 such conversions in 54 trips while the Cards defense is ranked 63rd (16 TD's in 26 trips). Lastly, Houston must hope for Louisville to continue to hurt themselves via penalty, in which they rank in the bottom 25th percentile in both penalties-per-game, 7.4, and yards-per-game, 70.
Can Houston win Thursday night? On paper it looks like a mismatch, but if there's anything we've learned under Tom Herman, it's to not underestimate this Cougars ball club against top ranked opponents as Chance Allen said during Monday's media press conference, via uhcougars.com, "It (win) would mean a lot to this program. The way the season has been going, it hasn't been going as planned and as we thought it should be, but we have to just look forward to playing this week. It's going to be a great game. Coach (Herman) said we are playing a one-season game. This is our Super Bowl."