2016 Game 12 Preview: Memphis
By: Jimmy Schofield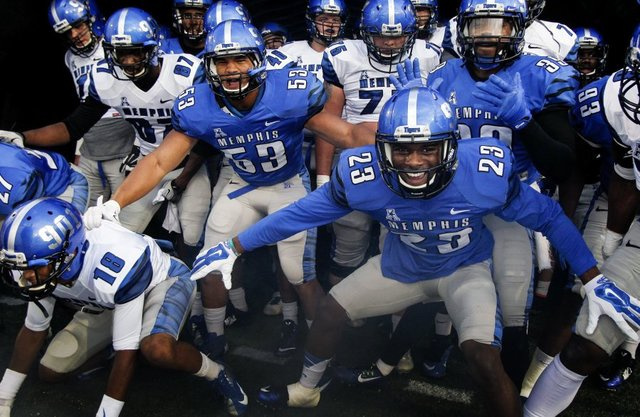 photo courtesy gotigersgo.com
Coming off of a dominating performance versus fifth ranked Louisville, your ranked Houston Cougars conclude the regular season as they travel to Tennessee to take on the always tough Memphis Tigers this Friday November 26. Game time from the Liberty Bowl will be at 11AM CST and will be broadcast nationally on ABC.
The Tigers (7-4 and 4-3 in the AAC West) are led by first year head coach Mike Norvell, who's the youngest head coach in the FBS at 35 years old. Much like Houston's second year head man Tom Herman, Norvell is known as an offensive guru as he was hired to lead the Tigers after his offenses put up prolific numbers at Tulsa, Pitt and Arizona State as offensive coordinator under Todd Graham.
Norvell graduated from Central Arkansas in 2005 where he played wide receiver as a four year starter and left as the program's all-time leader in receptions (213) and ranked third in yards (2,611). His offense at Memphis will probably look familiar to Coogfans even though Justin Fuentes left for Virginia Tech and quarterback Paxton Lynch is now taking snaps under center for the Denver Broncos. The Tigers stress opposing defenses both horizontally, side line to side line via a quick passing screen game and vertically via the deep passing game. They'll also run between the tackles, disguising their intentions of being a physical team as they'll use wide receiver motion and shifts from their tight ends to distract the opposing front seven. Norvell also likes to use his running backs in the passing game and emphasizes his tight ends as well as they'll employ many two tight end sets.
For the season the Tigers average 38.7 points-per-game (17th nationally, third in the AAC) and 452.9 yards of total offense-per-game (25th, third); 168.4 yards rushing (72nd, 7th) and 284.5 yards passing (25th, third). They'll be facing an aggressive Cougars defense led by coordinator Todd Orlando that shut down Heisman front runner Lamar Jackson last Thursday, holding the nation's top ranked offense to season lows in points and yards. For the season the "Third Ward Defense" is allowing 20.3 points-per-game (18th, second) and just 304.1 total yards-per-game (tenth, second); 93.5 yards rushing (second, first) and 210.5 passing (44th, third).
When Fuentes and Lynch left the Tigers program, outsiders may have thought the Tigers would have to rebuild under Norvell. Insiders knew however, that they would just reload with JC transfer Riley Ferguson (6-foot-4, 210 pounds, Jr.) incoming at quarterback. As a former five star prospect out of Mathews, North Carolina's Butler HS (where he threw for over 8,000 yards in three seasons as the starter and led the Bulldogs to state titles in 2010 and 12), Ferguson initially signed with Tennessee where he redshirted in 2013. After a leg injury he transferred to Coffeyville Community College where he averaged nearly 330 yards passing during the 2015 season. He enrolled at Memphis in January and took leadership over Norvell's up-tempo spread offense quickly as he averages 265 yards passing-per-game (2,917 yards) while completing over 63-percent of his passes (225-for-355) with 24 TD's to 9 interceptions. He has a quick release and the arm to get the ball down field or between defenders in zone coverage. Norvell will have his Ferguson taking snaps out of shotgun, pistol or from under center and also trusts his QB to change plays at the line of scrimmage. Ferguson is also more mobile than he looks as he'll roll out of bootlegs often and have run/pass options (RPO's) as he adds four touchdowns rushing. Norvell's QB run game also includes zone read option keepers, called draws and sweeps with a running back leading the way.
Last week Ferguson was knocked out of their 34-7 win at Cincinnati after taking a shot to the ribs on their first series. Backup Jason Stewart (6-3, 205, Sr.) came in and managed the game perfectly as he completed 13-of-15 passes for 138 yards with two TD's to zero interceptions. The dual threat QB played at Dodge City and Fort Scott Community Colleges in Kansas during the 2012 and 13 seasons before transferring to Memphis in 2014. He's completed 23-of-31 passes for 246 yards and three TD's for his career. While not having the powerful arm that Ferguson has, Stewart is just as cerebral and take what the defense gives him. As of this writing it's not determined who the starter will be, but if it's Stewart look for the Tigers to try and establish the run game early.
Memphis may have the best group of young talent at running back in the conference and perhaps nationally as they'll regularly rotate in not one, not two, not three but FOUR student-athletes in at the position throughout the game, and that's after losing all-purpose threat Sam Craft after just four games. The leader in yards is Doroland Dorceus (5-10, 215, RJr.) with 701 yards on 112 attempts and 8 TD's. Dorceus is a bowling ball of a back who not only is a good between the tackles threat whom has great vision but can turn on the jets once he gets to the second level as he averages 6.3 yards-per-rush with a long of 71. Patrick Taylor (6-3, 215) and Darrell Henderson (5-9, 175) are true freshman who have made instant impacts right away. Taylor, out of Humble, Texas Atascocita High, where he averaged nearly 100 yards-per-game over his final two seasons, is the Tigers second leading rusher with 476 yards on 83 attempts (5.7 ypc) and two TD's. Henderson meanwhile, adds 433 yards on 71 carries (6.1 ypc) and four TD's a year after rushing for almost 6,000 yards in Mississippi and being named the state's Gatorade Player of the Year out of Batesville's South Panola High in 2014. Finally, Tony Pollard (5-11, 200, RFr.) adds 155 yards on 28 carries with a score.
All four backs are threats in the passing game out of the backfield as they'll motion out into the slot or catch swing or screen passes from Ferguson as they have a combined 60 receptions for 515 yards and 5 TDs. Pollard will line up in the slot often as he's often a mismatch against nickel back's, adding 23 receptions for 209 yards and a score. Henderson has 203 yards on 18 grabs and three TD's while Dorceus has 69 yards on 9 receptions and a score while Taylor has just 34 yards on 10 grabs. Houston's Brandon Wilson (5-11, 200, Sr.) will play a pivotal role from his nickel back spot as he'll be a key in coming up and stopping the run and covering said running backs in the passing game. For the season the senior leader has 37 tackles (24 solo and four for loss) with two sacks and four passes defended (including an interception).
Cougars inside linebackers Steven Taylor (6-1, 225, Sr.) and Mathew Adams (6-1, 230, Jr.) will have to stop the inside run and may have perhaps their biggest challenge of the season as nose guard Ed Oliver (6-2, 290, Fr.) will not be at full strength as he sprained an MCL against Louisville last Thursday. Taylor was named the Walter Camp Foundation's Defensive Player of the Week for his performance against the Cards in which he amassed 14 tackles, 2.5 sacks and a forced fumble and leads the defense with 64 total tackles (32 solo), 11 for loss and 8.5 sacks while forcing two fumbles, recovering one and intercepting a pass. Adams adds 60 tackles, 40 solo, 7 for loss, 2 sacks, 2 forced fumbles and a recovered fumble as he plays downhill in every sense of the word. Tyus Bowser (6-3, 240, Sr.) must continue to play great along the edge in both the run and pressure game. All he's done the past two games, after returning from a five game hiatus, is amass 16 total tackles, 8 solo, 4.5 for loss and 4 sacks in setting the edge from his outside rush linebacker spot as the fourth man on the line.
Speaking of physical, quick and downhill type players, Big Ed leads all defensive linemen nationally with 61 total tackles, 43 solo, and is fourth with 19.5 for loss while adding an amazing 9 passes defended. If Oliver can't get to the QB somehow he has impeccable timing in batting the ball down at the line of scrimmage. The true freshman phenom also has 5 sacks and 3 forced fumbles. He'll be flanked by his usual duo at end of Cameron Malveaux (6-6, 270, Sr.) and Nick Thurman (6-4, 290, Jr.) whom add 11.5 TFL, three sacks and two forced fumbles. Jerard Carter (6-3, 290, So.) and BJ Singleton (6-4, 305, Sr.) add a combined two TFL in reserve but are important in the five man rotation in giving Oliver, Malveaux and Thurman breathers throughout the game. This could be important this week as Oliver may need more rest because of the knee sprain.
The Tigers offensive line they'll be lining up across is both youthful but experienced as they start three underclassmen. Left tackle Trevon Tate (6-4, 280, RSo.) is a two year starter out of Houston's Northshore High. He's started 18 games over the past two seasons (including the last ten this year), while Dustin Woodard (6-2, 285) is a true freshman who's started the past seven games at left guard. Center Drew Kyser (6-5, 300, So.) has started 23 games over his brief two year career and all 11 this season as has right guard Gabe Kuhn (6-4, 294, RJr.). Right tackle Chris Roberson (RSr.) is the mauler of the group at 6-7, 330 pounds. Thursday will be his eighth start of the season and 16th of his career as he started three at left tackle and six at left guard last year. The line is as athletic as the Cougars front seven has seen this season as they love to pull with their interior linemen, mainly Kyser, so it will be imperative for the Coogs front four to keep their line engaged at the point of attack so the linebackers can shoot the gaps to disrupt the line of scrimmage.
If Ferguson can pass from an unimpeded pocket, something the Cougars have rarely allowed this year, his number one receiving threat is Anthony Miller (5-11, 190, RJr.) who will line up in both the slot and outside. The one-time walk-on has 69 receptions for 1,114 yards and 9 TD's by far lead the team and his 101.3 yards-per-game is 15th nationally. When he lines up outside, either cornerbacks Howard Wilson (6-1, 185, So.) or Jeremy Winchester (6-0, 190, So.) will be assigned to slow down the physical yet speedy Miller. Wilson's 14 passes defended are 13th nationally and his five interceptions rank him sixth in the entire country, while Winchester has been improving throughout the season, adding 8 PD's and 31 solo tackles (to Wilson's 36). Phil Mayhew (6-3, 210, Jr.) adds 33 receptions for 487 yards with two TD's. Daniel Montiel (6-3, 240, RSr.) is a tight end who will line up inline and is great at finding holes in zone coverage as he has 304 yards on 25 receptions (12.2 ypc) and three TD's. Joey Magnifico (6-4, 235, RFr.) is an athletic tight end who often lines up in the slot and is a major threat in the redzone as two of his seven receptions (for 59 yards) are for TD's.
It will be important that the Cougars secondary be able to tackle in space, especially safeties Garrett Davis (6-1, 200, So.) and Khalil Williams (6-0, 200, Jr.) as both Mayhew and fellow receiver Daniel Herd (6-2, 220, RSr.) use their physicality as outside blockers in the quick screen game. Herd has 16 receptions for 198 yards with 2 TDs while Williams has 41 solo tackles to Davis 35, 7 for loss and 3 sacks at strong safety as he'll be used as a blitzer often by Orlando.
Just as Memphis offense is aggressive, physical and multiple, their defense is as well under first year coordinator Chris Ball who served the same role for Arizona State for the previous four seasons. His defense could be classified as a 4-2-5 or a 3-3-5 as they have hybrid defensive end/outside linebacker in a "Kat" position and a hybrid linebacker/safety in what they call the "Star." Being on the smaller side Ball has to have them play super aggressive which leads to gap control problems in the run game as they allow 205.9 yards rushing-per-game this season ranking them 95th nationally and tenth in the conference. They allow 426.2 total yards of offense overall per game (79th, eighth); 220.3 passing (58th, fifth) and 25.5 points-per-game (48th, fourth).
This may be a game where Cougars offensive coordinator Major Applewhite will try to establish the interior run game early instead of trying to set it up by going to the quick passing game outside in hopes of softening up the middle. This has been the case most of the season because of an offensive line that hasn't done much of a job in creating space along the interior. The Coogs average just 159.1 yards per game on the ground this season, ranking them 88th nationally and ninth in the conference, something Herman hasn't been happy about too much this season as he bases his spread off of a physical run game first and foremost. Passing has been another story though as they average 285.1 yards through the air (24th, second) behind QB Greg Ward Jr. (5-11, 190, Sr.), who we learned this week has been playing with a torn labrum in his throwing shoulder most of the season. The warrior averages 284 yards per game while completing an amazing 67 percent of his passes (tenth nationally) while throwing 18 TD's to 8 interceptions. The Coogs offense averages 444.2 yards-per-game (46th, sixth) and 37.5 points-per-game (21st, fifth).
Defensively for the Tigers it all starts up front, led by down linemen Donald Pennington (6-2, 295, RSr.) at the nose and Ernest Suttles (6-5, 265, RJr.) at a defensive end spot. Pennington does not get pushed back easily as he holds the line for his linebackers to shoot through. While he only has one TFL and zero sacks, Pennington does have three pass breakups batting down balls at the line of scrimmage. Jared Gentry (6-2, 325, So.) also plays at the nose and adds three TFL. Suttles is a more athletic end who has 4.5 TFL and 2 sacks. DeMarco Montgomery (6-3, 245, Sr.) adds 34 total tackles, 27 solo, 1.5 for loss and a sack from the 'Kat' spot.
The most two active Tigers defenders are Mike and Will linebackers Curtis Akins (6-3, 230, RSo.) and Genard Avery (6-1, 235, Jr.). Akins is a beast against the inside run as he is fourth on the team with 61 total tackles, 42 solo and 2 for loss. He also has an interception when dropping back in zone coverage. Avery is the most versatile defender however as he'll rush the QB via blitzing the A-gaps or coming off of the edge as he leads the team in both TFL with 9 and sacks with 5. Avery's two interceptions have both gone for touchdowns this season, showing off his all-around game as Applewhite will have to have his offensive line always accounting for the versatile defender as he lines up all over the field, much as Taylor does for Houston. Austin Hall (6-2, 205, RFr.) and Ty Northern (6-1, 195, RSr.) share the 'Star' or basically nickel back spot. Hall is a former walk-on who plays sideline-to-sideline as he has 56 total tackles, 42 solo and 7.5 for loss as he's not afraid to stick his nose in the box. Northern is a three down player despite his size as 3.5 of his total 12 solo tackles are for loss as well. Hall left the game at Cinci with an apparent knee injury and is doubtful for Friday's game.
If the Cougars offensive line of Josh Jones (6-5, 280, RFr.), Mason Denley (6-4, 305, So.), Will Noble (6-4, 290, So.), Marcus Oliver (6-3, 295, Jr.) and Braylon Jones (6-3, 278, Fr.) all start on Friday, it'll only be the second time one unit has started three consecutive games this season as offensive line coach Derek Warehime has had to put together seven different starting combo's a year after 11 started in 14 games. Tight end Tyler McCloskey (6-2, 245, Sr.) must seal the edge on outside runs and QB sweeps as the running backs are not blocking as well as Kenneth Farrow did last year. As small as the Tigers O-line is, the Cougars are even smaller at 290 pounds per man as they've allowed 27 sacks on the season (95th, tenth). Memphis meanwhile has had a difficult time getting to opposing QB's as they have only 14 sacks on the season (114th, tenth), though this does not deter Ball from blitzing often.
Running back Duke Catalon (6-0, 210, So.) may have his breakout game of the season in terms of rushing yards as his game high came during the first game of the season against Oklahoma with 88. The past few weeks he's had a few tough runs through defenders to close out games and for the season has 450 yards on 118 carries with 3 TD's in five starts. I'd like to see Dillon Birden (5-9, 175, Jr.) used more as he doesn't hesitate to stick his foot in the ground and cut up field, adding 287 yards on 61 carries and six rushing TD's. Ward is always the wild card as Memphis has trouble against athletic QB's. Ward is the definition of athlete and even though he has shoulder and ankle issues throughout the season he's added 453 yards and 9 TD's on the ground to lead the offense in both categories.
When Ward goes to the air his wide receiver duo of Steven Dunbar (6-3, 210, Jr.) and Chance Allen (6-3, 215, Sr.) on the outside will be facing a pair of aggressive and physical corners in Arthur Maulet (5-11, 190, Sr.) and Chauncey Lanier (5-10, 185, RSr.) who won't back down despite their size. Maulet has the ability to contest jump balls at their high point but the footwork and speed to play man coverage on both the intermediate and deep routes. The two have a combined 16 passes broken up (nine for Maulet) and tackle well in space as do their safety combo of Chris Morley (5-11, 195, RSr.) and Jonathan Cook (6-0, 198, Sr.) at strong and free respectively. The pair is first and second in total and solo tackles as Cook has 70 and 58 while Morley adds 68 and 48. Morley is a head hunter across the middle with three forced fumbles, something Cougar receivers will have to be aware of, especially slot receiver Linell Bonner (6-0, 200, Jr.) who leads the receiving unit with 76 receptions for 841 yards and 2 TD's. Allen adds 742 yards on 48 receptions (and 4 TD's) to Dunbar's 621 yards on 46 catches and 5 scores.
Special Teams
The Tigers are beasts in terms of kickoff and punt returns and coverage, but not so much with punt return defense. They average 27.7 yards per kickoff return to rank fifth in the nation and first in conference. Tony Pollard's 29.5 yard average on 30 returns rank him seventh nationally and he has two returns for TD, including a 100 yarder. The Coogs can't allow him to give their already prolific offense great starting field position as Jason Washington's kick return coverage unit allows 23.2 yards-per-return to rank them 108th nationally. The Tigers average 9 yards-per-punt return (50th and sixth) behind Anthony Miller's 7.23 with a long of 17. The Coogs have done a great job on punt coverage however, allowing just 1.9 yards-per-return, ranking them sixth nationally and first in the conference.
The Cougars return units haven't given them much hidden yardage this season as they average just 20.3 yards-per-kick return (71st and fifth) as Wilson has relinquished his return duties (and 23.4 yard average) to D'Eriq King. The true freshman averages 25.3 but that average would be 17.4 if not for a 99 yard return against Texas State in which seems like eons ago. Hopefully King just takes a knee for a touchback on each kick as Memphis allows only 14.9 yards on their 24 kick returns to rank them first both nationally and conference wise. Fellow true freshman Collin Wilder returned a few punts last week, including one for 9 yards, and averages 4.4 on his 9 total as the Coogs average just 4.1 on their 18 total to rank them 71st and fifth. The Memphis punt coverage unit conversely allows 9.4 per return (90th).
Where Memphis has the decided special teams edge is at punter and kicker. Spencer Smith (6-1, 175, RJr.) averages 45.9 yards-per-punt (sixth nationally) with 13 of his 40 total punts going for more than 50 yards with 11 being pinned inside the opponent's 20-yard line while forcing an additional 16 fair catches. Kicker Jake Elliot (5-10, 165, Sr.) has connected on 13-of-15 field goals this season with 8 of those being from 40 yards on out. For his career, the two time AAC Special Teams Player of the Year has converted on 78-percent of his attempts (73-of-93) and every single PAT (192 straight). Of course most Coogfans remember his missed 48 yarder to seal last season's incredible 35-34 come from behind win at TDECU. His touchback percentage of 67-percent (53 touchbacks on 79 kickoffs) ranks him 15th nationally.
Dane Roy (6-7, 230, Fr.) meanwhile averages just 40.5 yards on his 53 punts while nailing just six for 50 yards or more and pinning opponents inside their own 20 yard line 19 times while forcing 24 fair catches. Kicker Ty Cummings (6-0, 185, Sr.) has converted 75-percent of his field goals this season (12-of-16) and 83-percent for his career (20-for-24) with a touchback percentage of 47-percent (33 touchbacks on 72 kickoffs).
Keys to the Game
How well will the Tigers offensive line protect their QB? While they like to get out to the second level via their man/zone blocking schemes, they can be pushed around as they only average 298 pounds per man across the line, and that's only thanks to Roberson being 330. Every other lineman is 300 or under. They've allowed 29 sacks on the season, ranking them 105th nationally and ninth in the conference. This against a Cougar defense that had 11 sacks last week alone, pushing their season total to 36 on the season (eighth nationally and first in the conference).
The Tigers, as previously mentioned, don't often get to the QB often as they have just the 14 sacks, but their pressure affects the QB, as in making him throw before he wants to. This has manifested itself into the Tigers ranking SECOND nationally with 26 forced turnovers. Their 14 interceptions rank them 15th while their 12 recovered fumbles ranks them sixth. Their turnover margin of plus-8 ranks them 15th as well. The Cougars minus-1 rank them 75th nationally in turnover margin as Ward has forced the ball into coverage at times as his 8 picks would attest.
In what could be a close scoring game, red zone touchdowns are key as the Cougars 69-percent touchdown conversion percentage ranks them 25th nationally while the Tigers redzone defense is 66th at 62 percent. The Cougars redzone D is 28thh at 54 percent while the Tigers O scores touchdowns 63 percent of the time (56th). Both teams are salty on third down defense as the Coogs are 22nd nationally at 34-percent while the Tigers are 31st at 36-percent. Controlling tempo and converting third downs will help the Cougars ultimately control the game as they rank 14th and 17th in time of possession (just over 33 minutes) and third down conversion offense (47-percent) as they pull out a close one over the Tigers.