Game 8 preview: South Florida
By: Jimmy Schofield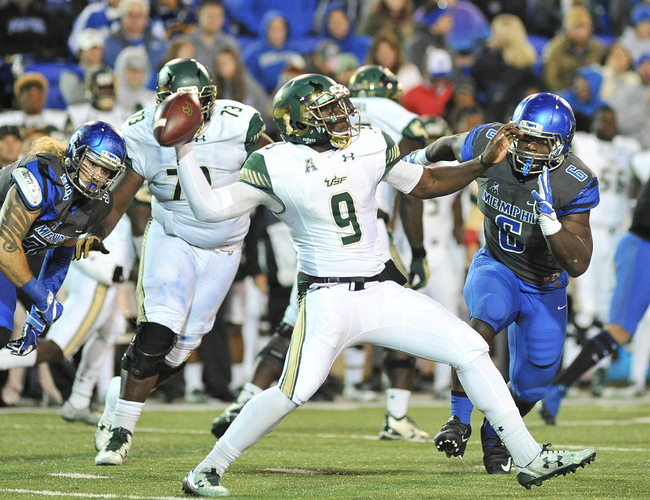 Photo courtesy SB Nation
Coming off a heartbreaking loss to the 25th ranked Memphis Tigers last Thursday night 42-38, your Houston Cougars jump from the pot to the frying pan as they head to Tampa to battle the 17th ranked South Florida Bulls this Saturday October 28. Game time at Raymond James Stadium is set for 2:45pm CT and will be televised via ESPNU.
The Bulls are 7-0 (4-0 in the AAC East) for the first time in program history, have won 12 games in a row dating back to last season (the longest current win streak in the nation), and are led by a familiar name, Charlie Strong. While many may remember him from his three previous "controversial" seasons on the 40 acres in which he went just 16-31, many may remember him from his time at Louisville where he went 37-15 from the 2010 through 2013 seasons. A "coaching lifer," Strong made his bones as the defensive coordinator at the University of Florida, helping Urban Meyer win two national championships (in 2006 and 2008).
Even though USF was strong under the previous coaching staff, led by Willie Taggert who left for Oregon, these Bulls are molded in Strong's image; tough and relentless on both sides of the line of scrimmage as they're just one of three teams nationally in the top-10 in both rushing offense and defense (joining Alabama and Georgia).
Defensively, the Bulls allow just 18.7 points-per-game (23rd nationally), and are predicated on stopping the run, allowing just 94.4 rushing yards-per-game (NINTH). Over all they allow just 308.1 yards of total offense (18th); 213.7 passing (60th) via Brian Jean Mary's 4-2-5 scheme.
Houston's offense is averaging 27.3 points-per-game (74th) and 446.1 yards of total offense (44th); 172.9 rushing (58th) and 273.3 passing (33rd) under first year coordinator Brian Johnson. They'll have to make do without one of their top running backs as Dillon Birden (5-10, 200, Sr.) and his 5.6 yards-per-carry average (333 yards on 60 carries) won't be available for maybe the rest of the season after dislocating an elbow last against Memphis. That puts the running game squarely on the shoulders of Duke Catalon (6-0, 215, Jr.) and Mulbah Car (6-0, 210, So.).
Catalon has played well of late, rushing for 496 yards on 112 carries and 7 TD's for the season after rushing for 314 yards on 68 carries over the past three games. He's especially run tough in between the tackles after he hurt his shoulder in the second half last week. Car has rushed for just 127 yards total this season on 21 carries but when given the opportunity he's proven he can also be a threat between the tackles as he did when he carried the rock 9 times for 67 yards against SMU.
With Birden out, I'm hoping to see more quarterback draws for Kyle Postma (6-2, 200, Sr.), or at least more carries on zone read option keepers as the Kay Seven Lakes product has 200 rushing yards this season on 45 carries and a touchdown. He's completed 80-percent of his passes (69-for-86) in his 4 starts for a 243 yards-per-start average. When not throwing via roll outs, Postma needs to stand tall in the pocket and set his feet before he throws as "happy feet" have led to 6 interceptions to only 5 touchdown passes while fumbling the rock three times.
The Coogs offensive line of (from left to right) Josh Jones (6-5, 303, RSo.), Braylon Jones (6-3, 311, So.), Will Noble (6-4, 297, Jr.), Marcus Oliver (6-3, 300, Sr.) and Na'Ty Rogers (6'5, 302, Sr.) will have to communicate effectively against a Bulls front-7 that doesn't blitz often, but still gets to the quarterback via a stout defensive front as the Bulls have 58 tackles-for-loss, ranking them SEVENTH nationally, and 19 sacks (26th). This allows them to play a lot of man coverage on the back end as they have lockdown corners that have helped in intercepting a nation's leading 16 passes this season.
USF front-7 is led by their two mammoth tackles, Deadrin Senat (6-1, 298, Sr.) and Bruce Hector (6-2, 295, Sr.). Both are physical at the point of attack and can shed and disengage blocks quickly, combining for 11.5 tackles-for-loss (10 for Hector) and 4 sacks (all by Hector). Defensive ends Greg Reaves (6-2, 243, So.) and Mike Love (6-4, 252, Sr.) also do a great job at getting off the ball and attacking the opponent's backfield as they add a combined 14.5 TFL and 6 sacks.
Jean-Mary rotates around 10 men up front as Kevin Bronson (6-4, 276, Jr.), Kelvin Pinkney (6-3, 295, Fr.) and Kevin Kegler (6-4, 284, Fr.) along the interior, with Josh Black (6-2, 242, Jr.), Juwuan Brown (6-2, 255, Jr.) and Kirk Livingston (6-4, 261, So.) at reserve defensive end all add a combined 15 TFL and 5 sacks.
Their two linebackers, Auggie Sanchez (6-2 245, Sr.) and Nico Sawtelle (6-2, 220, So.) at middle and the weak side respectively, attack downhill because of how active the front-4 are. Sanchez is the definition of a "play maker" on the defensive side of the ball as his two interceptions have been for "pick-6's." The converted fullback is also their leading tackler with 47 total, 26 solo, while adding 6 for loss. Sawtelle is the second leading tackler with 31 (18 solo) and has two interceptions as well.
When Postma does get time in the pocket passing wise, he'll have Linell Bonner (6-0, 200, Sr.) to lean on from his slot position as the former walk-on is a superb route runner who has a knack for finding space in the opposing defense's zone scheme, giving his quarterbacks a dependable target, especially on third down. For the season Bonner has 465 yards on 45 receptions (10.3 yards-per-catch) and 3 TD's. Coogs first year head coach Major Applewhite continues talking about getting D'Eriq King (5-11, 190, So.) more involved in the offense, even at QB. For the season the Manvel product has 29 receptions for 264 yards (9.1 ypc) and 2 TD's while adding 46 yards on 14 carries and a TD while also passing for a 22-yard TD from the slot. He should have had a 15-yard TD strike off a reverse last week but Keith Corbin (6-3, 193, So.) dropped the pass in the end zone. The Beaumont West Brook product isn't much of a deep threat that his stats show he is, 19 yards-per-catch via 152 yards on 8 catches, if he can't consistently catch the ball.
Speaking of consistency, that's exactly what Steven Dunbar (6-3, 202, Sr) has been this season, and over his career, with 47 passes for 505 yards (10.7 ypc) and a TD on an 8-yard back-shoulder fade from Postma last week. Courtney Lark (6-2, 195, So.) could be the deep threat to replace Corbin, especially after an over-the-shoulder catch for 38 yards last week and has 3 catches for 69 yards (23 ypc) on the season. John Leday (6-0, 200, Sr.) may be the fastest straight-line runner on the team but must learn to run better routes or he won't receive anything other than the occasional "flip pass" off a jet sweep that acts as an extended hand off (6.4 ypc) on his 23 catches for 147 yards and a TD. Ellis Jefferson (6-4, 220, Sr.), 3 catches for 32 yards and a TD in 4 games, has the size and speed needed against a physical Bulls secondary, but is still injured and may not play.
Postma will have to be careful of not forcing the ball down field as the Bulls have a bunch of ball hawks in their secondary as previously mentioned (leading the nation with 16 interceptions after having just15 all of last year). They're led by two-time all AAC corner Deatrick Nichols (5-10, 190, Sr.), who plays nickel this season and has 7 pass breakups and 2 interceptions as teams don't throw his way too often. South Florida is SECOND nationally in opposing quarterback's "passer rating," just behind Penn State at 95.6. The cornerbacks are manned by Mazzi Wilkins (6-0, 176, Jr.), who leads the unit with 8 pass breakups and 3 interceptions, and Ronnie Higgins (5-8, 175, Jr.), who has 26 solo stops (28 total) and 5 pass breakups.
Strong safety Devin Abraham (5-9, 194, Sr.) is a hard hitter and leads the defense with 4 interceptions while free safety Jaymon Thomas (6-3, 190, Jr.) adds 21 tackles and 3 pass breakups as the single high safety. The Bulls are second nationally in opposing quarterback's passer rating at 95.64.
Offensively, the Bulls enter Saturday averaging some pretty gaudy numbers, especially in scoring at 41.6 points-per-game (NINTH nationally), and rushing yards-per-game at 305.1 (SEVENTH). Over all they average 493.9 total yards-per-game (14th); 188.8 passing (97th). In today's age where just about every offense loves tempo, offensive coordinator Sterlin Gilbert's offense takes it to a new level, averaging 84.6 plays-per-game, ranking them SECOND nationally only behind Syracuse's 86.5.
They'll be facing a Cougars defense struggling, after allowing just 200 first half yards last week against Memphis (192 passing), 1-of-8 third down conversions, and most importantly, had ZERO points. Defensive coordinator Mark D'Onofrio unit allowed 35 points and 301 yards in the second half (279 passing). For the season they're now allowing opponents to score 24 points-per-game (52nd) and 417 yards of total offense (89th); 155.4 rushing (58th) and 261.6 passing (106th).
After being named the starting quarterback to start the 2015 season and winning just one of his first four starts, Quinton Flowers (6-0, 215, Sr.) has won 26 of his last 30 (going 27-7 over all). The Miami native is responsible for 95 touchdowns in his career (58 passing, 37 rushing) and has over 3,000 career rushing yards and nearly 6,500 passing. This season he has 12 passing and 7 rushing touchdowns. While he's below his career mark completion percentage wise, 60-percent, at just 51-percent this season (89-for-172), when he does complete a pass it's usually a long ball as he averages nearly 14 yards a completion, passing for just 177 yards-per-game (1,245 yards).
The running game is where Flowers really hurts opponents, rushing for nearly 87 yards-per-game (612 yards on 115 carries and 7 TD's). As elusive as he is in shedding tackles, he also has the strength and vision needed to juke defenders when it appears as if he's bottled up for a loss.
Flowers is just one of a three-pronged rushing attack, sharing carries with running backs D'Ernest Johnson (5-10, 210, Sr.) and Darius Tice (5-10, 205, Sr.). Johnson is the "bruiser," averaging 81 yards-per-game (569 yards on 129 carries and 5 TD's) while Tice is more the big play back, averaging 90 yards-per-game (634 yards on 103 carries and 7 TD's).
Defensing the Bulls ground game is like fighting a boxing match in a house of mirrors, as is they'll use motion and even running the opposite direction from a pulling lineman in order to distract the defense from where the ball is going (linebackers are taught the ball is going where the "pull" is). But when they don't hide which direction the ball is going, they run behind a veteran and mean bunch of offensive linemen led by Jeremi Hall (6-5, 325, RSr.) at left guard. He's a mauler who's athletic enough to be the lineman used on pulls. Hall is flanked by Eric Mayes (6-4, 294, Jr.) and Cameron Ruff (6-3, 320, Sr.) at left tackle and center. The right side of the line is occupied by youngsters William Atterbury (6-4, 308, So.) and Marcus Norman (6-6, 306, RSo.) at guard and tackle respectively. Mayes gets his nastiness as a converted defensive lineman while Ruff joins Hall, Atterbury and Norman as returning starters.
The "Third Ward Defense" must come to play Saturday, especially up front. That's never a problem for Ed Oliver (6-3, 290, So.) at the nose. After another "ho-hum" week against Memphis in which he had 6 tackles (4 solo, 2.5 for loss) a sack and a fumble recovery, Big Ed now has 42 total tackles (26 solo, 7 TFL), 6 "QB hurries," 2 forced fumbles, 2 passes defended and a fumble recovery on the season.
Speaking of "hurries," Flowers only averages 24 passes-per-game so D'Onofrio's strategy definitely won't be the same as it was last week against Memphis's Riley Ferguson, IE pressuring the quarterback. I'm sure D'Onofrio will throw in plenty of run blitzes as he needs to get the Bulls "behind the chains," forcing them into obvious third-and-long passing downs. The most important thing for the Coogs defensive front is to not over run their assigned run gaps or Flowers and the Bulls running backs will gash them for huge chunks of yards.
Defensive ends Nick Thurman (6-4, 293, Sr.) and Reggie Chevis (6-2, 290, Sr.) need to maintain leverage and not get pushed out of their assigned gaps or the linebacker crew of D'Juan Hines (6-1, 230, Sr.), Khalil Williams (5-11, 210, Sr.), and Emeke Egbule (6-3, 245, Jr.) will get "lost in the traffic," allowing USF offensive linemen to get to them on the second level opening up huge run lanes. Hines has been coming on as of late, registering a team leading 25 total tackles in the past two games and has 66 total (33 solo) along with 2 forced fumbles for the season. While Egbule has been a disappointment with only 2.5 TFL and 2 sacks as the designated edge rusher, Williams has been a pleasant surprise tying Oliver with 7 TFL and Egbule with 2 sacks for the team leads in both categories and is second in both solo tackles (32) and passes defended (5) showing his versatility whether it's in the box or in pass coverage.
Notice I left inside linebacker and defensive captain Mathew Adams (6-1, 237, Jr.) out of that mix. He and his then team leading 57 total and 31 solo tackles missed last week due to an ankle injury. His status is unknown as of this writing. Austin Robinson (6-3, 235, RSr.) took his spot in the lineup last week but didn't play much as he's not in the nickel and dime sub packages, but against a run first team like the Bulls he may get his most extensive playing time of the season. The converted UTSA quarterback turned UH safety had 6 tackles, 3 solo, last week and has 13 tackles (6 solo) and 2 "hurries" for the season.
The Bulls offensive strategy is to wear opponents down with a punishing ground game then take shots deep via play action. When they do go deep, their top receiving threat is Marquez Valdes-Scantling (6-5, 209, Sr.) who has 28 receptions for 382 yards (13.6 yards-per-reception average) and 4 TD's. He loves to use his size to "high-point" balls over shorter defensive backs. Valdes-Scantling more than doubles the next Bulls receiver in receptions as Darnell Salomon (6-3, 209, So.) is next with 11 catches for 182 yards (14 ypr) and 2 TD's. Big Tyre McCants (5-11, 235, Jr.) averages 18 ypr (203 yards on 11 receptions) and has 3 TD's. He's not a deep threat but at 235 pounds he gains many yards-after-the-catch (YAC) yards on simple quick outside screens. DeAngelo Antoine (5-10, 190, So.) and Temi Alaka (6-2, 201, Sr.) can also stretch defenses deep off the bench as they both average over 17 yards-per-receptions as Antoine has 159 yards on 7 grabs while Alaka adds 121 yards on 7 himself. Both have a TD each. Mitchel Wilcox (6-4, 245, So.) adds 10 receptions for 75 yards and a TD from his tight end spot but is better as an inline blocker and often used as a fullback in the backfield. Elkanah Dillon (6-5, 265, Jr.) has 6 catches for 60 yards as the backup tight end while D'Ernest Johnson adds 6 catches for 78 yards and a TD as a sure handed receiver coming out of the backfield.
Houston's cornerback unit of Isaiah Johnson (6-3, 195, Jr.), Jeremy Winchester (5-11, 203, Jr.), Alexander Myres (5-10, 192, Jr.) and Joeal Williams (5-10, 190, RJr.) have played inconsistent so far this season, breaking on routes for pass breakups one play, then getting beat deep or missing a tackle on the next. Johnson leads with 31 tackles (22 solo), 5 passes defended and an interception. Both Winchester (28 tackles, 19 solo) and Myres (14 tackles, 8 solo) also have 5 passes defended with Winchester adding an interception.
Safeties Terrell Williams (6-4, 212, Sr.) and Garrett Davis (6-0, 205, Jr.) cannot have their eyes in the back field or they'll get beat via play action as previously mentioned. Davis has 35 tackles, 24 solo, and leads the secondary with 4 interceptions (for 94 return yards) despite playing the past few weeks with a bum shoulder. Davis adds a team leading 8 passes broken up and 3 interceptions.
Special Teams
Jonathan Hernandez (6-4, 234, Sr.) leads the American and is 21sst nationally in punting, averaging 44.3 yards-per-punt while pinning opponents inside their 20-yard line on 10 of his punts while forcing another 10 fair catches and booming 8 of his 38 punts for more than 50 yards. The Bulls do allow 8.5 yards-per-punt (85 yards on 10 returns) to rank 81st nationally, but the Coogs don't have a great punt return unit as Brandon McDowell (5-9, 183, Sr.) has just 25 yards on 7 returns and a fumble as Houston ranks 118th.
Dane Roy (6-7, 240, So.) averages 40.1 yards-per-punt but has pinned opponents inside their 20 on 17 of his 34 total punts while forcing another 17 fair catches. The Bulls average 10.2 yards-per-punt (35th) as D'Ernest Johnson (47 yards on 7 returns) is subbing for their regular returner (Taje Fullwood who has 106 yards on 7 returns). The Coogs rank 50th in punt coverage, allowing 5.8 per return (23 yards on 4 returns) after allowing a Memphis return for 20 yards last week.
Emilio Nadelman (5-6, 170, Sr.) has 23 touchbacks on 53 kickoffs as the Bulls allow 19.9 yards-per-game (56th) while the Coogs average 24.4 (17th) behind Leday's 26.3. Houston place kicker Caden Novikoff (5-10, 190, Jr.) has 11 touchbacks on 37 kickoffs as the Coogs allow 22 yards-per-kickoff (89th) while the Bulls average just 14.7 yards per return, which is second worst in the nation, via Johnson's and McCant's 17 and 16 yard return average respectively.
Nadelman has connected on 14-of-17 field goals this year but all three misses as well as a point-after-touchdown have been blocked, something Coogs special team coordinator James Casey may be able to scheme against in their favor. Novikoff has connected on 7-of-9 field goals in his first season along Cullen Boulevard.
Keys to the game
Turnovers, red zone efficiency and second half execution.
The Bulls have forced at least 2 turnovers in 6 of their 7 games this year and lead the nation in turnover margin at plus-13 (19 gained to 6 lost) while the Coogs are ranked 85th at minus-2 (16 lost to 14 gained). Facing a tough team on the road, the Coogs cannot give the Bulls extra possessions or squander theirs if they hope to stay in this game, much less win.
The Bulls aren't the most efficient team in the red zone offensively, scoring touchdowns on only 22 of 42 trips inside their opponent's 20-yard line. That 52-percent touchdown efficiency ranks them 101st nationally while the Coogs defense ranks 30th nationally13 touchdowns in 26 attempts. Conversely the Bulls have allowed opponents to just 13 trips inside the red zone (FIFTH nationally), allowing 7 touchdowns. That 54-percent conversion rate is 45thh nationally. The Coogs offense crosses the goal line on 21-of-31 attempts for a 68-percent conversion percentage ranking them 38th. If the game is close the team that scores more "7's" than "3's" usually wins.
Per a tweet from Joseph Duarte earlier this week, the Coogs defense has allowed 80 points, 624 yards of total offense and touchdowns on 11 of 13 drives, ALL in the second half so finishing the game strong should be key. The Bulls are slow starters themselves, but strong finishers (pun intended), outscoring opponents 82-14 in the third quarter and 184-52 in the second and third quarters meaning they take the opponent's will away by the time the fourth quarter even starts.
Final prediction
The Coogs keep it close in the first half but get worn down by South Florida's relentless run game and will get burned deep via play action at least once. Houston's offense won't be able to keep up in the second half.
South Florida 28
Houston 17