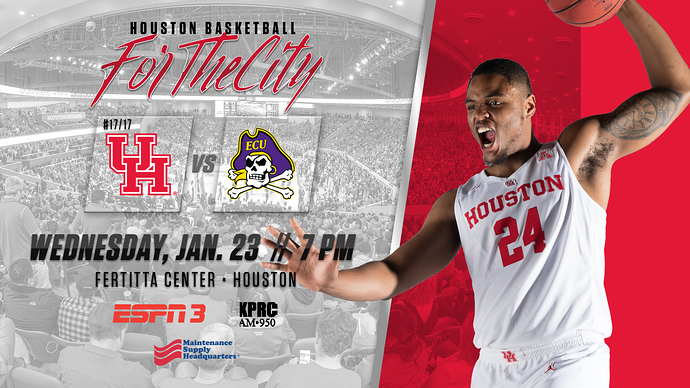 ABOUT ECU
• ECU has posted an 8-9 record in 2018-19 with a 1-4 mark in American Athletic Conference play.
• Pirates stand in a tie for 10th with UConn in the latest league standings.
• ECU is 0-6 in road games this season.
• Pirates have lost their last three games and four of the last five… Only a 73-71 home win over Cincinnati on Jan. 5 prevents a longer streak.
• In its most recent action, ECU dropped an 85-74 decision at Temple on Jan. 16.
• Against Temple, freshman forward Jayden Gardner led the Pirates with 27 points on 8-of-17 shooting and four assists… Sophomore guard K.J. Davis finished with 15 points, while junior guard Seth Leday added 12 points with a team-high 10 rebounds… Senior guard Isaac Fleming totaled 11 points with four rebounds and three assists.
• This season, Gardner leads the Pirates with 19.8 points and 9.4 rebounds per game… Sophomore guard Shawn Williams stands second with 12.9 points per game, while Leday ranks third with 11.7 points per contest… Fleming tops the Pirates with 3.6 assists per game.
• Head Coach Joe Dooley is in his second stint as ECU's head coach… Now in his fifth season overall at USF and his 10th year as a collegiate head coach.
• Fleming has compiled a 179-119 record during his career as a collegiate head coach and is 65-61 at ECU.
• Previously built a 57-52 record at ECU (1995-99) and a 114-58 record at Florida Gulf Coast (114-58).
• Saturday's game will be the first time that Dooley has faced Houston or Houston Head Coach Kelvin Sampson in his career.