Who do you think will win this one:
http://www.uhcougars.com/sports/m-baskbl/spec-rel/031618aag.html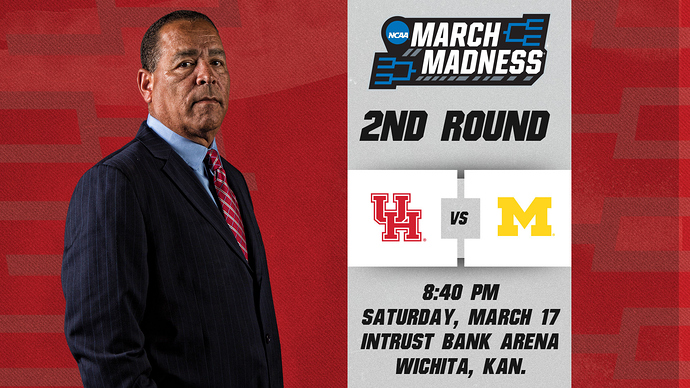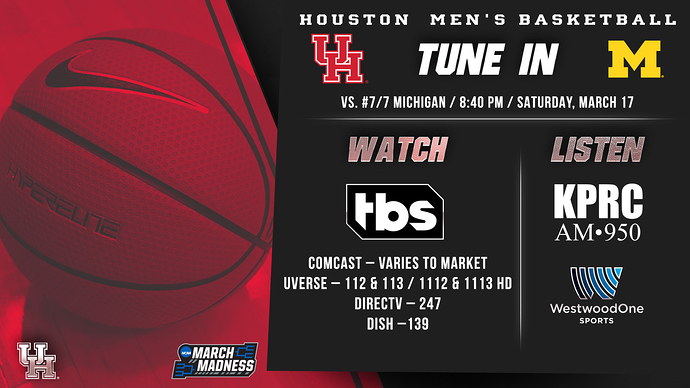 ABOUT MICHIGAN
• Michigan brings a 29-7 overall record and 13-5 mark in Big Ten Conference play into Saturday's NCAA Tournament Second Round game.
• Wolverines won four straight games to capture the Big Ten Conference Tournament title and claim the league's automatic bid… Michigan has won its last 10 games entering Saturday's contest and not lost since a 61-52 setback at Northwestern on Feb. 6.
• Michigan ranks seventh in both the Associated Press poll and USA TODAY Coaches' polls… Wolverines received 1,213 points in the latest AP poll and 604 points in the most recent Coaches' poll.
• In its last outing, Michigan earned a trip to the NCAA Tournament Second Round with a 61-47 victory over Montana inside INTRUST Bank Arena on Thursday night.
• Against Montana, Wolverines outscored the Grizzlies 30-19 in the second half and held Montana to 32.1 percent (18-of-56) shooting from the field.
• This season, junior forward Moritz Wagner leads Michigan with 14.3 points and 7.1 rebounds per game… Junior guard Charles Matthews stands second with 12.8 points per game, while senior guard Muhammad-Ali Abdur-Rahkman averages 12.6 points per game to rank third… Sophomore guard Zavier Simpson is tops with 3.6 assists per game.
• Head Coach John Beilein is in his 11th season at Michigan and his 36th season overall as an NCAA collegiate head coach.
• Has compiled a 244-142 record at Michigan during his career.
• Previously built a 104-60 record at West Virginia (2002-07); a 100-53 record at Richmond (1997-02); an 89-62 record at Canisius (1992-97); a 163-94 record at Le Moyne (1984-92) and a 20-6 record at Nazareth.
• Saturday's game will be the first time that Beilein has faced Houston during his career.
• Beilein has posted a 1-1 record against Houston Head Coach Kelvin Sampson during their careers… Saturday's game will be the first time Beilein has faced Sampson during his Michigan and Sampson's Houston tenures.
• 1975 graduate of Wheeling Jesuit.
Good omen for the Coogs to win the first game without major contributions from a lot of important players. You usually have to win a game where you don't play well or get contributions from different players to make a deep run. While Gray is certainly not a surprise contributor, UH hasn't been close to being a one man show at any point this season. Hopefully Michigan will be overly concerned about him today and Corey Davis, Brooks or somebody else will go off. Go Cogs!
"Saturday night's NCAA Tournament third-round game in the West region between Michigan and Houston might be a battle between the Wolverines and Cougars, but it also figures to serve as a great matchup between two figurative bulldogs on the court.
A big reason why third-seeded Michigan and No. 6 seed Houston have been as hot as any teams around the country over the past couple months has been because the play of Michigan sophomore guard Zavier Simpson and Houston senior guard Rob Gray, two tenacious players who haven't backed down from anyone this season.
The two will likely be guarding each other a lot, and whichever one gets the better of the matchup will likely determine which team advances to the Sweet 16 in Los Angeles.
Gray turned in the individual performance of the tournament thus far on Thursday when he scored 39 points, including the game-winning layup with two seconds remaining, against San Diego State to give the Cougars a 67-65 victory.
"This is what I live for," Gray said after the San Diego State win. "You know, I've been from junior college to Houston just working. Working my tail off with my teammates from summer conditioning to doing war drills in practice, and I just didn't want to let my team down."
Gray hasn't done that, leading the Cougars in scoring at nearly 20 points a game.
Houston head coach Kelvin Sampson didn't mince words at what Gray meant to his team against San Diego State.
"The difference in this game (Thursday) is we had Rob Gray and they didn't," Sampson said.
Houston (27-8) has won 11 of its last 13 games.
However, in order to have a similar impact against Michigan, Gray will have to conquer what might be his biggest challenge of the year to date.
A sophomore for Michigan, Simpson has evolved into one of the country's top on-the-ball defenders and has a lot to do with Michigan's 10-game winning streak, shutting down some of the best guards in the Big Ten.
Simpson has also gotten more comfortable running pick-and-roll sets for Michigan on offense and creating open shots for teammates.
"I saw (Gray) had (almost) 40 so he's got to be a good player," Simpson told the Detroit Free Press. "So we'll make sure we're locked in, recover and get back to the drawing board."
Michigan (29-7) is coming off a grind-it-out 61-47 win on Thursday over Montana, a game which saw the Wolverines take control after falling behind 10-0 to start.
"I love the way they stayed composed during that time," Michigan head coach John Beilein said. "The first four-minute timeout, the first one, it didn't look good for Michigan at that time. I told them all we need is one basket here, and then let's win the next four minutes. And we did that. And let's win the next four minutes, and we did that. And all of a sudden we're ahead at the half."
The game will be a battle between not only two scorching hot teams, but two of the stiffest defensively in the country.
Michigan enters the game No. 3 in the country in defensive efficiency and Houston is No. 15."
I think WE can win this game…and WILL! The Retrievers proved anybody in regards to size, conference affiliation, and National Brand…can go down…and Rankings in Defense or Offense does't matter when the will to win is there. Those guys said at halftime when the score was tied…they knew they could win and did so…so…lets go COOOGS!!!
I'm already nervous/anxious about this game and we are still 8 hours away from tip off. How do the players manage this?
We win this game, and the city of Houston will jump on the bandwagon.
Went to a packed house Buffalo Wild Wings for the SDSU game, and was the only one wearing UH gear. They had our game on the smallest TV screens, and most people weren't paying attention until the last 5 minutes.
I did see a fair amount of people in Cougar gear at the rodeo yesterday but a Sweet 16 berth will indeed fire up the city.
I'm actually pretty relaxed right now. Give me a few hours though. lol
Haha. I made some deviled eggs and polished some scratches out of my car. Now I'm looking for something else to keep my mind occupied. However, I'm smart enough to not ask my wife if anything else needs to be done around the house.
These first two games today have been pretty boring. Villanova and Duke in blowouts. Hopefully the night games pick up. I wouldn't mind our game being a blow out, the good guys on top of course. lol
About to head to Taps and Apps bar here in Hawaii to both celebrate my partially Irish ancestry, AND cheer my beloved Coogs on to victory!
HAPPY ST. PATRICK'S DAY!!!
ERIN GO BRAGH!!!
EAT 'EM UP COOGS!!!
What time is it there Law? Is it noon? Here's to a good game!
It's about 2:10pm here. Just had some corned beef and cabbage and Guinness.
Getting ready for the big game!!!
I'm not ready for the season to end yet guys
not havin it
11 seed Loyola is in the Sweet 16! Why not us?!