hes a little out of control to be a starter just yet…if all that fancy dribbling he did after he stole the ball (which was very close) sampson would have blown a gasket
Renu, Dana, and Tilman sitting courtside.
16-10 Coogs with 11 min left half.
Jerreau got robbed. He is pretty good.
Guy shifted under him outside arc AFTER Deeky left his feet.
Couldn't make it. Watching from home.
Ditto. Took mine off once in my seat.
29-23 Coogs with 3 min left in the half.
Brady also had a nice block called a foul. The ref anticipated the call.
Coogs up 36-25 with 22 seconds left
Coogs lead 36-25 at the half!
Refseare letting them play
I would like to interrupt this thread with an important non-Dana announcement!
My Coogs have 28 rebounds at the half.
Announcement concluded. Carry on and comb over.
Da Funk
Solid first half. Had to switch devices to make the stream stable
I think we need to start White or Hinton and then let Brooks come off the bench. He just seems to fit the 6th man role better. He is always cold to start the game.
stream? All I see seems to have too many "strings" attached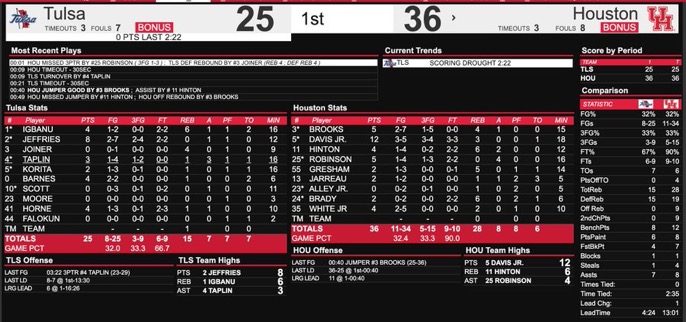 Good crowd tonight all considering