55 years later the Coogs are the kings of CBB once again!
I sold Programs at that game.
We were given 10,000 to sell. We were used to selling at Delmar so this seemed impossible. We talked about what we would do with all the unsold Programs, as we had to haul off the unsold.
All were sold. We could have sold 20,000.
I was there. Hoarse for 3 days! Already have FF tickets - hoping for another Cougar win in front of a soldout NRG.
What in the horses galloping at the end?
Are you not familiar with the Astrodome Scoreboard Spectacular?!?
Here it is, for the last time ever (in 1988):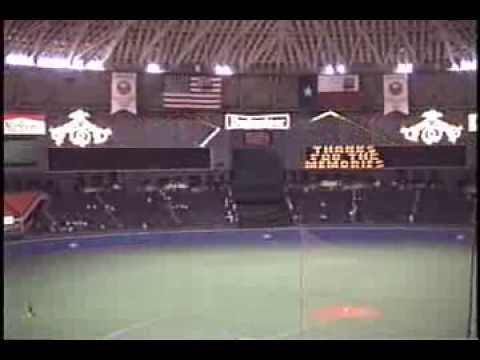 Possibly the #1 reason Houstonians hated Bud Adams.
Thanks for posting that; never saw it before !
Shame the quality is so grainy , but that was the technology of the day.
(and amazingly sent a man to the moon )
I had never seen this either. It's too bad they had to succumb to Bud Adam's renovation wishes. I think that when they eventually renovate Minute Maid down the road, they should remake it somehow.
I was in 8th grade and my Dad got invited at the last second to the GAME! I listened on the radio while I was outside shooting baskets ( flood light on garage)! I was re-enacting the game while it was goin on! GUESS YOU HAD TO BE THERE! LOL
As a kid, my backyard bball shoot around was me (The Big E), vs no one (Lew Alcindor playing D). The Big E (me) was unstoppable!
That and because Bud decided to replace his coach by stealing UH's Jack Pardee.
I had a hard time believing that he couldn't find a good coach in this huge country outside of Houston.
Watched as a young CYO basketball player in New York. It was the biggest college basketball game ever.
We rooted for Alcindor as he grew up in NY and played CHSAA basketball.
Power Memorial High School!
I can also tell you Mario Ellie & Chris Mullin also went to Power Memorial H.S.
Might have been 1 or 2 others but would have to look them up.
Check out the Tyler JC roster. One of our all-time favorites played for Tyler against the UH freshmen in the opening game. I'm sure that played a part in our recruiting of him, and 2 years later he was our starting PG for consecutive NCAA tournament teams.
@bigmc, did you cover that game? How many did Poo score? I've got it in my mind that E wasn't the top scorer of the night
Power recruited like nobody's business. Alcindor came from Long Island. I had to play against a front line of Len Elmore (Maryland) Japh Trimble (Maryland) and Ed Searcy (Duquesne). I was straight up against Searcy 6'7"and he could almost jump over me. I had come over from football and I scared him by tackling him on a drive and screamed "I got 4 more". LOL it worked.
Len Elmore was the one I couldn't think of.
He was pretty pretty good!
Oh yeah. Our center was 6'3" Elmore had 6 inches on him
Christians vs lions