Copie from an actual teacher: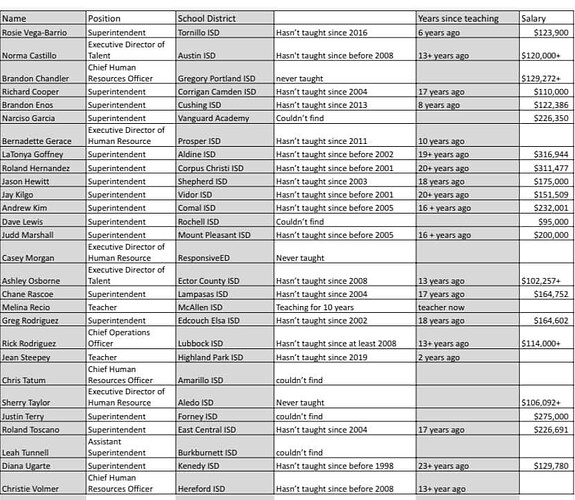 I decided to research everyone Greg Abbott picked to be on this so called "task force" to help better understand the mass teacher shortage we are currently facing in Texas. Only TWO are labeled as teachers but only ONE is currently teaching in the classroom everyday.
When doing the math, the average length that these administrators have been out of the classroom is around 15 years. Some of these administrators have never taught… ever.
The shortest time out of the classroom is 2 years, but the longest is over 20 years.
The average pay for the positions that I could find is $171,000 a year. The average teacher salary in Texas is $58,000.
I hate to say it, but THIS should answer why teachers are frustrated & are leaving. Gov Abbott can't even let teachers talk for themselves. How about he asks actual teachers what the issues are that they're facing instead? How about he puts 28 teachers on the task force instead?
Teaching 10, 15, 20+ years ago was SO different than what teachers are feeling now in the classroom everyday.
Signed… an actual teacher.