Houston Cougars 2020 position previews: Quarterback
By Jimmy Schofield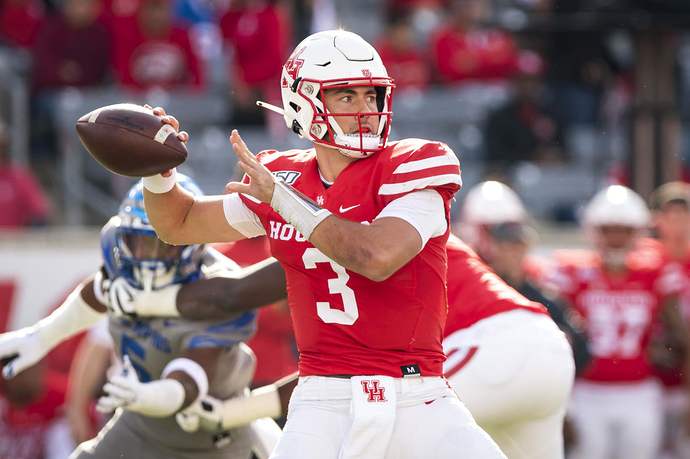 photo via
uhcougars.com
If the 2020 Houston Cougars want to have success this season, they'll have to be better offensively than last year, under first year head coach Dana Holgorsen , in which they averaged only 203.3 yards-per-game passing (91st nationally), 391.5 total yards (78th) and 30.7 points-per-game (51st).
That all starts at the quarterback, and for the first time in his three-year tenure along Cullen Boulevard, Clayton Tune (6-foot-3, 215 pounds, Jr.) knows the position is his. The past two seasons the Hebron product (Carrollton) had subbed for an injured or redshirted D'Eriq King. With King "taking his talents to South Beach," Tune has had an entire offseason (though not a normal one), to prepare mentally for the upcoming season along with first year play caller, Shannon Dawson .
Per a recent article via 'Pro Football Focus,' on the young gunslinger, "We saw Tune have a couple starts in his first year of collegiate action in 2018 and it didn't quite go so well. When he came in last season after the D'Eriq King situation transpired, there was some real progress within his game. He took advantage of a clean pocket and delivered some nice big-time throws on a handful of go balls. Tune ended up earning a passing grade of 77.3 when clean, which isn't great but not a liability, either. He still made some bad decisions under pressure, though, and had poor pocket presence, which lands him here (ranked 72nd among 130 potential starting QB's this coming season)."
Basic translation: his decision-making needs improvement, but he has a strong arm. Tune also needs to improve on his 'happy feet' in the pocket, but that comes with improved offensive line play as well. In two seasons, Tune has nine career starts (but played in 12 overall). In those nine career starts he's completed 145 passes on 254 attempts, good for a 57 percent completion percentage. Take out his first career start at Memphis during the 2018 season, in which he went 18 for 43, and that completion percentage is just over 60. He'll need to get that into the mid 60's at least if the offense really wants to see improvement as incompletions lead to 3rd & long down and distances which usually lead to punts. For his career, Tune has completed 165 passes on 296 attempts for a .557 completion percentage.
Tune has the arm to make every throw needed to be successful. In those nine career starts he averages 13.9 yards-per-completion, though just 224.3 yards-per-game overall. In 12 games overall, Tune has passed for 2,328 yards (194 per game) to go along with 15 touchdowns to 11 interceptions. One aspect of his game that is deceptive is how he runs with the ball. In those nine career starts, Tune has carried the ball 98 times for 353 yards and 3 scores. Though that is just 3.6 yards-per-carry, that's not taking into account sacks. During his first two starts, he was sacked 15 times total by Memphis and Army. Last season the O-Line allowed 35 total sacks (though not all to Tune), which ranked 108th nationally. It seemed like almost every game he started, he had a run (whether called or not), that made you say," wow!" Tune did injure a hamstring last season which limited how many times he could run, however.
If that hammy, or any other injury, sidelines Tune, Logan Holgorsen (6-0, 190, So.) played in seven games last season as the main backup and started at UConn, in which he completed 7-of-15 passes for 123 yards and a TD in a 24-17 win on October 19. For the season, the University High product (Morgantown, WV) completed 9-of-19 passes for 139 yards with a TD and an interception in seven games. Holgorsen, the son of the head coach, was a 3-star recruit and ranked as the 12th best player coming out of HS, via 247 sports. Like Tune, Holgorsen is good at extending plays with his feet and is tough in the pocket.
Ike Ogbogu (6-1, 205, RJr) has only seen action in one game during his three seasons (in which he completed one pass and ran for six yards against Texas Southern two seasons ago), but the walk-on out of Bellarmine College Prep (San Jose, Ca.) is also adept at throwing on the run and making plays "off schedule." He had a nice spring game last year and was turning some heads with some of his strong throws and slippery runs, but it appears he's just on the roster for depth purposes.
With the NCAA freezing eligibility for this season only (meaning playing for the year won't count against your eligibility), look for true freshman Sofian Masoud (6-1, 190) to get onto the field for more than the four games before redshirt rules would normally apply. After transferring from the Bronx, NY (where he was ranked as the third best prospect coming out of New York State), Masoud threw for 3,106 yards and 32 passing touchdowns (adding 10 on the ground) to be named District 14-6A Offensive MVP last season for Cy Lakes High. The Katy native finished the season as the 47th ranked "athlete" out of Texas, via 247 sports. Masoud throws a tight spiral, is accurate deep and keeps his eyes downfield when the pocket collapses.
Along with true freshman walk-on Christian Kaopua (6-2, 185), Holgorsen and Dawson appear to have a room full of elusive quarterbacks who can all throw on the run, whether it be the intermediate or deep routes. This ability to maneuver inside and outside of the pocket will be key this Saturday as our Coogs head to Waco to take on the Baylor Bears, led by first year head coach Dave Aranda . Aranda, a linebackers coach at UH at one time (during the 2003 and 04 seasons), is known for his aggressive, attacking defenses so look for Holgorsen/Dawson to try and establish the run game against a front-4 that only averages 275 pounds. In fact, the Bears only have one player listed at 300 pounds according to their depth chart. If the Coogs can establish an efficient run game early and stay in manageable third down & distances, the offense can move the chains and keep the defense off the field, something that was sorely lacking last season. That will also help set up the down field play action game that will take advantage of a speedy group of wide receivers. Game time is set for this Saturday, September 19, and will kickoff at 11AM (CST) and will be aired on FOX.