Houston Cougars 2020 position previews: Running Back
By: Jimmy Schofield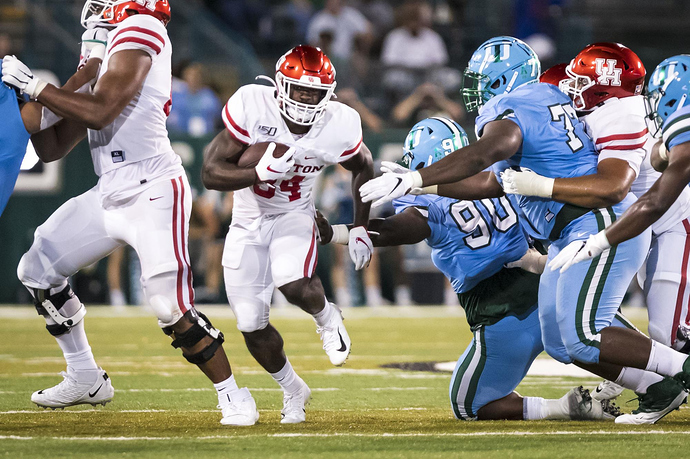 photo courtesy
uhcougars.com
Last season under first year head coach Dana Holgorsen , the Cougars averaged just 30.7 points-per-game (good for 51st nationally). While the passing game was anemic, averaging just 203.3 yards through the air (91st), the rushing offense was solid as they averaged 188.1 yards-per-game (37th) and almost five yards-per-carry.
The first halves were particularly more impressive as the offense averaged 225 yards-per-game (100 rushing, 125 passing) while their halftime scores averaged 17.8 to 15.9. It was the performance of the second halves which led to most of their eight losses (to just four wins) as depth played a huge role in the offense only averaging roughly 167 yards-per-game after halftime (88 rushing, 79 passing). The average score of each game was 30.7 to 34. A below average defense put the offense in must-pass situations throughout most of their losses, taking onus away from what was at times a physical run game.
That physical run game is led by the returning one-two punch at running back of Kyle Porter (5-foot-9 inches, 210 pounds, RSr.) and Mulbah Car (6-0, 215, RSr.). After transferring from the University of Texas where he rushed for 468 yards on 130 attempts with five touchdowns over his first two seasons, the Katy product started nine games last season. Porter averaged an impressive 4.7 yards-per-carry (615 yards on 130 attempts), after averaging just 3.6 ypc over 27 career games in Austin. Porter brings a nice combination of toughness running between the tackles with explosiveness once he gets past through the hole. Once Porter fires though the line, the Katy product's speed takes over. Car is like a Mack truck on the other hand. The Austin-Reagan product averages 5.1 ypc on 254 career carries (1,294 yards) and 10 touchdowns. This should be the breakout year that last year appeared it could be, after averaging 94 yards-per-game, until the coaching staff thought it would be better for him to take a redshirt after four games and return for a final season.
Ta'Zhawn Henry (5-7, 170, Jr.) could be a wildcard in the running back room IF he is eligible to play this season. The Houston Lamar product transferred over the spring after rushing for 681 yards on 161 carries and 11 TD's over the two previous seasons at Texas Tech. He is also a major threat coming out of the backfield in the receiving game, adding 283 yards on 44 career receptions. Henry is also a major threat on special teams as he averaged 24.5 yards-per-return on 11 kick returns, leading the Big12 last year. He will have to appeal to the NCAA to play this season. If he wins the appeal and can play it would be huge as the NCAA has granted every athlete a free season this year (meaning it will not count against their eligibility).
Chandler Smith (5-8, 180, RSr.), Kelan Walker (5-11, 230, RSo.) and Terrell Brown (6-0, 185, RFr.) round out the running back room of players who saw the field last season. Smith is a walk-on but impressed running backs coach Marquel Blackwell and the rest of the offensive staff enough in practice to see a decent amount of playing time as he rushed for 159 yards on 32 carries for a nifty five ypc average. Though diminutive in size, Smith runs tough between the tackles, using his lack of height to his advantage as it's tough for defenders to pick him up behind the O-line until he bursts through. Smith ran for 139 yards on 30 carries with two TD's in 2018 after not playing the previous two seasons. Walker played in 11 games last year, rushing for 30 yards on just seven attempts, seemingly falling behind Smith on the depth chart. The DeSoto product rushed for 112 yards in 2018 on the strength of a 105-yard night against Texas Southern, on just nine carries. Walker has a nice combination of size and speed but must show better vision at the line of scrimmage, which could also be said for Brown. "Smoke" rushed for 22 yards on 10 carries as he often just ran into tackles at the line. This is to be expected of a true freshman coming from a smaller division school out of Louisiana (Harvey). As his nickname attests though, Terrell is a threat once he gets into open space.
Stacy Sneed (5-11, 175) joins the running back room as a true freshman out of Arlington-Mansfield Timberview. Sneed rushed for 2,607 yards and 33 TD's while adding 951 yards through the air on 53 catches (17.9 ypr) and an additional 10 TD's. He also won two state basketball tiles showing his athleticism and versatility.
It'll be interesting to see how Blackwell can coach these younger players up, and how Dawson will use each this season. Will he throw to them more coming out of the backfield? With all the talent at wide receiver it's difficult to say. Dawson's philosophy seems more towards passing the ball than running via his time with Hal Mumme (Southeastern Louisiana and New Mexico State in the early 2000's), along with Holgorsen at West Virginia from the 2011 through 2014 seasons. He was a limited play caller until his time at Kentucky (2015), where his offense averaged 24.7 PPG (95th) and his offense 372 total yards (89th); 163 rushing and 209 passing (both 79th). He then landed at Southern Mississippi from 2016 through 2018 though where his offenses averaged 32 PPG in 2016 (41st), 29.2 in 2017 (56th) but slipped to 26.2 in 2018 (90th). His passing offenses averaged 298 yards in 2016 (16th), 240 in 2017 (55th) and 255 in 2018 (40th). His rushing offenses averaged 175 in 2016 (62nd), 185 in 2017 (41st) and dipped to just 121 yards-per-game in 2018 (121st).
He had two solid quarterbacks in Hattiesburg as Nick Mullens finished 12th nationally in passing yards-per-game in 2016 with 298. In 2018, sophomore Jack Abraham finished FIRST nationally in completion percentage, at 73%.
Dawson reportedly called plays in 2012 for Holgorsen at WVU where the Mountaineers averaged nearly 40 PPG (9th), 330 passing yards (10th) and 170 on the ground (54th). A few of those other years he may have "dabbled" in some play calling for a game here and there, but Holgorsen was the play caller for the most part. Holgorsen is a play caller that will base his offense around the strengths of his players for that particular season.
Wildcats head coach Mark Stoops said this about him before their season began, "What I love about Shannon and what I think him and Dana have done at West Virginia is they've really run the ball very well and have some physicality about them," Stoops continued, "but still are throwing the heck out of the ball and still very creative with the way they're doing things."
From the same article, Dawson said this, "We're going to make you stop the run. That doesn't necessarily mean that we can't throw for a ton of yards, because ironically enough, you end up throwing for more. It's an evolution of the offense that occurred."
He did lead some pretty prolific offenses at Stephen F Austin from 2008 through the 2010 seasons, leading the FCS in passing for the 09 and 10 seasons. His quarterback during those years, Jeremy Moses, said this (also from that uk article), "He's very decisive. He's able to get a play out there quickly and a good play at that. He's decisive about what he wants to call and he gets it to you quick. As a quarterback his decisiveness and the speed in which he gets a play to you, becomes a weapon. There's no indecision, no hesitation. He knows what he wants. When he calls a play, he already knows what he wants on the next play, for the most part."
I expect a nice balance next season offensively, but a lot of that will have to do with how the defense is playing. If the Coogs are always in catch-up mode, then Dawson will have his quarterback's passing a lot. I expect the season to start off with a nice balance of the run and the short passing game just to keep the defense off the field.