Houston to Host Annual Phill Hansel Invitational
Cougars to compete against nine other teams; Saturday serve as Senior Day
http://www.uhcougars.com/sports/w-swim/spec-rel/111616aaa.html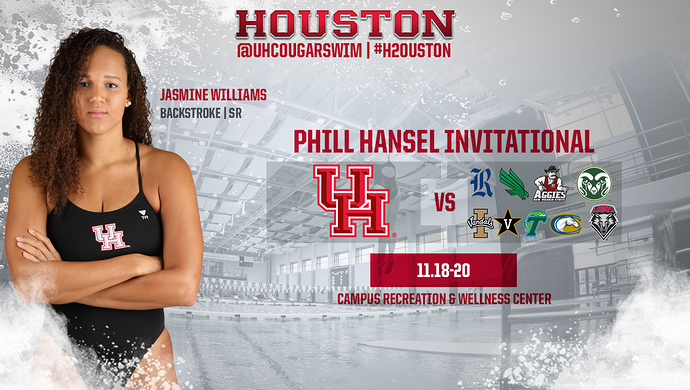 The University of Houston Swimming & Diving team will host the annual Phill Hansel Invitational in honor of former head coach Phill Hansel, Nov. 18-20 at the Campus Recreation and Wellness Center Natatorium. The Cougars are set to compete against nine other teams; UC Davis, Colorado State, Idaho, New Mexico, New Mexico State, North Texas, Rice, Tulane, and Vanderbilt.
The three-day meet begins each morning at 10 a.m. with preliminary sessions. Following a break, the teams will head back into the pool for finals, beginning at 6 p.m. and Sunday's finals start time at 5 p.m.
This weekend's meet will also serve as Senior Day for the Cougars. The team will honor its six seniors – Cameron Balkom, Micaela Hamrick, Rachel Hobbins, Marissa Lehman, Taylor Olanski and Jasmine Williams – before Saturday's evening session gets underway.