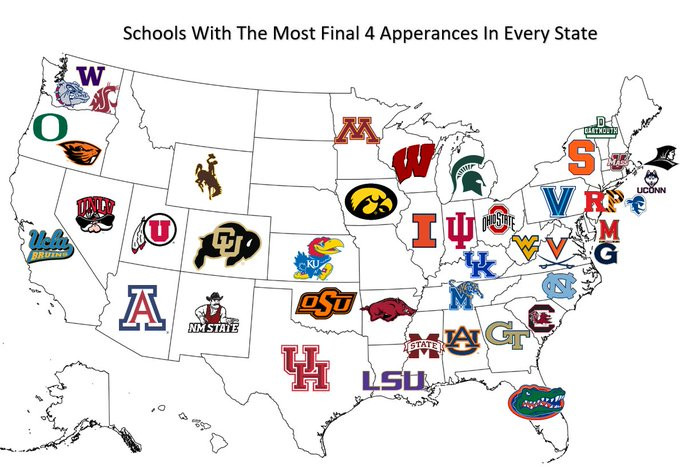 There may may be some areas in Southern Indiana and in Maryland that are solid UH.
Well, so I didn't read the fine print. I thought it "conquered" territory like they do in football.
I didn't know that we had the most in the state. Pretty cool. Hopefully we add to that.
Wyoming has been in a freggin final four?!!!
I had forgotten that Arizona used to be good.
Syracuse on that map also.
Lot of UH territory on the map, love it!
We run this state!

Kansas controlling northern Alaska makes me think that map is fishy.
Something is hinkey about that map. Where's UCLA?
Los Angeles?

I don't think it includes the second round. But it is the most recent I could find.
I love these maps. I'm guessing TSU "owned" Harris county and that explains Oregon St currently owning Harris county.
Is this map beginning/ including regular season, or conference tournaments? I'm scratching my head on our presence in the big sky.
Yes. Essentially the only teams that would have owned land were conference champs since conference tournaments would have consolidated each empire.
As for Harris County, it looks like Liberty had it, then OSU then the other OSU hahahaha.
There will be a lot of land up for grabs in the next two midwest rounds with UH/Syracuse/Oregon State/Loyola-Chicago holding a lot of real estate.
According to the map, Oral Roberts has accomplished diddily poo.
What's going on in New England? Is that Coastal Carolina? Nope, some other CC. I assume they haven't played a game since their last win and they'll hold that land 'till the end.
CC team won their last game and didn't qualify for their conference tournament. Oral Roberts beat Ohio St, who wasn't a conference champ, and then Florida who wasn't a conference champ and who didn't beat a conference champ.