Linemen downfield everywhere. Sloppy practice.
What happened to the other in in door practice facility?
Those hanging light fixtures will interfere with passing. Rafter height LED's with flat profile required with low ceiling.
After this debacle, I've learned to take preliminary renderings with a grain of salt.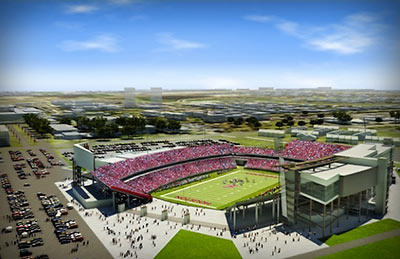 No A/C vents… It going to be hotter than two squirrels going at it in a wool sock in there!
Part of the new training regimen. If you can work out in a 130 degree building in full pads with no ventilation, those 95 degree games won't seem so bad.
Not everyone was saying that, Kronke, when that rendering came out. Lol.
It will be named the "Herman Culture & Conditioning Barn"…charge it winning!
Those are like stock images for kitchen lights…
I don't think we are going to spend close to $20 million for an IPF w/o AC, are we?
I'd hope not. But upon closer inspection of the picture, I believe that Case will be the scout team QB. He is throwing in the bottom right of the picture…
Build it with a 10' chain link fence as exterior wall. Ventilation solved!
That's actually Piland. Case only ever wore the phat UH on his helmet.