Buyout after each season: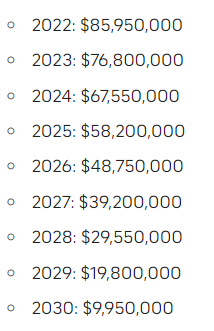 Unless BMDs pony up the money, Texas taxpayers will pay the buyout.


Have aTm's share of the PUF pay for it
Hope they spend their money. Leaving less for uber-facilites and other such nonsense.
Hard to keep going back to the donors.
Pay him, dumb enough to extend him then pay the consequences. If they don't make a bowl I can't see Aggy not pushing the panic ejection button. The meltdowns yet to come shall be Glorious.
That would be illegal. Not saying they wouldn't try it outright or maybe slick accounting.

A$M might not have to fire him.
They possibly could keep him on payroll as a fund raiser.
Thus their net increase in payroll costs becomes the new Head Coach.
Aaaaaah, the history a$m coaching decisions !
Truly a lot to be leaned…. Just not by Aggies

!
Jimbo owns the Aggies for a year or two. The big cigars will have to find their level of palpability.
My guess is there will be 'scandals' that will enable them to lower the cost of the buyout.
Can aTm reassign him to be a cheerleader and have him wear a clown suit in the sideline until he quits?
Just imagine how bad they would be if they only paid Jimbo $5M per year!!!

There is no accounting where paying him 90+ million is cost beneficial versus keeping him a few years. This is going to be a nice public display of Aggies getting their pride hurt. There's no going around it, over it, or under it. They're gonna have to go through it.
Lol. Fisher wins a natty at FSU and aggy rewards him and not FSU.

Maybe they are a cult lol
Maybe we should learn more about cultism and adopt a similar strategy.
At least they aren't wearing sheets and hoods.