A lot of season left, but man, Louisville gonna be a load.
Making Syracuse look like the JV squad.
Louisville is a Top 15 team and was a load for UH last year. It would be nice if they can be undefeated when UH faces them this year.
If they get to Houston unbeaten, Louisville would have run the table in the ACC. I'd love an unbeaten matchup with them.
Syracuse's defense is a joke !!!
If Louisville is going to fumble that easily, the Third Ward D will have a heyday with them.
Syracuse football has been a JV program for a while. Even so, Louisville letting them right back in it. If Louisville is having trouble with Syracuse's up tempo offense, can't wait to see what the Coogs will do to them.
He is making Syracuse look silly, but I'm not entirely sure how much it actually takes to do that. I'll wait to see what he does to Clemson and FSU before declaring dude status.
It is pretty funny that all his TDs, he has walked them in. Hey Syracuse, PERHAPS spy the QB for a change.
I was thinking that that slowing down is going to bite him in the ass, he is being cocky and showboating before the play is over, FSU, Clemson and UH will hit him hard and try to strip the ball when he tries dumb stuff like that.
I don't know, the QB for the Cuse seems to be doing pretty well against the Ville. And he is no greg Ward. I think we kick their butts.
Louisville better do lots of conditioning work before they play us. Syracuse is abusing them with the up tempo offense and UL linemen are cramping up every other play. How in the world is Syracuse handling the heat better than UL? They're soft!
Louisville is sloppy and Syracuse's D is pathetic. We will see how they do next week but I'm much less worried about them after watching this game.
That being said we need them to play well and win a bunch of games… especially against FSU or Clemson.
I agree, they look REALLY sloppy, I can't believe they haven't turned the ball over more, plus a TON of penalties, they're star CB has to sit half of the Florida state game for some type of targeting that just happened, I turned it on because I saw the score and thought "maybe we should be worried" but after watching for a good half, I am not really worried anymore.
Dude is 1 rushing yard away from being the first player EVER to throw for 400 and rush for 200 in the same game.
Jackson is the truth, Syracuse or not, but we'll have the real measuring stick come next week when they host Florida State. In fact, a bunch of big games for Coog fans next week with UH/Cincy, FSU/UL, OU/Ohio State
Wow!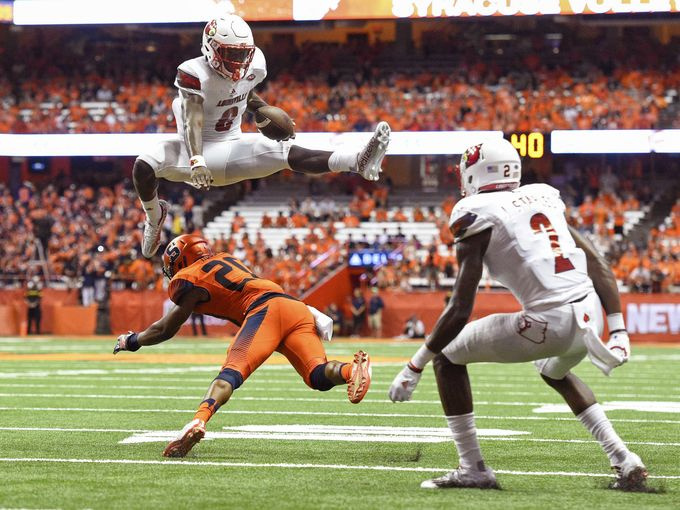 From USA Today
Big test for Louisville coming next week when they have to play FSU. They also get Clemson before they play Houston.
Wow. Let's hope that Louisville beats FSU and Oklahoma beats Ohio St.