Game will be streamed live on YouTube, tomorrow night at 6:30 pm CST
Here's the link to the stream:
Cougars Return to Action Monday Night
Cougars face George Mason at 6:30 p.m. (CST) Monday in Gulf Coast Showcase
http://www.uhcougars.com/sports/m-baskbl/spec-rel/111916aab.html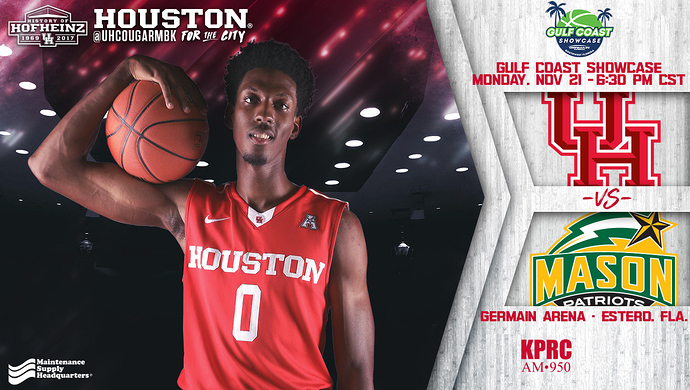 ABOUT GEORGE MASON
• Entering the Gulf Coast Showcase, George Mason has posted a 1-2 record this season.
• In their most recent action, the Patriots dropped a 78-76 decision to Mount St. Mary's on Friday in Fairfax, Va.
• Senior forward Jalen Jenkins led GMU with 23 points on 11-of-14 shooting from the field and added 11 rebounds… Senior guard Marquise Moore totaled 19 points with a game-high 13 rebounds and a team-high four assists in the loss.
• This season, Jenkins leads the team with 17.3 points and 9.7 rebounds per game… Moore ranks second among the Patriots with 17.0 points and 7.7 rebounds per contest… Sophomore guard Otis Livingston II averages 12.0 points and a team-best 3.7 assists per game, while sophomore guard Jaire Grayer ranks fourth with 10.0 points per game. • Head Coach Dave Paulsen is in his second year at George Mason and his 23rd season as a collegiate head coach. He has compiled a 408-237 career record and is 12-23 during his George Mason tenure.
• Previously built a 50-28 record at St. Lawrence (1994-97), a 42-39 record at Le Moyne (1997-00), a 170-53 record at Williams (2000-08) and a 134-94 record at Bucknell (2008-15).
• Monday's game will be the first time that Paulsen has faced Houston during his career
• 1987 graduate of Williams.
https://twitter.com/UHCougarMBK/status/800368130623053824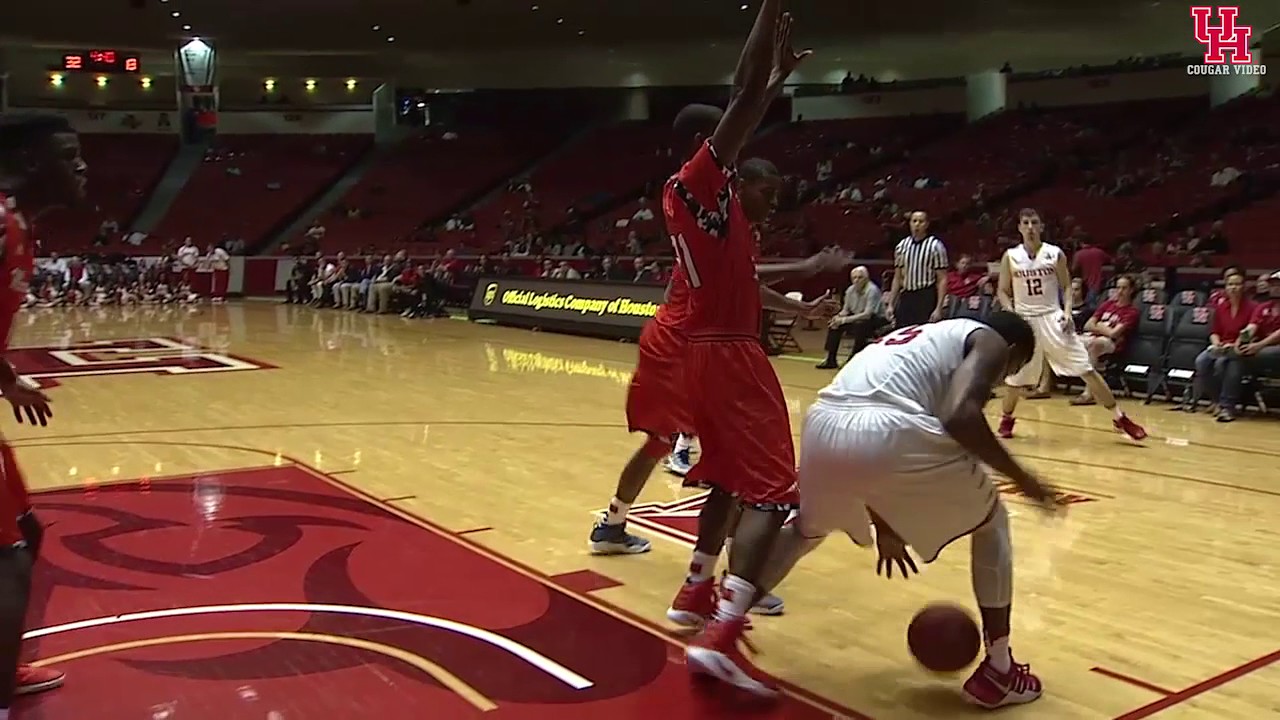 COOGS dominating in the first half; up 28-14 with 7:30 to go. That's even with the COOGS struggling to score early.
South Dakota beat Kent State earlier so winner of this game plays South Dakota tomorrow at 6:30.
39-23 COOGS with 2:42 left in the half. COOGS getting whatever they want on offense and crashing the boards hard.
48-26, COOGS at half. Complete domination
Gray has 12, Dot 11, Chicken 10, Davis 7, Van Beck 6
Galen has 6 assists.
10-0 run by the COOGS in the first 3 minutes. 58-26 now.
64-37, 13:24 left
Gray has 20, Dot 16, Chicken 13
8-0 COOGS run, 72-37 now with 11:08 to go.
76-44, 7:31 left.
Backups are in
COOGS are going to score a ton of points this year.
Van Beck 4-4 from 3.
86-49 w/ 3:36 left
Dupree getting some play and has 8 points. Good to see.
Final: 93-56 COOGS
Bad opponent, but this is what you're supposed to do to bad opponents. COOGS get South Dakota tomorrow at 6:30. Should win that one easily too.
What a beatdown. Way to go Coogs!
Vermont plays Hofstra on the other side of the winner's bracket.
CKS post game
Good win
hard to get in rhythm with only 1 game
moved ball well tonight
impressed by Galen and his passing the most tonight.
team needs a ball moving PG, tons of players that can score, but Galen most important
very unselfish tonight as a team
D held their best player (Jenkins) to 2 points. Went at him on Defense to try and get him in foul trouble.
get after it tomorrow night against South Dakota.