http://www.uhcougars.com/sports/w-golf/spec-rel/111317aaa.html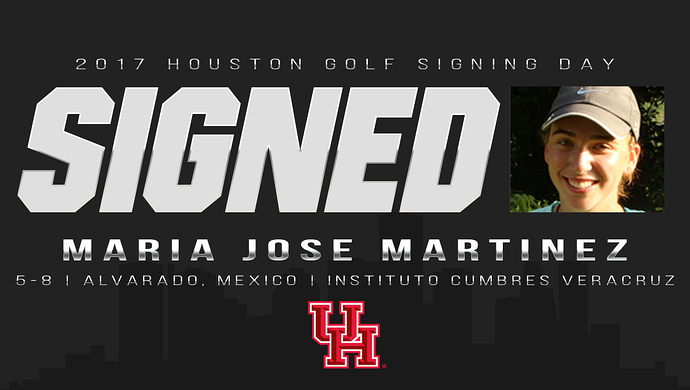 Maria Jose Martinez has joined the University of Houston Women's Golf program after recently signing a National Letter of Intent, Head Coach Gerrod Chadwell announced Monday.
Martinez, who stands 5-foot-8 and hails from Alvarado, Mexico, will compete as a freshman beginning in 2018-19 and have four years of eligibility remaining.
In December 2016, Martinez fired a score of 72 to win the Fall Traditions Invitational title in Bryan, Texas. One month earlier, she rallied from a two-stroke deficit to shoot a 69 in the Final Round and capture the individual title at the Cypress Lakes Fall Classic by three shots.
In 2015, she surged into third at the Greg Norman Academy Junior Invitational, leading all players with a Final-Round 73.
"The first thing that struck me when I watched Maria play was her maturity. She is very level-headed on the course," said Houston head Coach Gerrod Chadwell, who is in his fifth season with the Cougars. "She is really good with her wedge and putter, and she is continuing to get stronger."
As a young golfer, Martinez earned the gold medal at the 2013 National Olympiad. Competing in the 12-13 group, she drained three birdies with no bogeys for a Final-Round 69