Why is our golf program so mediocre now? Seriously why?
Yeah, I was just thinking I really wish the golf program could get back to national relevance. Pezman really needs to put some focus on them as we enter the Big 12.
I can only think of 2 UH Masters winners … Couples and Zoeller . Faldo was here for a short period as a freshman but didn't stay so not sure he would count. Who is the 3rd ?
I assumed they were counting Faldo.
So before this past masters we were number 1? Did the golf program promote that?
They probably would have got called out on the Faldo thing. Not that they would have anyway.
That said, they should be pimping this tweet right now.
UH=16 Golf National Championships
Not a big follower of the game, but recognize the importance of it in the overall
scheme of all things U of H. How long has it been since these 3 guys were on campus
playing…a long time ago, right ?
It's super crazy we have not poured more into golf with the mountain of championships legacy
Dave Williams left us. Bad admins and ADs not up to par ( pardon the pun) can really hurt you.
Hopefully we can get a NIL sponsor to help recruit the talent we need to get back to where we were - the very top of the game. As with almost everything, it usually always comes down to money.
Great post by all. WE were it. We were what ncaa golf was all about. Per wiki this is a snapshot.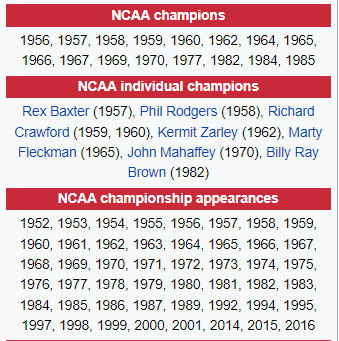 What do you notice?
Mr. Williams retired in 1987 shortly after we went downhill. Winning one or two ncaa championship is one thing. Winning that many is not a fluke. The "recipe" that Mr. Williams had does exist and has to be replicated or at least we have to come close to it. What is the best way to achieve this?
There are a large numbers of Mr. Williams "disciples" Jim Nantz is one of them. I have no idea and please excuse me if this has already happened but I want to see the following:
Get all Williams disciples to join a task force to implement a plan. This plan will be 100% influenced by what Mr. Williams taught to each of these same Williams disciples. There is not only a common thread here but many other common threads. It does not take a rocket scientist to know what worked then, how players were recruited, what Mr. Williams look for etc…
I also went on the Golf Club of Houston site. There is barely a mention about U of H. There is barely a mention of us using the facility. Is this our "home" course or not?
Houston like California, Arizona and Florida have better weather than most. We ought to change our golf program and have a serious strategy about it. It does not seem that it has been the case since the late 80's.
I have written it for years.
Yeah this UT guy that tweeted it must have counted Faldo. Did Faldo go to another school after us? If not, then maybe by technicality it is valid, as I'm sure it would have counted for any other school.
Apparently, we have the most majors winners of any school.
Faldo went back home and turned pro. We had 3 golfers at the time in our fraternity And they brought him to some parties to try and get him to pledge. Looks like he made a good decision.
We were a golf factory with lots of players on any given year, but I think the NCAA cracked down on how many golfers a school could have. Something like that.
I've never heard that before. So was part of Dave Williams success due to an advantage of numerical numbers ?
That's the story I heard.
I remember hearing at one time that one of every eight pro golfers were UH grads. Let that sink in!
Why is UT ahead of us in the pecking order, we have the same amount of Masters champs last time I looked H in the alphabet comes before T