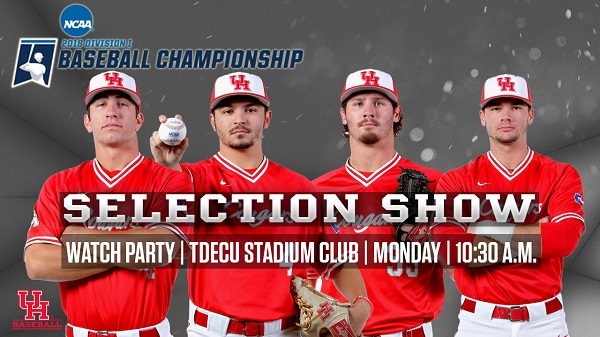 Join Us Monday, May 28 at 10:30 a.m. to watch the 2018 NCAA Division I Baseball Championship Selection Show!
You are invited to watch the Selection Show with the 2018 Houston Baseball Team and Coaching Staff in the Cougar Club of TDECU Stadium.
Thank you and Go Coogs!
What seed would be your guess 2 or 3? I guess it really doesn't make a difference.
Probably a 2 – anywhere but Sip City.
I hate the cow college in Austin as much as anybody here, but that'd be the only potential regional site the fan base could easily get to. Collie Station, Ft Worth and Baton Rouge won't be host sites, and obviously we're not really in the hosting picture.
Although as someone who lives 30 minutes south of "Sip City" I'm biased on wanting it near me, I guess.
How about TSU, UH, A&M and UT in Austin?
They could ship us to Austin, Lubbock, Hattiesburg, or Fayetteville
Would be nice to make up for that loss in Austin earlier in the year.
Could ECU or UConn steal our spot?
I think we end up as a 3 seed as the RPI question will be hanging over us even with the quality of our wins.
I'm not sure the Horns end up with a regional. They've fallen down the pecking order a bit when it comes to RPI and are now down to 23. Going 2 and out in their regional doesn't reflect well on them. Of course, their AD is on the selection committee…and they're Texas…so they probably host.
If Texas hosts, I don't see the Aggies going there. I think LSU ends up there instead along with us and probably TSU. Very winnable regional.
If Texas doesn't host, I'd hope they send us to one of the regionals that aren't close. Hate to get stuck with Arkansas or Tech. Send us to Minnesota, Stetson, Duke or Coastal Carolina if any of those host.