JERRY PALM'S PLAYOFF PROJECTION

vs. Alabama in the Peach Bowl
McMurphy has us in the Peach Bowl vs. Alabama
Schlabach says Cotton Bowl vs. Texas

Cotton versus the Horns??? Ooooh, gimme some!!
I would rather see Forde's prediction come true, then UH vs UT in the NCG.
After our Cotton Bowl against Notre Dame I swore I would never return to the Cotton Bowl. All they had to do was tell us not to try and drive back to Houston since 45 was closed. Instead I spent the night in a National Guard armory in Corsicana. Took 4 hours to go from Dallas to Corsicana.I would really hate to miss that game but screw those Cotton Bowl people!
We did the same. That was the last time I slept on a cot. Had friends that 'plowed ahead' and took 14 hours to get to Houston. I also remember what an absolutely beautiful cold crisp day Jan 2 was. I drove through Corsicana proper this summer for the first time since that Cotton Bowl trip. The Armory is still there and active.
Beating Alabama would be nice but beating Texas would be monumental.
Hah, thats fun - but holy early batman.
Man, I don't even want to think about this possibility. The only game that matters is Cincy.
Then Tx State. And so on.
Seeing as how beating Bama likely means we are at least in the national championship, I'm going to go with Bama is bigger on that alone. Forget about the fact that Bama is the clear king of the jungle and has been for a while now.
I spent the night courtesy of the National Guard as well as did my wife who was 7 months pregnant at the time.
New Years Day 2019…let's have a 40th anniversary reunion.

If the season ended right now, here's who we'd put in the College Football Playoff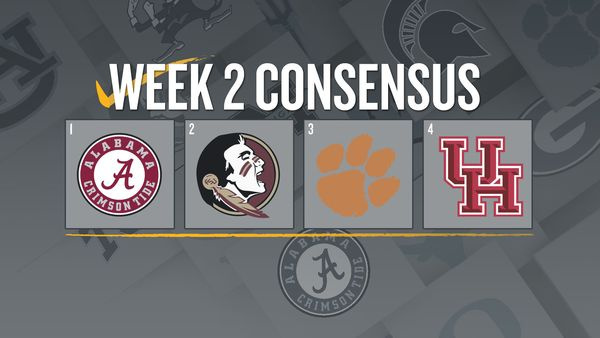 Stewart Mandel's New Year's Six bowl projections after Week 2

Mandel still has us in a rematch against Louisville in the Cotton Bowl.
Alabama
Clemson
Ohio St.
Houston
Bring on Bama!

With the exception of Clemson, everyone in this projection will face a stiff test this week.
It doesn't matter to me if we play them in the semi or the final. We have to beat them to win the championship anyway; though I guess if we play them in the final it would make a bigger splash.