Hana comes to us from Oregon
https://twitter.com/itshanac/status/865392289064951810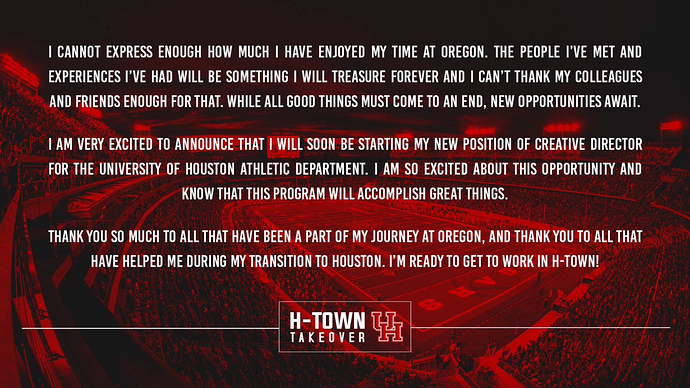 She has a website with some of her work:
I wish her great success but I have to mention this. I wanted to get into advertising so I was a graphic arts major for a short time until I changed my major to Business Administration, International Business. Having known the department I have to ask this question. Could not we find someone "in house" or a graduate for this position? One that knows our history. Maybe we wanted "another angle/point of view" or could not find a candidate(s) Furthermore, I believe that the job market is not great in Houston at the moment.
I don't have a problem with what you're suggesting but the usual detractors would accuse us of "hiring on the cheap".
Will this person get to oversee marketing artwork so we no longer produce items like a new UH symbol that isn't shaded properly or t-shirts with a hand gesture that looks more like the shocker?
I too wish there was more of a pipeline from the campus to the athletic department. I know there are marketing interns every year but I don't know if any of them ever get permanent positions (or if there are positions for them). We have graduate assistants in the coaching staffs and in the trainers, could we not have some graduate assistant positions in marketing or sports information or other administrative departments? It seems it would be a way to further leverage the athletic department for academic/professional growth. I imagine that one road block would be funding, however, if there was a push to raise money for those type of positions specifically… I'd give to it. Or could they have pushed IMG to include something like that in their contract? Like they have to hire some interns from UH at the very least.
I do think it is great what the department has done with the Valenti school in the last year and hope it grows. I just see that there are more opportunities to help students as well as the athletic department.
There are interns that work with the department every year. I believe Adam Khordaji was one such intern and was hired to a full time position with UHCougarFB.
Does she replace the graphics guy that went to UT? Or maybe Herman hired a guy from Alabama?
No, we lost our guy to OK State recently (Drew Schlosser). Khordaji is the new football guy.
I doubt she was let go, she was likely poached like most of our athletic staff in the front office or coaches.
Hopefully we've had some people that are training and in there waiting to continue our graphics design. I feel like this has been a undervalued position in the past. More recently this has been proven to be invaluable with our recruits. Both with acknowledging their accomplishments on the football field and other areas like those who are in track or power lifting. I've noticed responses to the graphics tweets by recruits where they're very impressed that they are being recognized for more than just football.
She's staying. The new FB guy from last year just left for Arizona.
Oh ok. So does this tweet just mean she is taking a new role and that she wasn't leaving?
Maybe she meant "most recent shoot" instead of "last shoot"?
Makes sense. The Football Creative Director position is open…she's the overall Creative Director for UH Athletics.
Glad she's staying. Those pictures are awesome!
Nice work, Hana!
Welp…maybe she did leave. She's no longer listed in the directory and her position is listed as TBA.
Checked her Linkedin and it says she's looking for opportunities in Portland, OR.
Also have two opening in the video department now.
Wow. That didn't last long.
Maybe she got a real dose of our spring heat…