The pyrotechnics have really been spectacular for the 2016 and 2017 classes. We had some big booms before; but not in the quantity we have had for these two classes.
The talent level being built is unreal.
The new excuse for keeping UH out of the playoffs is "it's unfair that UH has top 15 talent but they get to play an AAC schedule.".
Even though Dickson will be a 2017 counter, I went back and added Dickson to the 2016 class using the 247 class calculator. We moved up from 40 to 36. Teams 33-37 were bunched very tightly.
247 didn't count Catalon or Allen like ESPN did, who initially rated us 30th. With Dickson, ESPN probably ranks the 2016 class 25th or so.
To your point, assuming a couple more recruiting classes like 2016, and we'll be playing an American schedule with Top ~30 talent.
How do you factor in the fact that when kids commit to us, their rankings plummet, but when they decommit from us and commit to a P5, their rankings skyrocket?
See the patterns of Tyrie and D'Eriq King, among others.
Is that proven or is it just that when certain schools offer a player, their rankings go up. I don't think Juicee's rating would go down when he picks UH over UT.
Who is this Tyrie you speak of?
I suspect that has a lot to do with marketing the P5 teams to the TV audience. ESPN has paid a ton of money for the privilege to televise the P5 games, some are saying they over paid. Anyhow it's in their financial interest to inflate the quality of the P5 teams. The message that ESPN wants to send to the audience is that the P5s are real college football, and the G5s are not.
I recently re-watched the Peach Bowl. It was very interesting how the halftime portion of the broadcast was handled. The two talking heads in the studio (one of whom was Danny Kannel, an FSU alum) spent about 15 seconds talking about the first half of the Peach Bowl. They only mentioned the score and that it was surprising. No analysis at all about the first half.
Granted this is only anecdotal, but…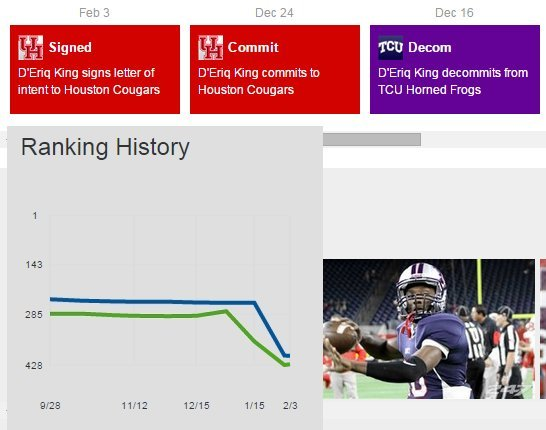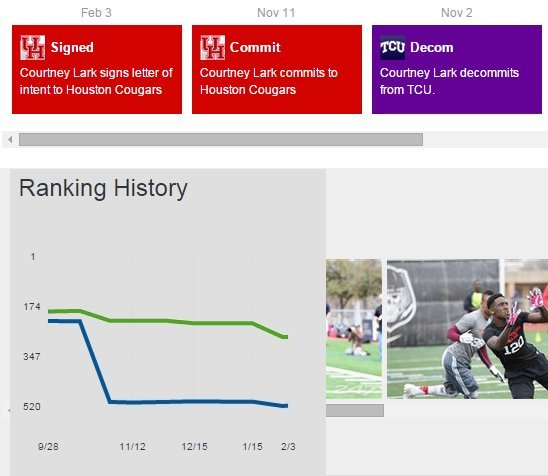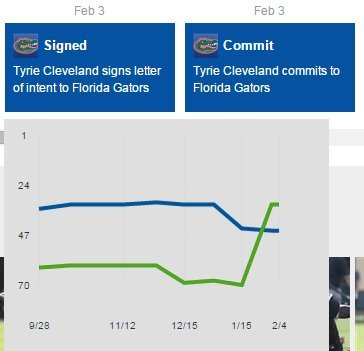 Wow kroenke. It's crazy to actually see the bias metrics.
Our scout team should be fantastic this upcoming season again with Allen and a guy like Dickson out there.
Forgetting that the AAC had, what?, 4 ranked teams last year? That's just too funny.
Then there's The Mighty Oklahoma Sooners. Best Texans money can buy (I didn't originate that). OU built its dynasty with something like 42 straight wins playing weak teams. This was in the 50s but also going into the 60s until Bob Devaney came along and got Nebraska rolling.
In fact, the Big 8 was derisively referred to as "Oklahoma and the Seven Dwarfs." NOW they pull this out to dismiss UH. So absolutely hypocritical and SO typical.
Probably something to that. The first concern of sites like 247 and Rivals is making money, not a perfectly accurate ranking of recruits, which isn't possible anyway. And obviously the marquee programs have more fans signing up for their premium services. The 12th Man or whatever had roughly 8x as many subscribers as the Den. Having said that, I remember Cleveland began to rise up the rankings because of a late camp where he ran a 4.3. Lark COULD have dropped some due to eligibility concerns and King because of size, but I couldn't really say.