Let me tell ya, as a BearKat who was at the 2011, 2012 CShip gms in Frisco against NDST both times

, They Travel Well!!!
Maybe they come to thaw out for few days. Great people though, interacted w many during both trips.
They had 3 times the fans there that SHSU did, I was there as well
My good buddy is a NDSU alum and goes to Frisco for every Championship, he said last night that Frisco was on fire. All that's left in North Dakota & Montana are the sick and crippled. Everyone else is in Frisco.
BTW, when we visit Progresso on the border each summer we buy blanket ponchos with Cougar, Texan & Cowboy logos for Christmas presents. I noticed they had a NDSU one which I bought for him. He's been offered $100 for it in Frisco. I told him to sell it and I'll buy him another for $20 in Mexico
The first one was probably 60/40 NDST fans, the 2nd gm in 2012 was more like 70/30 or 75/25. The Bison were such a juggernaut , I thk the BearKat fans got disillusioned abt any chance of beating them.
My first college (had to enroll in summer school tennis to get the NDSU credits from my high school chemistry class) and what I grew up on with my dad a professor there. They are a rabid bunch. One of my favorite in person football experiences was watching NDSU beat Minnesota in the Metrodome in 2007.
Was 2012 when NDSU muffed the snap on a field goal right at halftime and the holder threw a TD?
The 2 gms were actually plsyed in 2012 & 2013 bc they play the Ship in early January.
You prob referring the 2012 gm–first one. BearKats had done great job on defense entire 1st Half , several 3 n outs – thk it was 6-6 @ Half.
Then very early 3rd qtr they had another stop but Bison faked the punt n ran abt 30 yds from deep in their end. Scored TD on the drive, intercepted BearKats in the 4th for abt 50 yds n kicked a field goal. That was it – NDST 17 SHSU - 6.
That fake punt still etched in my mind. Damn damn.
Edit: BearKats came in avg abt 40-42 pts/game.
Timothy Flanders was real deal at RB. Last I saw he was still in CFL playing. Long career there for RB.
Just checked and I was at the 2013 game. I watched some highlights and the play I'm thinking of happened in the third quarter. Mishandled hold, holder tossed it back to the kicker while being tackled, and the kicker passed it for a 2 point conversion. It was at that point I thought it was meant to be for NDSU that day.
NDSU is back in the title game? FCS has the same lack of parity problem FBS does even with a large playoff system.
FCS 24-team playoff looks better to me than FBS 4-team playoff
5 rounds probably too many for FBS but 12 teams would be a big improvement, IMO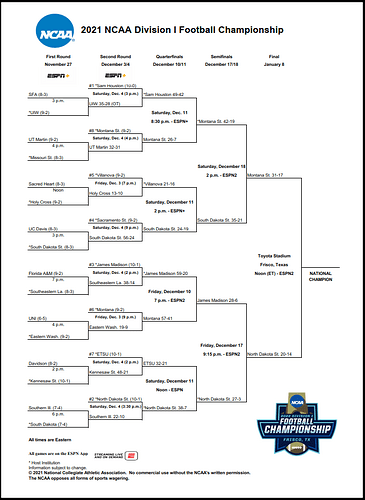 Fully support the 12 team playoff. I don't think it will change much with who ends up in the championship based off what we have seen at the FCS level. Every now and then you will have a team choke and have a bad game, but FCS has been the same teams dominating over and over too.
I assume in this 24 team FCS playoff, they only play 11 regular season games and no conference championship.
My buddy said there's no sign of Montana St in Frisco. He's been to 4 bars in Frisco and they are packed with NDSU fans
Looks like a rainy game in Frisco … but it should warm up to the '50s maybe '60s