**
OU-Houston arrives with lots of stakes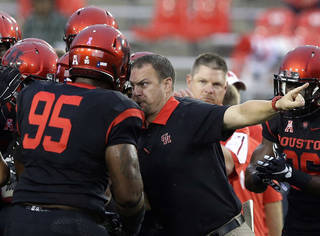 .
Decent article by Tramel. Still pushing his anti-UH to the Big 12 agenda though.
His tone is softening though … he has rarely been on our side and has never supported us …
Like most who do not want us it seems he is seeing the outcome as unrelenting and inevitable based on the
ALTERNATIVE … SEC takeover of SE Texas …
The Big12 presidents et al may fear our recruiting prowess and another P5 wannabe in Texas …
BUT they fear the SEC encroachment into Texas MORE!!! and we are that plug in the dam speed bump in the road to stop the SEC from any further damage.
Even the Iowa St president who has NEVER supported us appears to also have relented …
".… all I can say on that is they will get a fair shake. They certainly have a lot of factors we're interested in."
They also need another WINNER … those that left were questionable winners … Nebraska A&M and Colorado hadn't won in ages and Missouri was a mid totem pole occupant.
TCU has come on where they left off as G5 … and UH has that potential also
Agreed. I think a lot of the media pushback coming against Houston right now is from coaches…who don't matter in the grand scheme of things.
I thought the ESPN insider article was interesting in that the OSU assistant was anti-UH, but the OU guy was much more political stating that UH would hurt recruiting for ISU, KU, & KSU, but they'd just have to start recruiting nationally like OU already has. Basically suggested that these Big 12 schools needed to broaden their horizons rather than continue to think the same way that they have been. Good advice for the conference.