Post Game Analysis: Louisville
By: Jimmy Schofield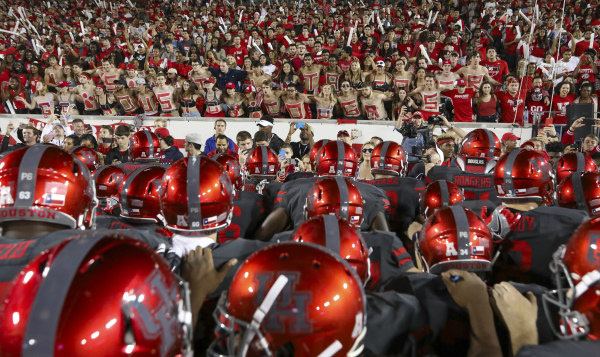 photo courtesy uhcougars.com
Before a sold out, standing room only crowd at TDECU Stadium, your Houston Cougars dominated the fifth ranked team in the nation in every phase of the game Thursday night, defeating the Louisville Cardinals 36-10 on Sam Hairston Military Appreciation night before a nationally televised ESPN audience.
When I heard Hairston gave his life serving our great country as an Army Ranger in 2014 I was deeply saddened, but not surprised. Surprised at his sacrifice that is. While I didn't know him on a personal level, I'll always remember how he made a small "A/V nerd" feel a part of the team as a member of 'Cougar Video' during the late 90's. He was all about the little guy, the underdog. Nobody was too "small" for Sammy to talk to. Rest in peace soldier.
Back to the unimportant reality of college football, let's take a look at how the Coogs dominated the Cards. Defensive coordinator Todd Orlando had a brilliant game plan against an offense that had averaged a nation's leading 49.6 points-per-game while also leading the country in total yards with 583.2; 270 rushing (ninth) and 313.2 passing (17th). But his game plan of attacking Louisville quarterback and Heisman front runner Lamar Jackson shouldn't have been a surprise to those of us who have followed the program for the past two seasons.
In blitzing from every conceivable angle, the "Third Ward Defense" held the high flying Cards to just 312 yards of total offense, not far off their average of 303. Jackson was harassed into completing just 20-of-43 passes for 211 yards with a touchdown. While he rushed for 116 yards on 25 carries, he lost 84 of those yards on an amazing ELEVEN sacks for a net of 33 yards. The Cards rushed for 101 total, just a tad more than the Coogs 92.8 yards-per-game entering game action.
I mentioned in my game preview article that linebacker Steven Taylor would have to play better than he had lately, where he went silent over large stretches of games. Well he, along with his teammates, brought his A+ game Thursday night, amassing 14 total tackles, 8 solo and 2.5 for loss to go along with 2.5 sacks and a forced fumble. He lined up all over the field as Louisville's offensive line had no clue where the Cougars pressure would come from, whether they were delayed blitzes up the A-gaps or off the edge. Orlando also did a nice job in mixing up his pressures. If he didn't have his front seven blitzing, he dropped back in zone and had his front four stunting and twisting to confuse the Cards offensive line. Outside linebacker Tyus Bowser played his second great game after sitting out the previous five as he was in Jackson's face all night, adding four QB hurries, a tackle-for-loss and a sack for a safety (his third of the season). Inside linebacker Mathew Adams added four solo stops, a TFL and a sack as he was assigned to stop any interior runs from the second level.
Nose guard Ed Oliver brought his usual A+ game with six tackles; three being for loss to go along with two sacks and a forced fumble as Louisville's interior couldn't contain the true freshman Phenom without holding him. And even when he was held he still bulldozed the Cards clueless line. Oliver has also been doing his best JJ Watt impersonation this season as the Texans superstar has been sidelined all season with a back injury. Oliver, lining up not only at the nose but both end spots, batted down two Jackson passes at the line of scrimmage for his nation's leading seventh for a defensive lineman. Fellow down linemen Nick Thurman and Cameron Malveaux tied up Louisville offensive linemen so the linebackers and safeties could shoot the gaps to disrupt the line of scrimmage. Thurman had 1.5 TFL and 1.5 sacks as well with Malveaux adding a recovered fumble, one of three on the night as the Coogs won the all-important turnover battle three to zero.
The Cougars also tackled well in space, especially in the secondary, as the Cards could only break a few tackles on their lone third quarter touchdown scoring drive. This was huge as Louisville receivers couldn't get any YAC yardage (yards after the catch) which would have helped them as they had a non-existent deep passing game because Jackson simply had no time for a seven, or even a five step drop.
Nickel back Brandon Wilson and corner back Howard Wilson each had five solo stops with Brandon adding a tackle-for-loss and a sack with Howard adding a fumble recovery and a breakup. Fellow corner back Jeremy Winchester added a sack and four solo tackles himself. As stated earlier, with all the pressure from the front seven Jackson didn't have time to go deep so there was little confusion in the secondary as to who covered who when Orlando dropped his back seven in zone coverage. Safeties Garrett Davis and Khalil Williams also contributed to Orlando's various pressures from the back end as the two combined for seven solo tackles, a tackle-for-loss and a sack (each by Davis).
Offensively, coordinator Major Applewhite pulled out all the stops in his game calling. He started out like many of us knew he would, with quarter back Greg Ward Jr. throwing easy swing passes to running back Duke Catalon, who caught 9 balls for 68 yards and two TD's, the first coming on the first play from scrimmage after a recovered fumble on a kickoff return gave the Coogs the ball at the Louisville 13-yard line. The second came off a tipped pass on what was supposed to go to tight end Tyler McCloskey on a crossing pattern that ended up as a 13-yard score in the game stats (as they say, sometimes it's better to be lucky than good).
With the quick passing game on early, the running lanes opened up later in the game as the Cardinals defense just got worn down chasing Catalon and the Cougars receivers all over the field for the first three quarters. Houston rushed for 46 of its 64 yards in the final period on 13 carries (on 33 carries total) as they possessed the ball for ten minutes in the fourth quarter and 31 for the game. Catalon rushed for 39 yards with Ward adding 24 and Dillon Birden 10. Catalon did punish a few Louisville defenders and ran through a few tackles as the game wore on. Ward converted a few third downs on draws as the field was open due to the early perimeter passing game.
The outside receiving duo of Chance Allen and Steven Dunbar combined for 141 yards on 7 receptions (105 yards on 4 catches with a TD). That TD didn't come from Ward, but Linell Bonner as the slot receiver took a handoff from Ward; drew the defense in and threw a beautiful ball to a streaking Allen downfield as he was uncovered. Bonner had 8 receptions for 67 yards with most coming in the second half, converting a few third downs to keep the clock moving.
Speaking of trick plays, Applewhite pulled out all the stops as he had punter Dane Roy convert a fake punt into a third down via a beautifully thrown 15 yard pass to tight end Byron Simpson on a third-and-13 early in the first half. A few plays later the tipped 13 yarder to Catalon gave the Coogs an insurmountable 17-0 lead in the second quarter.
The offensive line of Josh Jones, Mason Denley, Will Noble, Marcus Oliver and Braylon Jones (with Na'Ty Rodgers and Kameron Eloph subbing in freely in the second half) provided just enough protection for Ward to complete 25-of-44 passes for 233 yards with two TD's to ZERO interceptions and just one sack. Applewhite did a nice job of rolling Ward out of the pocket and away from Louisville's pressure to complete numerous passes.
Special teams was the third phase of the game that contributed greatly to the win. On top of Roy's third down conversion, the special teams opened the game by Birden recovering a fumble on the opening kickoff of the game. Roy averaged 43 yards on 7 punts and pinned Louisville inside their 20-yard line twice. Kicker Ty Cummings had five touchbacks on seven kickoffs as the Cards started on their own 25-yard line on average to the Coogs starting at their own 33. Cummings tied a career high by converting on a 47 yard field goal, to go along with a 33 yarder earlier in the game. Louisville had only 37 yards on two kick returns while Collin Wilder added 20 yards on four punt returns with a high of 11.
The Cougars won in all of the superlatives of the game; they scored touchdowns on three of four red zone possessions (while holding Louisville to one TD in three opportunities), won the turnover battle three to zero (converting two of those turnovers into ten points), and committed only ONE penalty for five yards. Louisville on the other hand, committed 15 penalties for 114 yards. Seven of those penalties were false starts as TDECU Stadium was rocking before a record 42,822 paid attendance, a large reason why the Coogs have now won 15 games in a row at home.
While the final score might be surprising, the victory should not as the Coogs are now 6-0 against Top-25 ranked teams under head coach Tom Herman, who's now 22-3 in his second season. The Coogs also became the first team to defeat two top five ranked teams this season. And finally, the senior class of Ward, Brandon Wilson, McCloskey, Malveaux, Bowser, Taylor, Allen, Cummings, B.J. Singleton, Mac Long, Hunter McCoy, Davonte Thomas, Chauntez Jackson, Zorrell Ezell, Ralph Harvey and Zach Faires are now the most winningest class in Houston Cougars football history with 38 wins (to 13 losses). Ward is now 27-4 as a starting quarterback.
The Coogs (9-2, 5-2 in AAC play) conclude the regular season at Memphis next Friday (Nov. 25). Stay logged into Coogfans as I'll have my game preview up by midweek.