Game 7 post game analysis: Memphis
By: Jimmy Schofield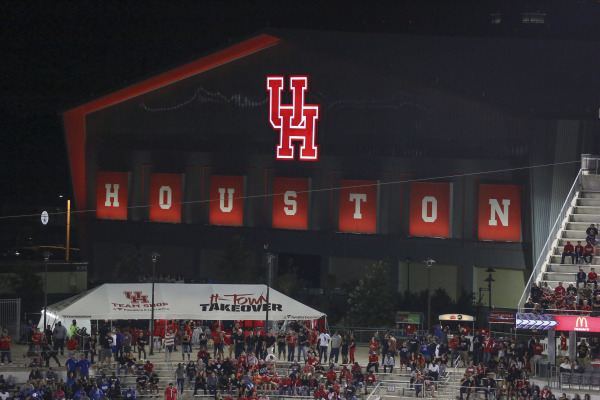 photo courtesy uhcougars.com
Your Houston Cougars lost a heart breaker, 42-38 to the Memphis Tigers Thursday night at TDECU Stadium. Coogfans.com takes a look at all three phases of the game.
Offense
The team had its best offensive output of the season with 554 total yards; 315 passing, 239 rushing. Running backs Dillon Birden and Duke Catalon ran physically between the tackles. Quarterback Kyle Postma completed 29-of-41 passes, but added three more turnovers to his season resume (two fumbles and interception, all in the fourth quarter). When not throwing via roll outs, Postma needs to stand tall in the pocket and set his feet before he throws, though he did this once and took a huge shot while completing a pass downfield in the second quarter.
Bottom line is because of the lack of a consistent big play, or explosive, ability on offense, every mistake is magnified. Memphis had two turnovers, which led to 10 Houston points, but they overcame them because of their big play and quick scoring ability on offense. The Coogs could not overcome their three turnovers, one of which led to a Memphis touchdown.
Both Birden and Catalon left the game with what appeared to be upper body injuries, with Catalon returning while Dillon didn't. Birden had 106 yards on 21 carries and a touchdown with Catalon adding 65 yards on 22 carries and 3 scores. Both ran hard between the tackles showing a toughness that should be applauded, especially Catalon who played the second half with what seemed to be a sprained shoulder.
Why Postma doesn't run more continues to confuse me. He carried the rock 8 times for 49 yards Saturday, with just three called draws (one that went for 16 yards on the second to last possession of the game ending in a fumble). Postma also ran just three zone read option keepers, resulting in 4 yards.
Linell Bonner returned to form with 8 receptions for 121 yards, with many on third down as he's a master at finding holes in opposing secondary's zone coverage. Steven Dunbar added 8 receptions as well (for 52 yards) and had his first touchdown of the season on an 8-yard back shoulder fade. Offensive coordinator Brian Johnson continues to find ways to get the ball to D'Eriq King as he had 7 catches for 51 yards while adding 3 carries for 19 yards. Three of his receptions, for 31 yards, came on swing routes as he motioned across the formation. Two of his catches, for 13 yards, came on quick passes from his usual slot position. He added a 5 yarder on a crossing pattern and two yards on a "flip" pass. Two of his rushes for 15 yards came via reverses while adding 4 yards on a QB keeper. He should have had a 15-yard touchdown pass if not for a drop by Keith Corbin (who had zero receptions). John Leday added 2 catches for 15 yards, one for 13 yards on a nice slant over the middle. Courtney Lark had a beautiful over-the-shoulder catch for 38 yards while Birden and Catalon added a combined 3 receptions for 41 yards, with a few coming off misdirection plays that have Postma staring at one side of the field only to come back to either on the other side via simple swing passes.
Defense
Memphis had just 200 first half yards (192 passing), completed only 1-of-8 first downs, and most importantly, had ZERO points. Defensive coordinator Mark D'Onofrio had a simple game plan; pressure Tigers QB Riley Ferguson any way he could. In allowing 35 points and 301 yards in the second half (279 passing), Ferguson was pressured plenty, he just wasn't brought down (just 2 sacks for the game) as the big 6-foot-4, 235 pounder stood tall in the pocket, picking apart a Houston secondary lacking in experience and talent, especially at cornerback. He also did a nice job of rolling away from pressure as D'Onofrio had various blitz packages in which only 3 down linemen rushed with linebackers or safeties coming from different angles.
With Matt Adams not playing due to injury, fellow inside linebacker D'Juan Hines led the defense with 9 tackles (7 solo) while adding a forced fumble. Austin Robinson subbed nicely for Adams as his 7 tackles (4 solo) were second on the team. He also had half a tackle for loss and a "QB hurry." True freshman David Anenih continues to make plays each time he's in the game, adding a sack and a tackle-for-loss. Emeke Egbule only had 3 tackles but almost had two interceptions via his zone drops in which he undercut wide receiver routes.
The defense allowed just 30 yards rushing on 23 carries (it helped not having to face the Tigers best between the tackles rusher), but didn't hold up in the red zone, allowing FOUR rushing touchdowns as Memphis converted all four of their red zone opportunities. Ed Oliver played well up front like we knew he would as he registered 6 tackles, 2.5 for loss, a sack and a fumble recovery. Reggie Chevis and Nick Thurman also played well up front with a combined 5 tackles, 3 "hurries" (all by Thurman) and 1.5 TFL.
The secondary continues to be hit or miss, figuratively and literally, as they'll make a great play (5 pass breakups), followed by a bad play (missing a tackle or getting burned deep). Isaiah Johnson, Jeremy Winchester and Alexander Myres all took turns on star Memphis wideout Anthony Miller, and he burned all three with 10 receptions for 178 yards. It would have been more if not for four drops by the Tigers usually sure handed receiver, and a few nice pass breakups; one by Johnson on a deep pass to the end zone in which he was left on Miller in man coverage. Myres had 5 total tackles, including 1.5 for loss as D'Onofrio wasn't afraid to send corner blitzes. Winchester had 4 tackles and a breakup, and would have had a huge interception thwarting a Memphis second half scoring drive if the ball didn't hit the turf at the last second. Johnson added 3 total tackles and a pass breakup as well.
Memphis do-all receiver Tony Pollard caught 9 passes for 91 yards as he was a mismatch on any Cougars linebacker of safety. Terrell Davis had 6 tackles but a face mask penalty that extended a Tigers second half scoring drive. Nickel/outside linebacker Khalil Williams added 5 total tackles and 2 pass breakups but missed a few tackles in space. Garret Davis added just two tackles but had a huge interception, which he returned for 58 yards, on a zone drop.
Special teams
There was nothing special about the Coogs special teams unit Thursday night as they allowed a 93-yard kick return to Pollard, his third kick return for score this season. Memphis average starting field position was their 34-yard line because of all the "pooch kicks" by place kicker Caden Novikoff. Punter Dane Roy averaged 44.8 yards on his 6 punts with a long of 59 while pinning Memphis inside their own 20 twice. The Coogs punt coverage units allowed a 20 yard punt return and 175 yards on 7 Tigers kick returns. Houston added only 58 yards on 4 kick returns while not returning a punt.
Over all the coaching staff, led by head coach Major Applewhite, has a lot of work to do. The team didn't get its first penalty until midway through the second quarter, but they made up for lost time ending the game with eight penalties for 72 yards, spread evenly between the offense and defense, with too many helping the second half collapse. On the first two series the wide receivers didn't run their routes to the first down markers, causing "3 & outs," another poor mark of coaching.
The wide receivers are still dropping too many passes, are inconsistent with their blocking, and the center continues to snap the ball low (throwing off the timing on a timing based offense). While these are lack of execution issues by the players, they're also coaching issues, IE either "coach them up" or get someone on the field that can execute. Coaches are paid too much for these simple fundamentals to not be executed time and time again.
Some coaching decisions from Applewhite also confused me. Why go for it on fourth-and-3 from your own 40-yard line early in the game (midway through the second quarter)? Punt and force them to drive from deep in their own territory while the offense wasn't playing well. Late in the game the same situation occurred; fourth-and-1 from their own 40 with a 38-35 lead with just minutes remaining. This time he didn't go for it, choosing to punt and force Memphis to drive the field for the game winning score. Except now the Tigers offense was hot, having scored on all of their second half possessions. Everyone in the stadium (and watching on TV) knew what was going to happen next.
Defensively, D'Onofrio continues to have the corners playing too far off opposing wide receivers, proof he doesn't trust them much in man coverage. Of course it doesn't help that his defense can't get the opposing QB down despite blitzing so often.
The mark of a bad team is the different sides of the ball not picking each other up. While the offense has struggled mightily this season the defense picked them up, for the most part, points wise anyway. Last night the dam broke as the defense fell apart in the second half.
It doesn't get any easier as the Coogs head to Tampa in two Saturday's to face perhaps the best team in the American, the USF Bulls at 2:30pm CST on ESPNU. Stay logged into Coogfans as we'll preview the game next week.