2016 Las Vegas Bowl Post Game Analysis: San Diego State
By: Jimmy Schofield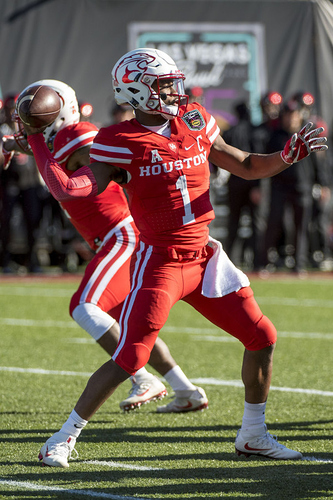 photo courtesy
uhcougars.com
Your Houston Cougars concluded the 2016 season with a lethargic effort behind a skeleton crew coaching staff in a 34-10 loss against the Aztecs of San Diego State in the Las Vegas Bowl. After starting the season at 5-0 and ranked in the AP Top 6, the Coogs conclude the season by splitting their final eight games to finish the season at a disappointing 9-4.
Football is a simple game when broken down in its most simplistic terms; can you control and move the man in front of you? The Coogs did this Saturday afternoon when they outgained the Aztecs 102 yards (69 passing, 33 rushing) to just 9 yards (12 passing and MINUS three rushing) in taking a 10-0 lead through the first quarter. After that, San Diego State's veteran coaching staff made the adjustments that the young Houston skeleton crew coaching staff could not and dominated to the tune scoring 34 unanswered points and outgaining the Coogs 246 (130 yards rushing, 116 passing) to 152 (MINUS 8 rushing and 160 passing). Game. Set. Match.
Offensively, quarterback Greg Ward Jr. played perhaps the worst game of his career in the final game of his storied career, completing 25-of-34 passes for 229 yards with FOUR interceptions. The Aztecs entered play Saturday leading the FBS in interceptions with 22 and it was easy to see why. Of course when your offensive line isn't giving you any time to throw deep it's also to see why the quick, short passing game wasn't working either. Ward telegraphed three of his interceptions by staring down receivers, leading to a 'pick-6' in the third when Aztec cornerback jumped Ron Smith an outside screen to Isaiah Johnson (4 receptions for 31 yards). That play typified the game as receivers Linell Bonner (5 catches for 42 yards) and Steven Dunbar (2 receptions for 23 yards) were confused on whose job it was to block Smith as he shot through the two and stepped right in front of Johnson for the easy 50 yard interception return for a TD.
Receiver Chance Allen didn't play due to curfew violation (hey it is Vegas) as he was suspended for his final game in a UH uniform. One of Ward's interceptions, three of which came in the ill-fated third quarter in which the Coogs were outscored 14-0 (as they were in the fourth quarter), came when Aztecs Calvin Munson dropped back into zone coverage as Ward just put the pass into the middle linebacker's belly. Ward should have had five interceptions really, but one was dropped early in the second quarter by safety Kameron Kelly. Those four turnovers would lead to 14 San Diego State points. Houston's defense forced zero turnovers.
Kelly would make up for the dropped int however as he would have two in the second half, the first coming when Ward lobbed a pass over Dunbar into his waiting hands on Houston's first possession of the second half. Kelly would then go on to intercept Ward's final pass, again as Ward stared down Bonner. The Tyler, Texas product ended his four seasons at 27-6 as a starter. The .818 winning percentage ranks him second in Coogs history (behind only Garry Mullins at .833 who went 25-5 from 1969 through the 71 seasons). He also finished his career first in rushing yards by a QB with 2,375 and rushing TD's by a QB with 39, which also tied him with running back Bryce Beall for the all-time rushing TD record in program history.
Ward was sacked seven times and the Aztecs added 11 tackles-for-loss as the offensive line of Josh Jones, Mason Denley, Will Noble, Marcus Oliver and Braylon Jones, which started the final four games and was the seventh different starting lineup this season, didn't get a good push up front all game, or season for that matter. Even if Derek Warehime hadn't left for Texas, leaving a GA (grad assistant) as the O-line coach, it wouldn't have mattered as the line has failed to establish a between-the-tackles run game all season as the Coogs finished the game with just 25 yards (due to 63 yards lost via the sacks and TFL's). For the season Houston averaged 147.1 yards-per-game ranking them 99th nationally. This after a season in which they averaged 235.8 yards on the ground with only the 2013 season producing less yards on the ground in the past 10 seasons.
Duke Catalon rushed 14 times via the inside zone play and could only muster 24 yards, finishing the game with 18 with a long of just six. Ward finished with zero yards after the sacks and TFL's were accounted for, finishing with 22 yards on five scrambles, 15 yards on four called draws, 7 yards on three zone read keepers and zero yards on four sweeps, though he did score his lone TD (and the teams' lone score) via a one yard sweep with Brandon Wilson leading the way as a blocker.
Yes, I did say cornerback/nickel back Brandon Wilson. For whatever reason Dillon Birden was used less and less as the season wore down even though I thought he was the best interior runner of all of the running backs. Just as he did last season, Wilson stepped up when the need arose at running back but he finished with just six yards on four carries, though he did finish with 52 yards (leading the team) on 5 receptions. Keith Corbin subbed for Allen at outside receiver and played decent, finishing with 51 yards on 3 receptions with a nice 32 yard over the shoulder grab that preceded Ward's TD scamper in the first quarter. Tight end Tyler McCloskey finished his career as low key as it began, catching two passes for 21 yards. Number 45 will be missed next year as a lead blocker in the running game and a true team leader.
Defensively, the Third Ward Defense looked like they brought their A-game through the first quarter as they held San Diego State's Donnel Pumphrey to minus-2 yards rushing on seven carries. That was mainly between the tackles as down linemen Ed Oliver, Cameron Malveaux, Nick Thurman and outside linebacker Tyus Bowser bottled up the interior run with five tackles-for-loss and a sack. Through the first half they had 7 TFL and two sacks. By the end of the game they would add just three more TFL and zero sacks as defensive coordinator Todd Orlando couldn't come up with an answer to the Aztecs rushing outside more via the outside or stretch zone as well as using the toss sweep, just as in their previous three losses. The Cougars linebackers and safeties could not contend with Pumphrey's perimeter speed. This, along with San Diego State's massive O-line doing a better job of getting a body on a body as the game progressed allowed Pumphrey to go untouched until after he burst through the line after the first quarter. Oliver finished the game with 3.5 TFL and the season with an amazing 22.5 (first in the nation as of this writing). Inside linebacker Mathew Adams finished with a game leading 12 total tackles (7 solo) but Steven Taylor finished with just two in yet another telling statistic.
With sometimes nine or even ten UH defenders in the box playing San Diego State's run game, quarterback Christian Chapman burned the Cougars secondary in the passing game, completing 10-of-14 passes for 128 yards. His lone passing TD came on a 27 yarder to little used receiver Curtis Anderson off of play-action, one play after Ward was stopped for loss on a fourth-and-1 from the Coogs 31 yard line. The touchdown, with safety Khalil Williams getting caught with his eyes in the back field gave the Aztecs an insurmountable 27-10 lead early in the fourth quarter. Chapman went 5-for-5 for 89 yards and that score off of play action, mainly to tight end David Wells and fullback Nick Bowden. Williams did finish the game with 7 solo tackles including 1.5 for loss and a sack. Cornerback Howard Wilson finished with 3 solo stops and a pass breakup.
Special teams didn't help the cause much Saturday as punter Dane Roy averaged just 40 yards on his four punts with a 33 yarder leading to a 14 yard return that gave the Aztecs a short field in the second quarter, leading to a field goal to pull them to within 10-6 near halftime. Kicker Ty Cummings connected on a 31 yard field goal to put the Coogs on the scoreboard first at 3-0 as the Coogs converted two red zone possessions into a field goal and touchdown. The Aztecs meanwhile kicked two field goals and scored one touchdown on three redzone possessions. Brandon Wilson had a few nice kick returns and finished with 109 on four returns.
If I'm head coach Major Applewhite, the first thing I say to my team after the game is to remember this feeling and to work hard all off-season to never let it happen again. With time to hire a full coaching staff and continue the recruiting juggernaut the #HTowntakeover has become, I have complete faith this team can win the American next season and win double digits yet again.