2016 Post Game Analysis: Tulsa
By: Jimmy Schofield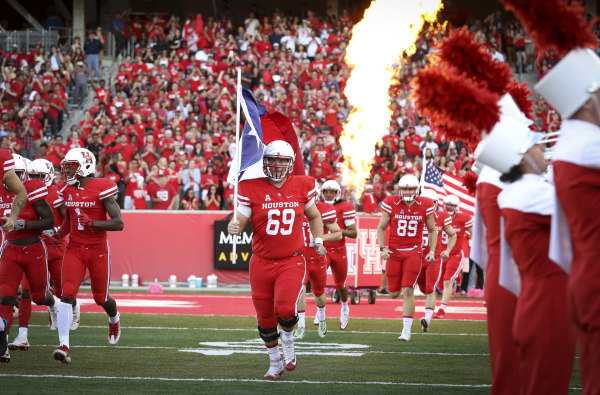 Photo courtesy uhcougars.com
After being gashed for most of the night by Tulsa's offense, the "Third Ward Defense" stepped up on their final two possessions, converting a turnover into a touchdown and stopping the Golden Hurricane on a 2nd-and-goal from the two yard line on the final play of the game to preserve a 38-31 victory before a packed house at TDECU Stadium Saturday night. With the win, your 12th ranked Houston Cougars push their record to 6-1 overall and 3-1 in American Athletic Conference play.
With the game tied at 31 with under a minute thirty seconds remaining, Tulsa quarterback Dane Evans dropped back to pass on a first down play from his own 33-yard line. Pressure up front caused him to readjust in the pocket, moving to his left. Just as he was about to bring the ball up to attempt a pass, safety Garrett Davis poked the ball out. Linebacker Emeke Egbule scooped the ball up and dashed 24 yards for the score to give the Coogs the 38-31 lead.
Houston head coach Tom Herman on the scoop-and-score, via uhcougars.com, "It's about time. We've done such an unbelievable job here the past few years creating turnovers. We haven't, for whatever reason, done that this year. It was Garrett that made the strip, and he just kept fighting. Their quarterback did a nice job moving around in the pocket, and Garrett was shielded by some really big, good offensive linemen, and he kept fighting. Emeke was there because of his relentless effort. He was around the football and scooped it up, off to the races. The guys did as they're trained. They looked up for opposite colored jerseys and made sure they blocked them above the waist and in front. Emeke did the rest."
Tulsa then would then go on to drive 74 yards on 8 plays to the Cougars two yard line where safeties Austin Robinson and Khalil Williams would stop defensive end turned tight end Jessie Brubaker, all 6-foot-3, 270 pounds of him, just inches shy of crossing the goal line on the final play of the game.
Herman on the final play, "They came in with extra tackles, tight ends, full wides and no wide receivers and in order to do that you have to expect the run. We substituted in a bunch of guys who had not played defense all night. A true freshman was in there at defensive line along with Austin Robinson. One of our four pillars of success is competitive focus, which means when your number is called you are trained properly to go make the play. Credit to our defensive staff and Austin and Emeke for adhering to one of our pillars of success and being ready when their numbers were called."
One week after facing a Navy squad that likes to bunch in their formations as they use the triple option, this week defensive coordinator Todd Orlando's unit faced a Tulsa offense that's totally the opposite; as in they spread you out literally from sideline to sideline in order to run the ball. Thanks to the likes of Ed Oliver, Cameron Malveaux, and Jerard Carter up front with Nick Thurman and B.J. Singleton in reserve, Tulsa couldn't establish a consistent ground game as they rushed for 94 yards 35 carries. They did cross the goal line three times though, no doubt because of a tired defense caused by the no huddle, up-tempo pace of the Golden Hurricane's offense.
Oliver was particularly nasty yet again as he amassed double digits in tackles for the second game in a row, with 12 on the evening (7 solo including 2 for loss) while adding two pass breakups via batted down balls at the line of scrimmage. The rest of his fellow down linemen added a combined 9 tackles, but it was Oliver's game as he roamed sideline-to-sideline making tackles all over the field.
While the run defense was effective, the pass defensive was not, for a number of reasons; lack of a pass rush for starters. In the first half Orlando didn't blitz as much as he usually does as he kept his safeties up in 2-high looks with five defenders playing underneath with three down linemen rushing the QB. While this strategy worked early on, as the game progressed that lack of a pass rush proved costly, as Tulsa's QB starting picking apart the secondary that yet again played too far off the Golden Hurricane wide receivers, especially the cornerbacks on Tulsa's outside receivers.
Evans completed 27-of-51 passes for 365 yards with a touchdown and an interception. The corner he most picked on was Jeremy Winchester, who gave up 7 receptions for 117 yards (by my unofficial count) and a holding penalty resulting in a first down. These were all to outside receivers he covered in man coverage. The most blatant was a 38 yarder to Justin Hobbs for a TD that allowed Tulsa to tie the game at 31. On the play Winchester thought Williams was going to provide help over the top, allowing him to attempt to bump Hobbs off his route. When he wasn't able to, Hobbs beat him deep for the touchdown which became a simple play of pitch-and-catch. Winchester did have 5 total tackles (3 solo) and 2 pass breakups on the game.
Fellow corner Howard Wilson fared much better as he only allowed 27 yards on two receptions, but both were on third-and-long that were converted to first downs. Wilson had 3 solo tackles, 2 pass breakups and an interception on a jumped route on a screen that he might have turned into a pick-6 if he had kept his feet.
Corner/nickel back Brandon Wilson returned after missing the past four games to 5 tackles and a pass breakup. He allowed 3 passes to be caught by Tulsa slot receivers for 26 yards and committed a pass interference penalty as well. Both Williams and Davis allowed a combined 3 receptions for 35 yards when in coverage against slot receivers as well. Davis had 10 tackles, 7 solo, while forcing the all-important fumble and added a pass breakup and a sack. Williams had 8 total tackles, 4 solo and 1 for loss.
With safety Terrell Williams ejected in the first half for a targeting call which in my opinion was a bad call, Joeal Williams was forced to play more than anticipated but fared decently well as he allowed two passes to be caught in front of him for 27 combined yards. On Williams targeting call, it looked to me as if he hit the Tulsa receiver, who was already going down, with his shoulder, NOT the crown of his helmet.
Linebacker Steven Taylor returned from his one game suspension but had a quiet game with only four tackles and no pressures, with Mathew Adams adding 7 total, 4 solo. Both got burned in coverage when having to cover slot receivers, Taylor allowing a 37 yard completion down the seam and Adams allowing an 18 yarder.
The problem with the pass defense, as has been the case all season, was syncing up the communication between the defensive front and linebackers (playing in coverage) and secondary. Too many times Tulsa receivers were allowed to roam free in the middle of the field because of called linebacker or safety blitzes in which the back end of the defense would neglect to pick up the wide receiver. Evans was allowed to sit free in the pocket as Orlando's usual overload and delayed blitzes weren't able to bring the senior signal caller down, with the only sack coming on a safety blitz by Davis. On the occasions the pressure did affect him, he was able to move around in the pocket to give his receivers time to get open down field.
Offensively, the Coogs were marching up and down the field on Tulsa's defense as they had a 17-3 lead midway through the second quarter, scoring on three of their first four possessions. On their next four possessions they turned the ball over on three of them (one being an interception on a hail marry to end the half with the other two being fumbles by Birden and Ward). Offensive coordinator Major Applewhite may not want to call run plays on three consecutive downs too many more times this season as it led to important three-and-out's on the only two possessions in which he called a series like that; both times leading to Tulsa scores on the other end.
As I've said in my previous post-game analysis articles, it's been a pure pleasure to watch Greg Ward Jr. play quarterback over the years as he's matured before our very eyes. Winning 23 of 26 starts doesn't hurt either. He turned in another stellar performance Saturday night, completing 26-of-34 passes for 254 yards. While captivating the nation last season with his feet, he's become more of a pocket passer this season, but reverted back to his old form against the Golden Hurricane as he added 142 yards on 25 carries on the ground.
Not only has Ward matured in the passing game, but in the run game as well. By my unofficial count he had 75 yards on 11 carries on zone read option keeper plays, a 25 yard run on a read option keeper and 13 yards on 5 scrambles (that started off as pass attempts). Most of his scrambles come because he can't find any receivers down field. He's at his best in the passing game when he's able to move his feet in the pocket to buy time for his receivers to get open down field. Ward added just three yards on two QB sweeps. The Tyler, Texas native also had 13 yards on four called draw plays.
With all the runs to the perimeter, the inside run game was easily established as running back Dillon Birden had his best game as a Cougar with 82 yards on 14 carries and three TD's. His first score came off a speed option pitch from Ward in which he took 17 yards to the house to give the good guys a 7-0 lead on their first possession. He would add 6 and 7 yard TD runs up the middle during the third quarter due mainly to Ward's running on the outside, which loosened up the box. True freshman Mulbah Car added 48 physical yards on 14 attempts and a 6-yard TD run himself as the Coogs rushed for 268 yards on 55 total carries.
Much of the inside running room had to do with the offensive line of Josh Jones, Kameron Eloph, Will Noble, Alex Fontana and Na'Ty Rodgers along with tight end Tyler McCloskey. Noble and Rodgers were injured during the game, with Rodgers hurting a knee early in the first half to not return for the rest of the game. True freshman Braylon Jones took his place at right tackle and played fairly well. Noble hurt a shoulder or arm in the third and although he didn't miss a snap, he looked uncomfortable and in obvious pain the rest of the game. The pain could have caused a low snap in the third quarter that led to a Ward fumble. Fontana continues to be the weak link of the unit, with two holding calls, one that wiped out a ten yard completion for a first down on the Coogs second possession, leading to a third-and-long which resulted in an incompletion and a punt.
Slot receiver Linell Bonner led the receiving core yet again with 13 receptions for 97 yards, many on simple screens that are part of Ward's run/pass option (RPO's) package. If the box is loaded to stop the run game, Ward has the option of tossing a quick screen to the outside that basically acts as a modified hand off. These plays are usually good for anything from 7 to 8 yards easily. This is also part of Ward's maturity as a passer in knowing when to throw these passes.
Ward didn't complete many deep balls Saturday night, but when he dialed up intermediate routes he went to outside receivers Chance Allen and Steven Dunbar who had 7 and 3 receptions for 89 and 42 yards respectively. All three were effective in blocking down field as well. D'Eriq King didn't have any receptions and only one yard rushing on one carry. Outside receiver Isaiah Johnson also had just one reception for five yards. He almost caught a deep post from Ward that would have been a TD but was just over his fingertips, as has been the case most of the season. Birden caught two passes for 21 yards coming out of the backfield. One thing you need to be to play in Applewhite's offense is versatile, which Birden definitely is as he's played defensive back before switching over to play running back and frequently plays in the slot.
If one was making a special teams instructional video, the Cougars play on Saturday night would NOT be included. Punter Dane Roy shanked his first punt of the evening for ten yards, giving Tulsa the ball on the Cougars 45-yard line to start a drive that would lead to a field goal. He averaged only 39 on his other 3 attempts, placing the ball inside Tulsa's 20-yard line once.
Kicker Ty Cummings kicked TWO balls out of bounds on kickoffs, giving Tulsa the ball at their own 35-yard line to start those drives, something special teams coordinator Jason Washington does not want to do, giving a prolific offense the ball with good field position. Cummings also had three touchbacks on seven total kickoffs and connected on a 33 yard field goal. Wilson and King didn't help to give their offense and advantages in field position as they combined to return five kickoffs for just 84 yards, or a 16.8 yard average. The coverage units played ok as they allowed two kickoffs for 46 yards. Reserve linebacker Jordan Milburn had a late hit on a Tulsa kick return to give them the ball at their own 41 yard line to start a possession late in the game.
While it wasn't the prettiest of wins, Herman would much have his squad learn lessons coming off of a victory rather than a defeat. Penalties really hurt the Cougars, as they had 10 for 104 yards, affecting all three phases of the game. Orlando also needs to shore up the communication issues on the backend of the defense. Another negative is the amount of injuries that keep piling up. Duke Catalon continues to sit out with a concussion. On top of Rodgers leaving early in the first quarter, Noble and Bonner left due to what appeared to be arm or shoulder issues only to return, but both are critical to the success of the offense. I don't want to say losing either would be catastrophic, but it most surely would not help their chances. Allen also left late in the fourth after a savage head shot, in which no penalty was called. And outside linebacker Tyus Bowser is still out with a broken orbital bone and will be out indefinitely.
The positives that can be taken from the game include red zone scoring; the offense crossed the goal line on four of five opportunities. And lastly, the inside run game was effective for the first time in a while, something that was surely needed as asking Ward to carry the offense for an entire season may be asking too much. Stay logged into Coogfans as my pre game preview for the SMU game will be published by midweek.