PRESS CONFERENCE!
Hear from Interim Head Coach Todd Orlando TODAY at 1 pm as the Coogs begin bowl preparation.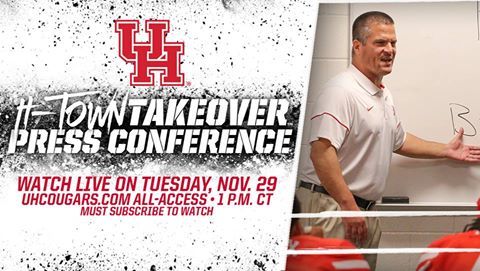 The audition begins. Wonder if he'll be asked any questions about his interests in being permanent HC. I would like to hear what his vision/plans would be.
With the departures, looks like the staff makeup for the bowl game will be as follows:
Interim HC/DC/LBs - Todd Orlando
OC/QBs - Major Applewhite
RBs - Kenith Pope
WRs - Darrell Wyatt
Interim TEs - James Casey
Offensive GA - Kenny Guiton
Interim OL - CJ Irvin
Interim DL - Roosevelt Maggitt
Defensive GA - Dan Carrel
Defensive Analyst - Thomas Dunson
Safeties - Craig Naivar, reportedly will leave for Austin following bowl game
Special Teams Analyst - Kyle Robinson
Coaches already gone to Texas:
Oscar Giles, DL
Corby Meekins, TE
Jason Washington, CBs/ST
Derek Warehime, OL
Side note, Yancy McKnight will be going to Texas, but he is still listed on UHCougars.com. Possibly staying through the bowl game.
Is there a way to listen on the radio. Any local stations carry it?
Check out Thor moving up the ladder (for a game, anyway)
Press Conference via Duarte's feed:
Love, love, love this clip.
I gotta tell you, I like the guy.
Todd Orlando named Interim Head Coach
.
Very impressed by what CTO had to say.
Loved the subtle pokes and comments that make one think. I don't see how this guy follows along to dildo land out 290, he sounds rather determined and scorned.
I've read in the past that Orlando didn't have any desire to become a head coach, glad to see that has changed.
Definitely proved what I had heard wrong. He clearly would love to be the guy here.
As afraid as I am of a Levine-type of mistake, his comments at the press conference today definitely made him move up a few notches. With this type of press availability, he has an opportunity to where the fanbase and players can rally around him. Since Applewhite didn't get the interim gig, I don't think he gets that same chance.
I tend to like the old school guys more than the younger, "more hip" guys. But that may be because I'm not 17 or 18 years old. Not sure how the "old school" mentality translates to recruiting and hyping up a community. I loved the dig at at the former coach when he said he won't be wearing a grill and dancing around, but let's be honest–the grill thing was genius as far as hyping the community and speaking the language of a lot of these kids. If Orlando gets the job, I would be a little concerned about his ability to connect with this generation.
Just playing devil's advocate a little bit to get some thoughts.
"I hope the kids understand how much we are going to work for them… This two year journey has been incredible … Regardless of what happens through this whole thing, it's our obligation to put the pedal down and give absolutely everything that we have for these kids AND for this brand (grabbing UH logo on his shirt and pointing to logo) . You do this for a living? You make sure you make this better. And that is really important to me."
He comes across as grade-A tough. I think that will be picked up by any ball player. He seems to have a real quick mind. I like the organization he showed.
Agree. Very organized and well prepared.
The "HtownTakeover"! He said it like it is a cookie.

yea I'll take two​:v: of those "HtownTakeover's" haha

@5:40
"I've hit em up personally"