A look back and a look ahead
By: Jimmy Schofield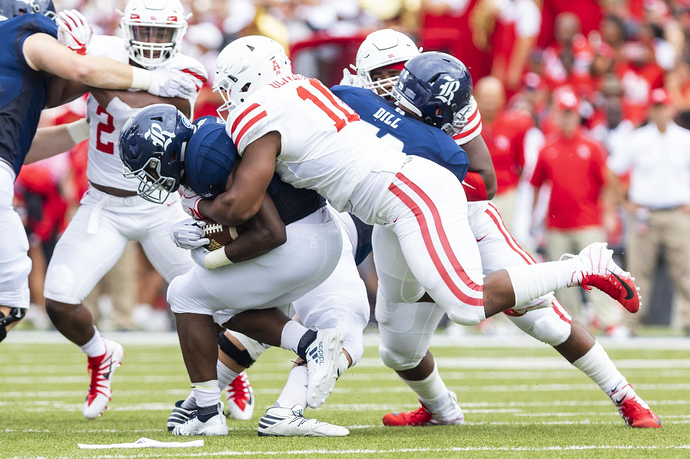 photo courtesy
uhcougars.com
In a game of contrasting offensive styles, the Houston Cougars held off the Rice Owls in the 42nd installment of the Bayou Bucket (with the Coogs victorious in 31 of them), winning 45-27 this past Saturday at Rice Stadium. Coogfans.com takes a look at the offense, defense, special teams and previews this coming Saturday's game at TDECU Stadium as the Arizona Wildcats come calling.
Early on it seemed as if Rice's Mike Bloomgren's "Intellectual Brutality" would overtake Houston (led by second year coach Major Applewhite), leading 24-17 at the half and 27-17 early in the third quarter. The Coogs however, turned it on in the second half, outscoring the Owls 28-3 behind new offensive coordinator Kendall Briles "Space and Pace" offensive philosophy.
The Cougars offensive line couldn't get a good push up front to begin the game, so they couldn't establish an interior run game. Despite what many think of Briles offenses through the years, it's predicated at establishing a strong run game inside to open up the vertical passing game. Briles called 10 runs that netted just 19 yards in the first quarter. Josh Jones, Braylon Jones, Will Noble, Mason Denley and Jarrid Williams improved more as the game progressed, especially in the second half, but must explode more at the point of attack in the run game if this is going to be a successful season. Quarterback D'Eriq King had four carries for just nine yards (two pulling the ball after being pressured in the pocket, the other two via a zone read option keeper for three yards) in that first quarter that ended with the team trailing 7-3.
With no run game King struggled in the passing game, completing 5-for-11 passes for 69 yards. A 24-yard quick screen to 5 was wiped out by an offensive pass interference call on wide receiver Keith Corbin (a blatant block to spring Marquez Stevenson). Drops didn't help by Stevenson and tight end Romello Brooker on the same drive to end the initial quarter.
Defensively, the Owls rushed for 64 yards on 11 carries through that first quarter, but that average was skewed by a 52-yard run by Emmanuel Esukpa after cutting back to his left as the Coogs front-7 lost containment. The 230-pounder had 91 yards on 17 carries for the game. As the contest moved into the second quarter, the Owls pounding run game was able to grind out yards on first and second down, leading to third-and-medium which were converted by quarterbacks Shawn Stankavage and Jackson Tyner to the tune of 24-for-41 for 292 yards with three touchdowns to one interception. This controlled passing game kept Houston's offense off the field. This in part explains the Coogs not being able to get into an offense rhythm (that and their four scoring drives in the second half which we'll get to in a bit). In all, the Owls had 443 yards of total offense (292 passing, 151 rushing) on 83 plays as they held onto the ball for a tad over 35-minutes of game action.
Nose guard Ed Oliver had another "ho-hum" game, racking up 13 tackles including three for loss. This despite the Owls O-line trying to cut him, double him, or simply designing the run play to go away from him. Line mates Jerard Carter and Isaiah Chambers also had nice games, amassing five tackles combined (Chambers adding three sacks), but more importantly freeing up the linebacking core to keep Rice's run game in check after a rough start. Payton Turner also added six tackles on the game, including one for loss. Aymiel Fleming and Zach Vaughan had a tackle each, rounding out a sold 6-man rotation up front.
After an early injury to inside linebacker Darrion Owens forced him to the sideline, former walk-on Roman Brown played his best ball in a Cougar uniform, amassing 11 total tackles and a pass breakup, flying all over the field. Fellow inside linebacker Austin Robinson contributed 8 tackles and two pass breakups. The lack of eye discipline by Owens early on cost the Cougars a touchdown pass by Stankavage via a 2-yard toss to tight end Jaeger Bull as he leaked out as all 11 Owls offensive players were bunched in in a closed formation.
Safeties Deontay Anderson and Garrett Davis (who had a combined 12 tackles, 8 by Anderson), cost the Coogs their first touchdown pass given up a few series earlier as another Owls player lined up inline as a tight end, running free down the middle after being passed off by linebacker Emeke Egbule, who played sparingly because of cramping issues. Egbule did have an interception in the first quarter on a zone drop, which seems to be defensive coordinator Mark D'Onofrio's favorite way to use him, taking advantage of his athleticism.
The secondary as a whole didn't impress as nickel back Joeal Williams (six solo tackles) was picked on by Rice receiver Austin Trammell (7 receptions for 62 yards) in the slot. Cornerback Isaiah Johnson was also picked on constantly by outside receiver Aaron Cephus (95 yards on just 5 catches). Both showed resiliency however as Johnson added two pass breakups. Alexander Myres had 7 tackles and highly touted Notre Dame transfer Nick Watkins didn't play until late, adding just 3 tackles.
Special teams also helped contribute to the Cougars 24-17 halftime deficit behind four costly missed points via a missed 35-yard field goal and missed point by kicker Caden Novikoff (though he did make a 45-yarder for the first Cougars points of the season). Dalton Witherspoon took over place kicking duties in the second half, connecting on all four extra point attempts. The junior college transfer is listed as the first team kicker on this week's depth chart but I'm sure it both will alternate depending on who has the hot hand, or foot in this case. Redshirt freshman Bryson Smith also had a costly turnover on a muffed punt returned, giving Rice the ball at Houston's 8-yard line, leading to the aforementioned 1-yard touchdown pass over Owens. "The Puntah," Dane Roy had his usual solid game, averaging 45.3 yards on 3 punts, pinning the Owls inside their 20-yard line on two of them.
The second half opened up with a 16 play, 58 yard, 7-minute Owls drive in which Rice converted three of four third downs that led to a 28-yard field goal giving the Krispies a 27-17 lead. Third down defense MUST improve as the Owls converted on 11-of-20 said situations, compared to just 2-for-9 for Houston.
After that, the Cougars took over, or more specifically their offense did. An old football adage says a struggling defenses best friend is an explosive offense. Over the next quarter and a half, the offense exploded for three quick touchdowns over four possessions that included a lot of YAC (yards after the catch) yardage by a deep wide receiver unit featuring Stevenson (107 yards on 5 grabs), Corbin (98 on 3), Courtney Lark (82 yards on 4 catches), and Smith (a 25-yard reception) who was used in the slot and also at quarterback as a runner. The first second half scoring drive included a 46-yard pass to Corbin, with 30 of those yards being after the catch after a quick slant. That drive led to a King 4-yard touchdown run off an RPO (Run Pass Option) keeper. After a missed Rice field goal, it took three plays and 69 yards to take the lead with a beautifully thrown dart from King to Stevenson downfield for 57 yards. The score would give the good guys a 31-27 lead as they wouldn't look back. After another long Rice missed field goal, a 5-play, 55-yard drive catapulted by two 19-yard passes (the last to Stevenson) put the Coogs up by an insurmountable 11 points, 38-27. At that point Rice's strength offensively became their weakness; a deliberate slow-paced offense that can't score quickly. D'Onofrio's defense allowed them to dink-and-dunk their way down the field their last few possessions netting in zero scoring possessions.
The Coogs last scoring drive came via a 37-yard touchdown run by Patrick Carr (74 yards on 8 carries and a TD), spurned by the long touchdown passes on previous possessions loosening up the box. In all, Houston had 261 rushing yards on 37 carries, with four of the runs accounting for 137 yards via the 51-yard TD run by Stevenson on the speed sweep, and three 20-plus yard runs by (Patrick) Carr and Mulbah Car (46 yards on 7 runs) in the second half. Another highly touted transfer, Terrence Williams (from Baylor) added just 21 yards on 7 carries as he found the sledding tough in between the tackles. As a bruising downhill runner, the former Baylor Bear will hope for improvement from the Coogs O-line as much as anyone. As far as the QB run game was concerned, King added 33 yards on 7 carries including five zone read option keepers, with Smith adding 23 yards on 4 carries. King did score on a 5-yard scamper on what looked to be an RPO keeper, though he simply could have been faking the pass on a called power sweep to his right.
After the slow start offensively, the Coogs rolled up an impressive 586 yards on just 62 plays for a tidy 9.5 yards-per-play average. King completed 17-of-24 passes for 325 yards with 3 scoring strikes. And for those keeping score at home of Briles quick strike scoring offense, their four touchdown drives in the second half went something like this; 3 plays for 75 yards in 56 seconds. 3 plays in 70 yards, taking just 48 seconds. 6 plays, 68 yards in 1-minute, 48 seconds and their final scoring drive took up a "robust" 2-minutes, 29-seconds as they covered 71 yards in 7 plays.
Looking ahead
They say the biggest improvement by a team is made between its first and second game. Coogfans hope that's the case as an Arizona Wildcats team looks to avenge last week's 28-23 loss to BYU at home to bring in the Kevin Sumlin era.
Whether you want to call his offense a variation of the Air Raid, his spread scheme is simple; they want to spread you out wide in order to get the best one-on-one matchups in space. Quarterback Khalil Tate (6-2, 215, Jr.) started out on fire, completing his first six passes for 44 yards. He ended the night completing just 17-for-34 passes for 197 yards with a TD.
Offensive coordinator Noel Mazzone called a lot of vertical passes, most of which went incomplete. But when you have a speedy and physically imposing wide receiver core that's what you do. The Wildcats leading wideout from last year is Shun Brown (5-11, 188, Sr) who lines up all over the field. Maybe their best overall receiver is Tony Ellison (5-11, 189, RSr.) who usually lines up in the slot. The two seniors have a combined 1,700 receiving yards with 15 touchdowns. The receiver with the best matchup advantage is probably Shawn Poindexter, a former volleyball player at 6-5, 220 pounds who also lines up in the slot. Hampered by injuries in 2016 out of junior college, he was used mainly as a blocker last season but could breakout this year if the BYU game is any indicator as he had 68 yards on just 4 receptions with a high of 33.
Against Rice the secondary had the same problems last season in terms of communicating with their linebackers in which defensive back takes which offensive player running from zone to zone. Look for 'Zona to test the Coogs secondary but it would also be smart if they tried to establish an inside run game. This week's offense is totally different than what they faced last week; 22 personnel looks (two tight ends and running backs) versus a true spread team that often lines their tight end up in the slot.
Against a spread team the run fits are different than versus a true power running football team but it's just as important that D'Onofrio's linebackers keep contain on Tate and JJ Taylor (5-7, 184, RSo.), the Wildcats powerful but shifty running back. Gary Brightwell (6-1, 205, So.) and Anthony Mariscal (5-10, 212, Jr.) will share time in the backfield as more power runners, though Taylor can run between the tackles. Brightwell ran for 30 yards last week in his first game action as a Wildcat while Mariscal moved over from the defensive backfield during the spring and had a carry for 3 yards against BYU. Taylor meanwhile has nearly 1,200 career yards on the ground after gashing BYU for 85 last week. Houston's defensive front will have its hands full against Arizona's offensive line consisting of Donovan Laie (6-4, 318, Fr. ), Tshlyombu Lukusa (6-5, 308, RSo.), Josh McCauley (6-3, 292, RSo.), Bryson Caln (6-4, 306, RSo.) and Cody Creason (6-4, 294, RSr.) because though they may not be experienced as a unit with only 12 combined starts including last week (with their normal starting left tackle sitting due to suspension), they are an athletic bunch that can get to the second level in a hurry.
Over pursuit by the Cougars D will lead to easy cutback lanes. The front-7 must not play "hero ball." They must stay in their assigned gaps and hold the edge. The defense MUST play disciplined as Tate is a better thrower on the run than he is in the pocket. I would hope D'Onofrio calls for less delayed blitzes and stunts up front as they lead to defenders easily being manipulated out of their assigned gaps, which could lead to giving up huge chunks of yards. The Coogs D also cannot afford to miss tackles against a fast Wildcats offense.
Offensively, it would be wise for Briles to continue trying to establish an inside run game. BYU ran for 183 yards, and a 4.3 yards-per-carry average, last week against an undersized Arizona front-7, led by third year coordinator Marcell Yates. They do have two big guys in the middle in defensive tackles PJ Johnson (6-4, 335, RSr.) and Dereck Boles (6-2, 306, RSr.). Their best defender is middle linebacker Colin Schooler (6-0, 236, So.) who always seems to be around the ball. The ground game will open up the deep passing game as the Wildcats don't give a lot of exotic looks blitzing wise behind Yates vanilla 4-2-5 scheme. Their best corner is Lorenzo Burns (5-10, 181, RSo.) but Jace Whittaker (5-11, 189, Sr.) and his 32 career passes defended returns after sitting out last week with an undisclosed injury.
If I'm Briles I continue to call long shots as King has an accurate cannon for an arm and a plethora of talented wide receivers in Stevenson, Lark, Corbin and Smith. King did a great job at putting the ball in their hands in space, allowing them to take advantage of their speed (I counted nearly 100 YAC yards by the unit combined). While none is an established star yet the player with the "hot hand" should be fed the rock on a game-by-game basis. In other words, take advantage of the best particular matchup that game.
Special teams will also be huge if the game is close. Smith needs to sure his hands up punt return wise as does Novikoff in the kicking game. Arizona's kick game is also shaky behind Lucas Havrisik (6-2, 184, So) who's made 4-of-6 career field goals with Josh Pollack (5-10, 184, Sr.) connecting on 20-of-29 as the short kicker. The Wildcats do have dynamic returners in Taylor and Brown however.