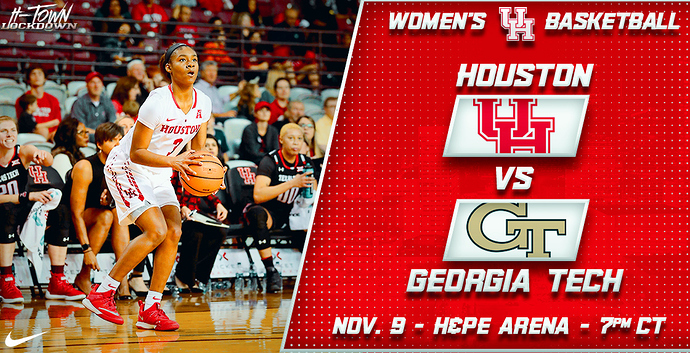 Fans can hear the 2018-19 season opener live via Houston's home for Women's Basketball Radio, UHCougars.com/wbbradio. A live stream of Friday's game will also be available courtesy of Houston Athletics All-Access and can be found by clicking HERE. A subscription is required for Houston All-Access. Live statistics are also available through SideArm Stats, and the official Twitter account of Houston Women's Basketball, @UHCougarWBB, will offer updates throughout the game.
SCOUTING THE YELLOW JACKETS
Georgia Tech will head to Houston for its first contest of the 2018-19 season after a trip to the WNIT Quarterfinals a season ago. The Yellow Jackets defeated Coastal Georgia, 92-46, in exhibition play earlier this month.
_ _
In the exhibition game, five different Yellow Jackets scored in double figures including Lorela Cubaj, Elizabeth Balogun and Francesca Pan, who each led the squad with 17 points apiece. Liz Dixon finished the night with 13 points, while Daijah Jefferson added 10.
_ _
In the exhibition, the Yellow Jackets shot 51.3 percent from the field and connected on 30 percent of their 3-pointers. On the defensive end, Georgia Tech allowed Coastal Georgia to shoot just 35.6 percent from the field, however the Mariners shot 46.2 percent (6-of-13) from beyond the 3-point line.
_ _
Coastal Georgia was no match for the Yellow Jackets on the boards, where Georgia Tech held a 45-27 advantage, including an 18-4 mark on the offensive glass. Anne Francoise Diouf led the squad with nine rebounds in 17 minutes, while Dixon added eight and Kierra Fletcher pulled down six.