What were our current prices like?
Chairback and Club level are high.
But section 116 ish about $360 or $300 for season ticket
14K capacity for Virginia. Wow
Win the national championship and watch our numbers skyrocket!
Did you guys know that Virginia as a state has no professional sports teams?
How close are they to DC? 2.5hrs
Commanders, Wizards, Nationals
I see your point. But Bennet has been there 14 years. They have a culture of winning. Im sure after they won the Natty, their prices probably jumped quite a bit
Courtside for $660 seems like a deal!
What would our Courtside seats cost?
It's not the cost of the seats yearly that are bad it's the one time 50,000 dollar per person seat commitment that hurts, it's a lot of money to just watch basketball games lol
Yup, our seats are super reasonable. My two in 115 are $750 about including CP. If you want better seats the prices are still reasonable but require more CP. The grey seats require $10k (over 5 years) and court side is $50k (per four seats I'm pretty sure, also over 5 years).
Looks like Season Ticket prices have already gone up. Compared to last season
This year
Last year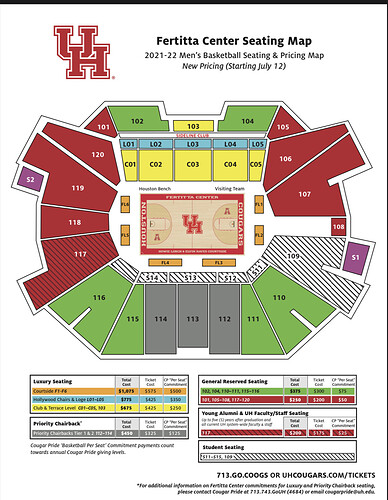 anyone confused by that current seating pricing?
Maybe itll go into effect next season
Think that's just the "ticket" price without the donation. I assume you have to donate a whole lot more than that to have the right to buy those.
Yep. There's an asterisk for every seat in UVA's lower seating bowl except for students. My guess is you have to donate to Cavalier Pride or whatever they call it.