Soccer Hits Road for Final Away Series
Cincinnati, East Carolina are Houston's final road tests
http://www.uhcougars.com/sports/w-soccer/spec-rel/101216aaa.html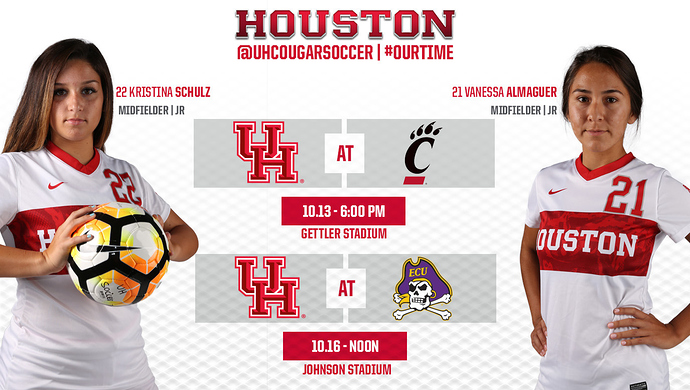 **OPPONENT PREVIEW **
Cincinnati (8-4-1)
Bearcats lead the series 6-2-0
Last Meeting: Cincinnati won 1-0 (Sept. 27, 2015)
Goals for: 7, Goals Against: 15
Cincinnati returns home to face the Cougars after dropping a 5-1 contest to Memphis. The Bearcats are 4-0-1 at home this season and 1-2-0 in conference play.
East Carolina (4-8) (0-3-0)
Pirates lead the series 10-2-0
Last Meeting: East Carolina won 2-0 (Oct. 24, 2015)
Goals for: 9, Goals Against: 22
Prior to playing the Cougars Sunday, the Pirates will host RV SMU on Thursday. East Carolina is looking for their first conference win and are 2-4-0 at home.