Can the Coogs continue their hot streak. Have a tough game against UC Riverside and a game they need to win against UTSA. Good tests.
Soccer Returns Home to Host Series
Cougars play host to UC Riverside and UTSA, Friday and Sunday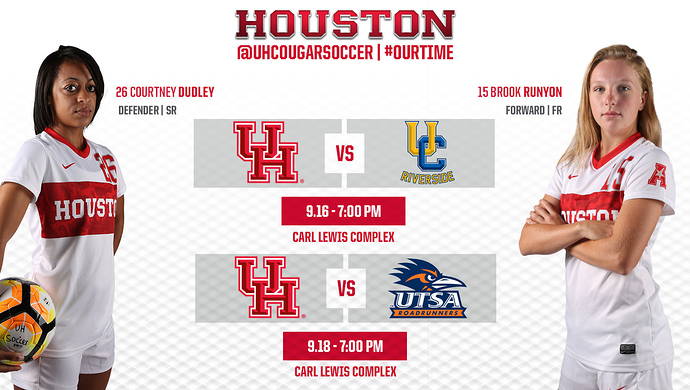 NATIONAL STAT LEADERS
Team Goals Against Average
7. Houston (0.24)
Individual Goals Against Average
10. Rachel Estopare (0.24)
OPPONENT PREVIEW
UC-Riverside (2-2-3) RPI: 64 in 2015
First meeting between the two programs. The Highlanders are coming off a shutout win over Akron, 4-0. UC-Riverside is 1-2-1 on the road this season.
UTSA (4-3) RPI: 278 in 2015
Series is tied 3-3-0
Last Meeting: Houston won 2-1 (Sept. 16, 2012)
Goals for: 8, Goals Against: 7