Maybe she's the pitcher we've been looking for:
Super Centex all-academic team: Self-driven scholars, athletes maintain high standard
http://www.wacotrib.com/sports/high_schools/super-centex-all-academic-team-self-driven-scholars-athletes-maintain/article_4dbf000e-542a-55a2-83cc-0820642bd4fe.html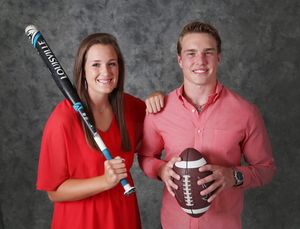 Robinson's Hannah Wolfe (left) and West's Mason Tobola (right) both led their teams to impressive playoff runs as well as maintaining an outstanding GPA throughout the 2015-2016 athletic and academic seasons.
Wolfe will cop to it. She's a perfectionist at heart. She went 28-2 as the ace pitcher for one of the top softball teams in all of Class 4A this year at Robinson. Yet she's as apt to grouse over the two losses as she was to revel over those 28 wins.
Wolfe exhibited a deep devotion to her softball craft, but it wasn't her singular focus. She demonstrated the same dedication to her studies. She made straight A's all through high school, and ended up as Robinson's senior class valedictorian this year, with a grade-point average of better than 99.
Note: The male student athlete of the year, Mason Tobola, is also coming to Houston and will try to walk-on the football team
HUDL: http://www.hudl.com/athlete/1662972/mason-tobola
That perspective allowed Tobola to balance the books and the balls better than most. He graduated as one of the top students in his class, with a 102.931 grade-point average. Moreover, Tobola served the community with generosity, volunteering in the summer at Hillcrest Hospital and recently organizing an effort at Waco's Church Under the Bridge called "Small Comforts," which provides snacks and water to the church's congregants.
Oh yeah, the field. He schooled defenses as West's quarterback in the 2015 season, directing the Trojans to an 11-2 record and their first playoff berth since 2010. Tobola passed for 3,346 yards and ran for more than 800 while accounting for 50 touchdowns. He also punted, kicked and started at safety.