Now Houston College of Law. Will that cause any confusion with the University of Houston Law Center?
Having graduated from STCL in May, I am not too pleased with the rebranding now. That said, I understand why the school was rebranding. However, I do think it will cause confusion with UHLC. But, if UH does pursue legal action, I am going to have to drop my season ticket and will not consider future donations.
I can see why you may feel that way. However, it could be that they schools file lawsuits and then settle, much like the Hofheinz situation. Would you then reinstate your ticket, etc.? Also, when it comes to trademarks, my understanding is you have to protect it or you could lose it. Hopefully the potential confusion was considered in the rebranding and UH was approached to avoid any issues. I know you aren't the only Coog who also graduated from STCL, so I would hope that both schools take that into consideration.
I guess I will wait and see until how this plays out before making a decision. I enjoyed some great years at UH, so giving it all up would be pretty difficult to do. It's also nearly impossible to imagine that this was not discussed as a potential issue when they made the decision.
Statement from UH's Law Dean:
This is different from the Hofheinz situation, though – this actually has strong potential for confusion that would almost certainly be tangibly detrimental to UHLC. I'd strongly prefer to see UHLC actually fight this.
I saw some STCL graduates talking on FB and they were unhappy about the change. Interestingly they were hoping UH would put pressure to fix it. These were not UH grads at all.
Let's hope that Buzbee (a classmate of mine as well) stops STCL dead in its tracks!
Ben Wermund article - actually not too bad and just sticks to the facts. Also posted some excerpts that he posted on twitter:
UH sues law school over name change
Institution accused of trying to capitalize on UH's reputation

Google search to access the article free


Excellent ignorant and derogatory comment. You sound like Aggie, Baylor, and UT when talking about UH.
Don't be so sensitive. I saw it on STCL's Facebook, and thought it was funny/clever.
I wonder what other names were considered…
Houston-Galveston College of Law
Downtown Houston College of Law
The Other College of Law in Houston
Really, I'd love to see the results of the market research and the pitches they received from the agency they used. I think they really needed not a new name but better branding of their current name, some advertising.
Made the Wall Street Journal:
UH, Houston College of Law legal fight headed to court Friday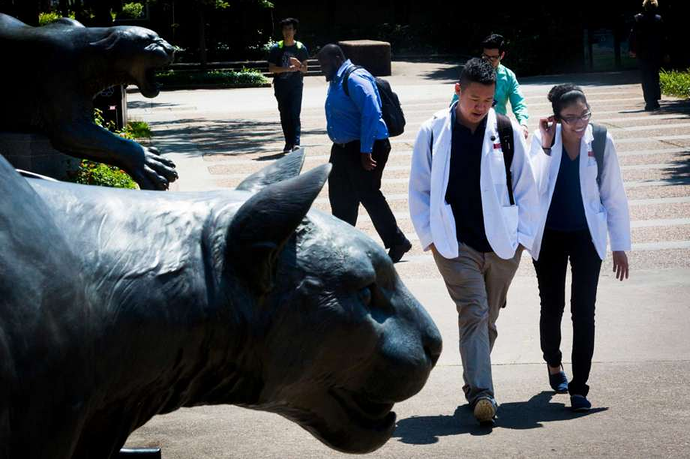 The University of Houston is asking a U.S. district judge to keep the newly renamed Houston College of Law from using its new name or logo on merchandise, brochures or other promotional materials.
In the latest salvo in a legal battle between Houston's law schools, attorneys for UH filed an emergency motion this week asking a judge to rule before the law school passes anything out to alumni at planned gatherings in Texas and Florida later this month. A hearing on the matter is scheduled for Friday afternoon.
So, as a lawyer, you find legitimate lawsuits distasteful?
Houston College Of Law Files Counterclaim Against UH Law Center
The South Texas College of Law changed its name to Houston College of Law. The name change brought a lawsuit from the University of Houston Law Center. Now Houston College of Law has filed a counterclaim.

The two law schools are scheduled to meet in Federal Court on August 18th.
I still wonder what the other proposed names were. Houston City College Of Law. Houston Metropolitan College of Law. Those two each have Houston in it but I think would be distinct enough to not be confused for the Houston Law Center. Or they could have gone with Gulf Coast College of Law, Houston-Galveston College of Law. Those are just some others.