http://www.uhcougars.com/sports/c-track/spec-rel/011918aaa.html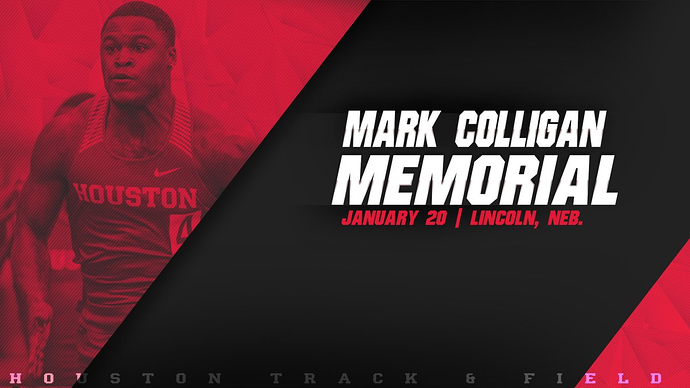 WHAT TO WATCH FOR
The Cougars are scheduled to have a number of the top athletes in the nation in action in their respective events on Saturday, including each of the men's and women's 60-meter dashes. For the men, Mario Burke (6.73) and Joe Williams (6.77) enter competition ranked No. 25 and No. 44 in the nation, respectively, while Brianne Bethel hits the straight track for the women with the 30th ranked time in the NCAA after clocking a 7.42 a week ago.
Williams will also be in action in the men's 200-meter dash, where he posted the No. 58 time collegiately at 21.68 at the Leonard Hilton Memorial, while Elijah Hall, who currently holds the nation's fastest time in the 60-meter dash (6.60), will enter the blocks for a full-lap for the first time this season.
Staying on the straight track, but adding some obstacles, the Cougars will field two student-athletes in the men's and women's 60-meter hurdles that currently rank among the top-20 in the collegiate standings. Amere Lattin hits the straightaway with the NCAA's 14th best mark in the young season of 7.85, while Naomi Taylor sits 20th in the women's ranks after a time of 8.36 at the Corky Classic.
Felipe Valencia and Cameron Cornelius return to the ring for the men's shot put at the Mark Colligan Memorial, where Valencia will try to win his third consecutive competition in the event. Valencia won the Reveille Invitational to open the season with a mark of 59-4.25 (18.09m) to post the 23rd best throw this season before also taking the title at the Leonard Hilton Invitational, while Cornelius ranks 36th at 57-9.5 (17.61m) after his runner-up finish in College Station.
In the vertical jumps, a trio of nationally-ranked Cougars will hit the runway, beginning with Jared Kerr in the men's long jump. Kerr marked a season-best leap of 24-1.75 (7.36m) at the Hilton Invitational to post the 29th ranked mark in the nation this year.
In the women's triple jump, Tonye'cia Burks returns to action after posting the nation's seventh-best mark of 42-4.75 (12.92m) to win the Leonard Hilton Invitational, while Paige Lawrence enters 48th with a mark of 39-9.25 (12.12m).
High jumper Hawa Wague rounds out Houston's ranked competitors at the Memorial. The freshman has gone up-and-over the bar at 5-7.0 (1.70m) to rank No. 60 in the early season.